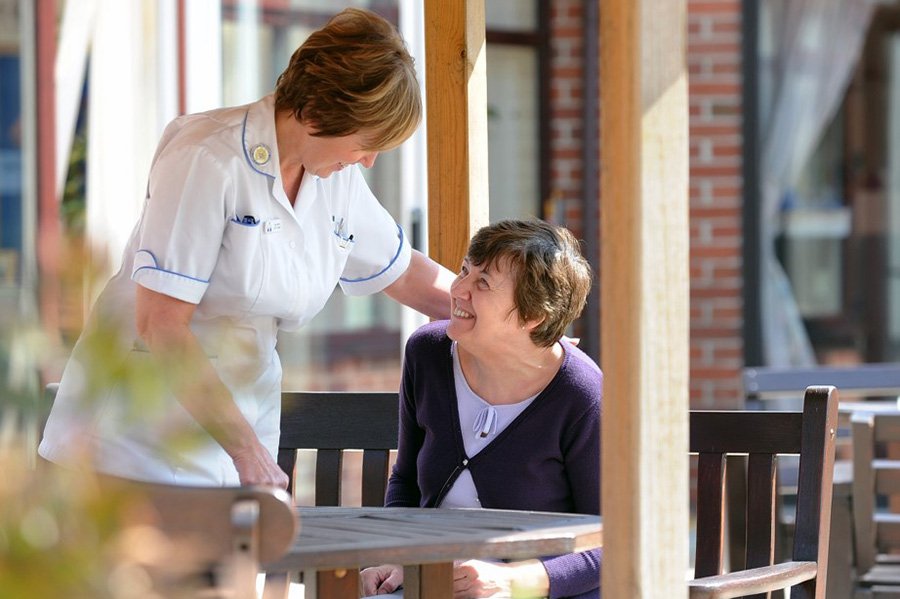 Hospice nurse, Sian (left) chatting with Lesley Sidaway, Hospice day services patient (right)
Mary Stevens Hospice is appealing to its supporters to help raise the final £1 million required to build a new day services unit.
To launch the public campaign, Lesley Sidaway, one of the Hagley Road hospice's day service users has written out to supporters to help raise awareness of the huge £3.5 million build and to engage the community in the project, which they have been sourcing funding for since June 2017.
Having raised £2.5 million through major grants and the use of Hospice reserves, Hospice staff are now asking the public to help them achieve their goal of raising another £1 million.
As well as allowing the Hospice to open its doors to 40 new families every week, the new build will also include new treatment rooms, state-of-the-art facilities and an on-site family apartment, which will allow families who have loved ones in the Hospice's in-patient unit to stay together throughout that time.
Fundraisers at the charity have also created a series of thank you gifts, to be given to supporters who make donations towards the new building. If a supporter donates £16 or more their name will be entered into the commemorative "Your Legacy Book" which will be displayed in the new reception, with a copy also being placed into a time capsule which will be buried at the opening of the new unit.
A donation of £50 or more will see supporters commemorated in a specially-commissioned piece of art which will stand in the entrance to the new day services.
Or if a supporter donates £100 or more, they will be commemorated in both the book and the artwork, and also receive a limited edition pin badge created specifically for the appeal. Lesley Sidaway, Mary Stevens Hospice Day Services patient, said:
"I can never truly tell the people who care for me here how grateful I am for the support I and my family receive, and I know how lucky I've been to come here so regularly to spend a day with people who have become close friends, and a team of angels looking over me.
"My days at the Hospice are some of the memories I most look forward to making, and everyone battling a life-limiting illness should have the opportunity to receive care, love and support. We as a community need this Hospice, and now they need us."
Charlotte Schofield, Head of Fundraising & Lottery, Mary Stevens Hospice, added:
"The care we provide in times of need for families simply wouldn't be possible without the support we've received from our community over the course of the last 25 years.
However, in the last 5 years we have been full to capacity in our day services unit every single day, which means there are families out there in our community who would benefit from our care and simply can't access it at the moment.
This expansion will ensure that we can care for more families when they need us and we're so grateful to everyone who is helping to make that possible."
To donate to the appeal, call the Hospice fundraising team on 01384 377 778 or visit givepenny.com/msh-capital-appeal.