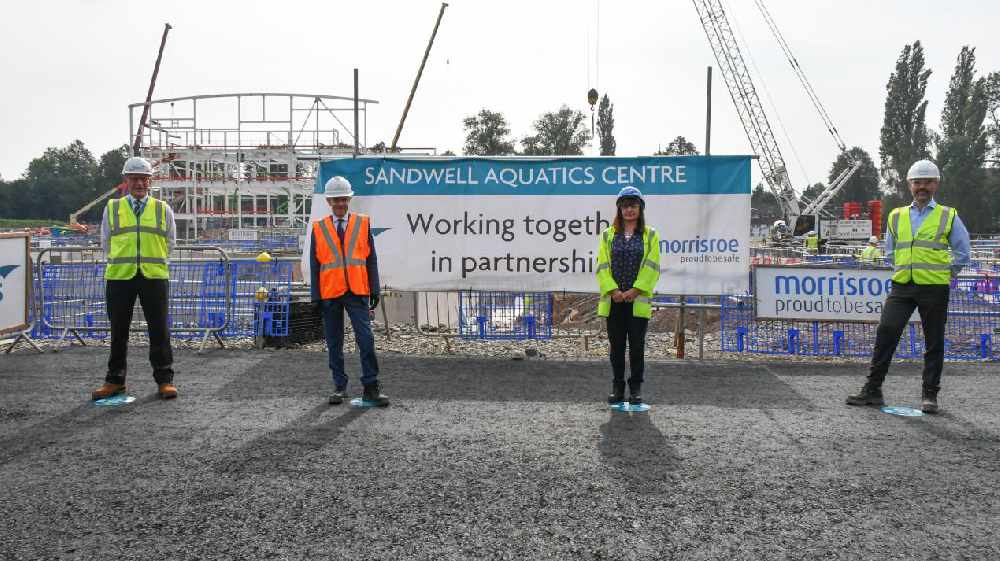 Local people are winning new jobs and gaining valuable skills working on the construction of the new Sandwell Aquatics Centre
The West Midlands Combined Authority is funding training for local people to learn construction skills on this flagship £73m project in Smethwick through its Construction Gateway programme.
The intensive short courses give unemployed residents the 'tickets' to work on site, a guaranteed job interview and valuable qualifications for future careers in carpentry, groundwork and logistics, where workers are in high demand. Andy Street, the Mayor of the West Midlands, said:
"Work on facilities like this is about far more than winning medals, it's about winning jobs for local people. That's why in these tough times we're doing everything we can to ensure that building facilities like the Aquatics Centre is also about building a better future for local people. And this scheme is all about that.
"Construction was one of our region's best performing sectors before the pandemic struck, and large projects like Sandwell Aquatics Centre will be key to getting back on track with our economic recovery.
"At a time when many people are feeling uncertain about their future, it's encouraging news that this scheme is equipping West Midlands residents with the skills and qualifications they need to start a new career in this important growth sector.
"It's always great to meet local people getting the new skills they need to give them a better future. We are determined that residents benefit not only from the opportunities that come from the construction of large-scale sports facilities like the Aquatics Centre in Sandwell, but also from the wider opportunities that will come as we get our region's economic progress back on track."
The learners have gained jobs with construction company Morrisroe, one of the main contractors for the project, which is led by principal contractor Wates working for Sandwell Council.
Scott Bird, aged 40, is one of the local people who have gained a new job on the site through the Construction Gateway. He is working for Morrisroe's health and safety team. He said:
"I was a union representative in the retail sector but was made redundant and decided on a complete career change and did some courses in construction. I'm now doing an NVQ in logistics and working towards a health and safety apprenticeship.
"I'm really enjoying the job and learning lots of new skills. My plans for the future are to become a fully qualified health and safety manager with Morrisroe."
So far, 12 local people are gaining new skills with Morrisroe through the Construction Gateway, and more are expected to join during the lifetime of the project.
All the learners who complete the training will gain an NVQ Level 2 in carpentry, groundwork or logistics. Their work is being assessed by South and City College Birmingham, which is the largest college providing construction training in the region.
Facilities at Sandwell Aquatics Centre will include a 50m Olympic-sized swimming pool, as well as a 25m diving pool, a community swimming pool, a dry dive area, activity studios, sports halls and permanent seating for 1,000 people. There will also be a football pitch and an urban park on the site.
The centre will open its doors to the public in 2023, when it will be operated by the Sandwell Leisure Trust.