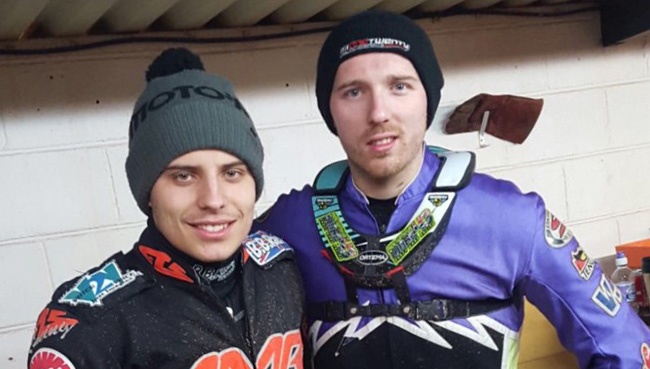 Ashley Morris & James Purchase (right)
Cradley Heaths have snapped up comeback man James Purchase as their latest signing for next season.
Purchase, 28, last rode in 2006 but is set to make his competitive return after taking to the track in practice sessions this winter.
Heathens chiefs are awaiting final clarification of his starting average before putting the final pieces in place for the team.
Purchase is happy to talk about his dark past which saw him jailed for causing death by dangerous driving.
Heathens co-boss Gary Patchett admits it's a sensitive issue but the rider deserves the opportunity.
"You cannot ignore the issues that he has had to deal with in the past and neither should we," he said.
"It was a very serious matter but James has paid his debt and certainly deserves the opportunity to resurrect his racing career."
Purchase, who is now a successful businessman, is delighted to be handed a second chance in the sport.
He said: "I cannot change what happened in the past, but what I have done is come back a stronger and better person.
"I have grown up. I have my own business, my own home with my girlfriend and things are good right now.
"I am hugely honoured to join Cradley. I've had calls from seven other National League clubs but I took advice from Darcy Ward, a good friend, and he told me to go to Cradley.
"The fan base there is amazing and I'm happy to be at Wolverhampton with them as our home track. I can't wait to get started.
"I'm good friends with Paul Starke, who has also offered to help with me at Cradley meetings whenever he can, he's a legend with the Cradley fans isn't he?
"It's been a while since I rode, but I just felt the time was right to come back to the sport.
"I realised how much I was missing it, and I can't wait to get started again.
"I realise how lucky I am to have the chance to start racing again, so I'm hoping to make the most of it and get back doing something I love.
"People might wonder why I'm coming back now, but like I say the time just feels right and to be honest Darcy Ward has been a big inspiration as well.
"With my business, Onetwenty Motorsports, I've been supplying stuff to a fair few of the speedway riders over the last couple of years, including Darcy.
"Obviously after so long away it's hard to know how things will go, but I've got some targets that I'll keep to myself."
Meanwhile, the club are hosting a social gathering at Cradley Heath Liberal Club tomorrow night (Thursday) when season tickets will be on sale and management members will be in attendance from 20:00.