How to make a face covering
PLEASE NOTE:
The masks you create following these tutorials are not medical or surgical grade. They are intended to be coverings as per the Governments requirement for use in shops and on public transport.

They are not guaranteed to protect against COVID-19 or other infections.

This information is a guide to making a simple face covering. We do not endorse any particular method and other instructions are widely available online.
Wearing a face covering:
A face covering should cover your mouth and nose while allowing you to breathe comfortably.
You should wash your hands, or use hand sanitiser, before putting it on and after taking it off.
Avoid touching your eyes, nose, or mouth and store used face coverings in a plastic bag until you have an opportunity to wash them.
Do not touch the front of the face covering, or the part of the face covering that has been in contact with your mouth and nose. Once removed, make sure you clean any surfaces the face covering has touched.
You should wash a face covering regularly. It can go in with other laundry, using your normal detergent.
Face coverings should not be used by children under the age of 3 or those with respiratory conditions.
Making your own face covering
You will need:
An old t-shirt that you don't want anymore (ideally in a size small or extra small)
Scissors

Step 1: Cut a straight line across the width of the t-shirt (front and back) approximately 20cm from the bottom.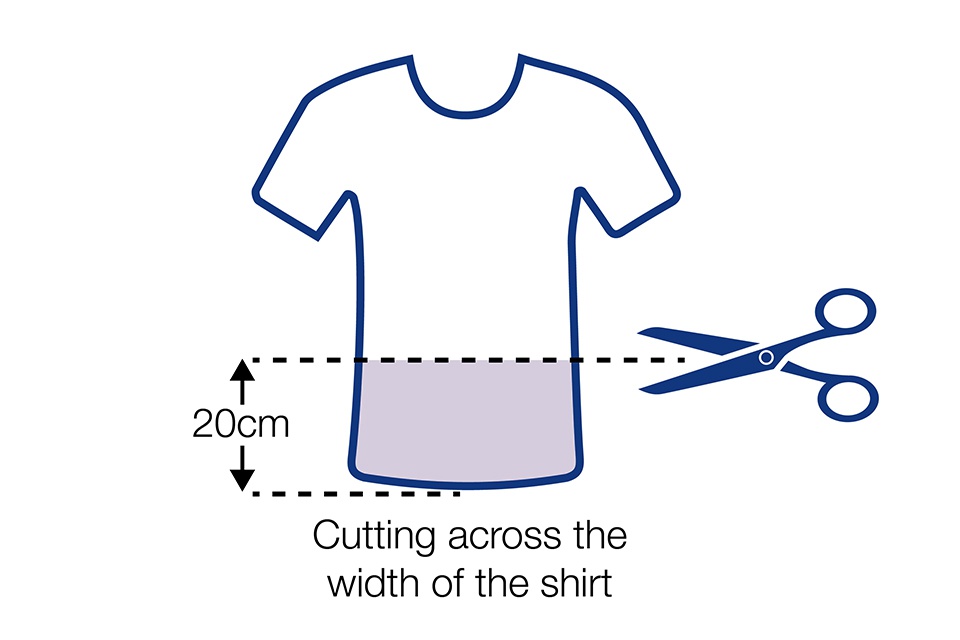 Step 2: From a point 2cm below the top right-hand corner of the fabric, make a 15cm horizontal cut through both sides, parallel to the top of the rectangle.
Step 3: Make another identical cut that runs parallel to the bottom of the fabric and then cut upwards to join the ends together. This will make a rectangle that can be discarded.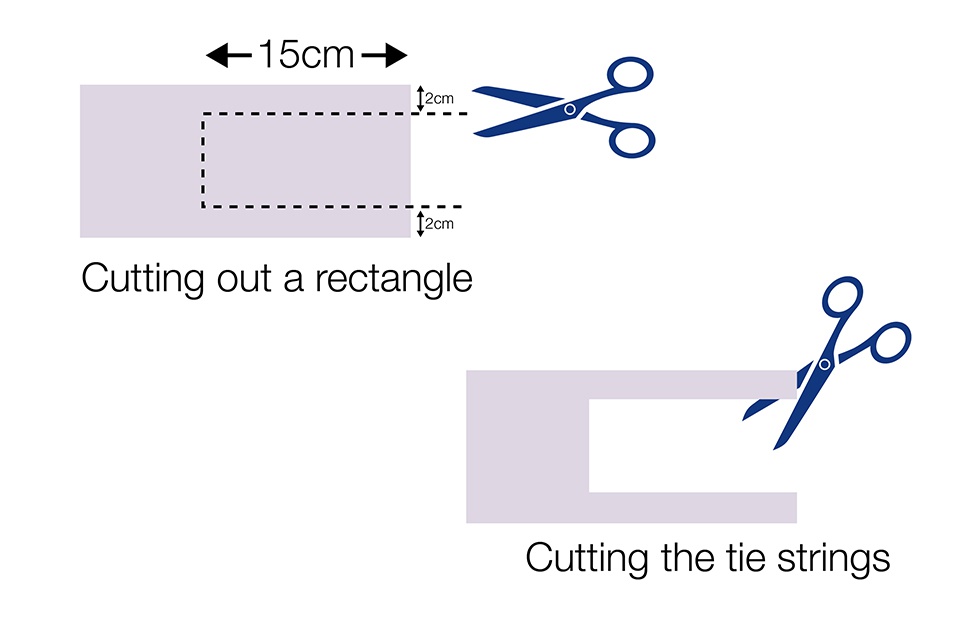 Step 4: To make the ties, cut open the edge of the 2 long strips of fabric. Unfold the main piece of fabric and place over the mouth and the nose.
The 4 strips act as ties to hold the cloth face covering in place and should be tied behind the head and around the neck.
Credit: All images - gov.uk/coronavirus