First thing's first - this is my era.
I may not have been the world's biggest Take That fan when I was growing up, but - along with the Spice Girls - they were part of the soundtrack of my youth, so to relive that period in full audible glory for a couple of hours seemed, on the face of it, to be a perfect way to spend an evening.
The Band is a brand new musical, written by Tim Firth, which is loosely based on the story of Gary, Robbie, Howard, Jason and Mark; one of the most successful British music exports of all time with seventeen top 5 singles in the UK - twelve of which have reached number one. They're responsible for seven number one albums and have received eight Brit Awards, so they haven't done too badly!
It's 1992 and we meet five 16 year old girls for who 'the band' is everything. The story takes us on an emotional rollercoaster as this group of girls who were once inseparable reunite after 25 years apart and try once more to fulfil their dream of meeting the boyband whose music became the soundtrack to their lives.
Even walking through the bars to get to the auditorium, the atmosphere and anticipation is palpable. This show is in sync with the lives of the women in the audience. Nearly all of the people in the theatre were those girls and this is their story. There was, however, a worry that this could become, very easily, a tribute act to Take That. We were about to watch a production which centred, in a large part, on five young male singers who were about to dress like the boys and sing their songs - however the relief set in when it was apparent that this wasn't just another jukebox musical.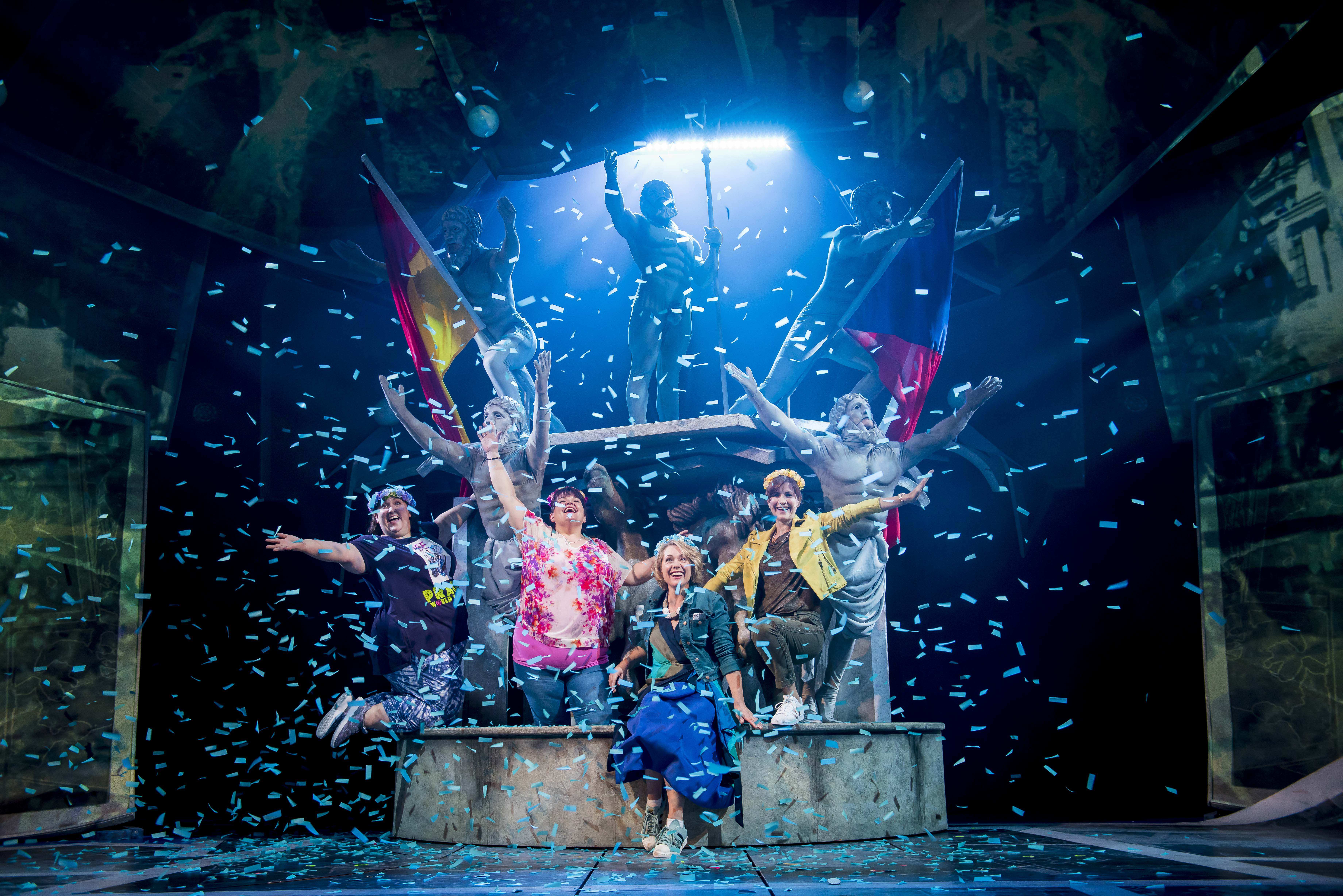 The Band is a heartwarming, emotional, laugh-out-loud funny, explosion of a show that exceeds all expectations from the moment the first bar hits.
Naturally, the soundtrack is first class. With songs like Never Forget, Back for Good, Greatest Day, Relight My Fire and Rule the World in your arsenal, you'd be hard pushed to go wrong. However the five male leads; AJ Bentley, Nick Carsberg, Curtis T Johns, Yazdan Qafouri and Sario Solomon, who won BBC One's Let It Shine last year, are slick, well rehearsed and totally in their element on stage.
The five girls, in their 16-year-old guise, are - for me - the stand out stars of the show. With a real chemistry on stage, exceptional comic timing and perfect delivery of some beautifully written dialogue, this group of girls made the audience belly laugh until it hurt. Similarly, their older equivalents manage to portray a heartwarming development of the characters and there are moments of real poignancy and emotion that only add to the shows ability to take the audience on an emotional rollercoaster.
The Band is a unique mix of a brilliantly written and perfectly executed stage musical, worthy of far more than the planned 50-date West End run, coupled with an amazing opportunity to relive a 90s boyband concert unfold before your eyes. It's a production that goes from a moment of heartbreak, where you could hear a pin drop, to breaking unfortunate parts of ancient statues off and leaving the audience crying with laughter, in the blink of an eye.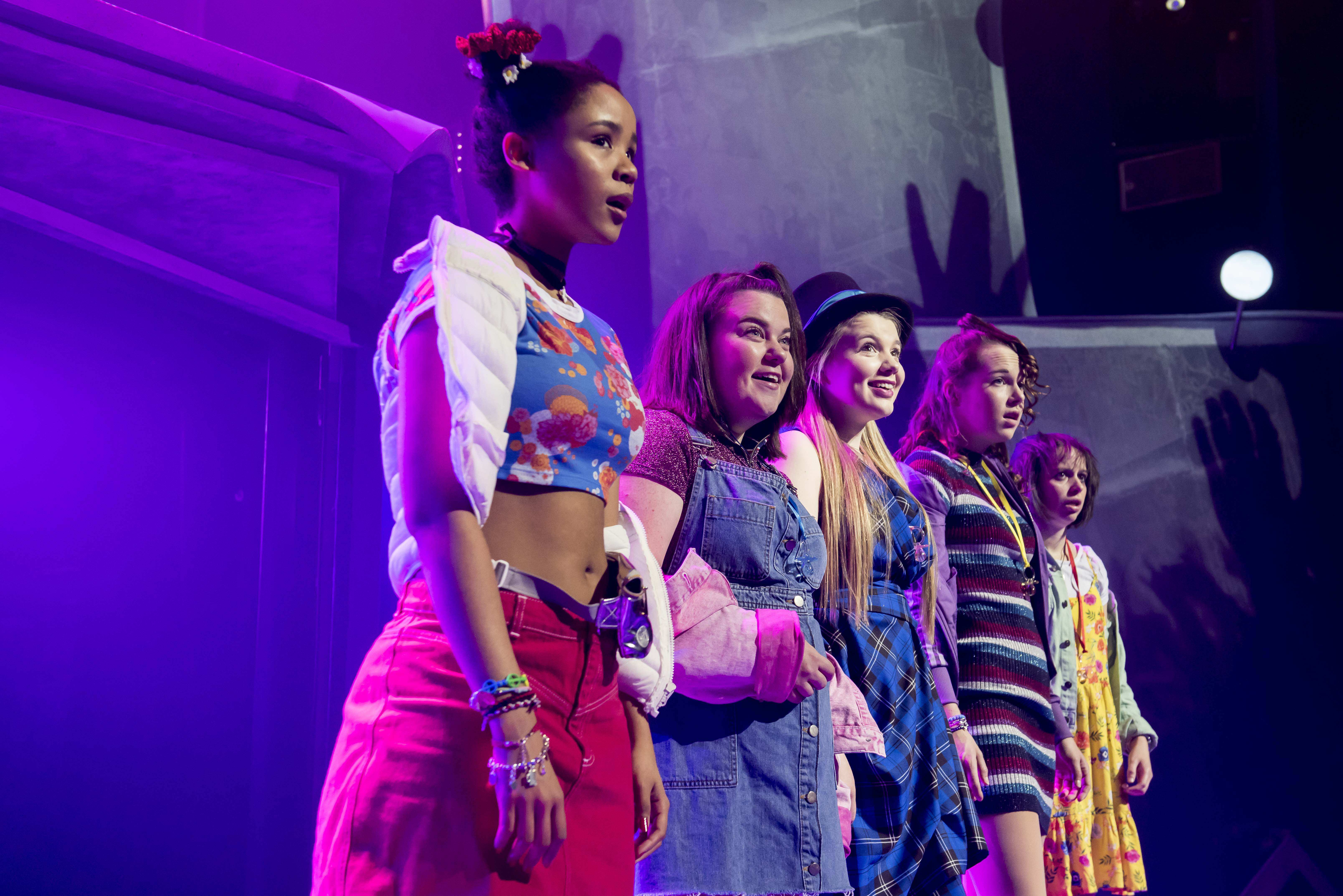 It's one of those rare breed of shows that not only let's you leave the theatre singing the soundtrack, but also with the feeling of satisfaction that you've just watched a brilliant show that you've invested yourself in fully - and that's the sign of something special.
Normally at this point, I'd say 'the story isn't great, but it's strong enough to justify the show and carry the brilliant soundtrack'. However, in this instance, that would be a total lie - because the story is really good! It's engaging, heartwarming and I really can't recommend it enough.
The Band is at Birmingham Hippodrome until Saturday 12th May. For more details, or to buy tickets, head to birminghamhippodrome.com.
---
LISTEN: Check out our playlist of Take That favourites below!