There can't be many people who don't know - or who aren't familiar with - the story of Dracula. Bram Stokers original novel was penned in 1897 with a follow up movie, starring Antony Hopkins and Gary Oldman released in 1992.
Arguably one of the most famous stories of all time, tonights production sought to reignite the countries passion for vampires and tell the story from an alternative viewpoint. Think of it a bit like the production companies 'Wicked' to Bram Stokers 'Wizard of Oz'!
Le Navet Bete are a touring physical comedy theatre company based in Exeter, who aim to make accessible comedy theatre using creative and engaging storytelling.
Filling the Hippodrome's 'Patrick Centre' with a presence akin to any show staged in the main auditorium, the atmosphere from the point the audience entered was all encompassing. The smaller, but equally well appointed, studio space lent itself very well to a show of these proportions and ensured the set and the action wasn't lost on an oversized stage.
It's evident that this show is very different in structure to the large scale musical behemoth that's in residence down the hall - but is absolutely none the less endearing. 'Dracula - The Bloody Truth' takes physical theatre back to its roots and brings physical comedy to the forefront of the experience. Similar in structure to pieces like 'The Play That Goes Wrong' and 'One Man, Two Guv'nors', you'd be forgiven for thinking this show was in previews before a London run, such is the unmistakable quality of the cast.
There's absolutely no compromise on proper belly laughs either - 'Dracula' is absolutely as funny - and at times notably more so - than many of its contemporaries.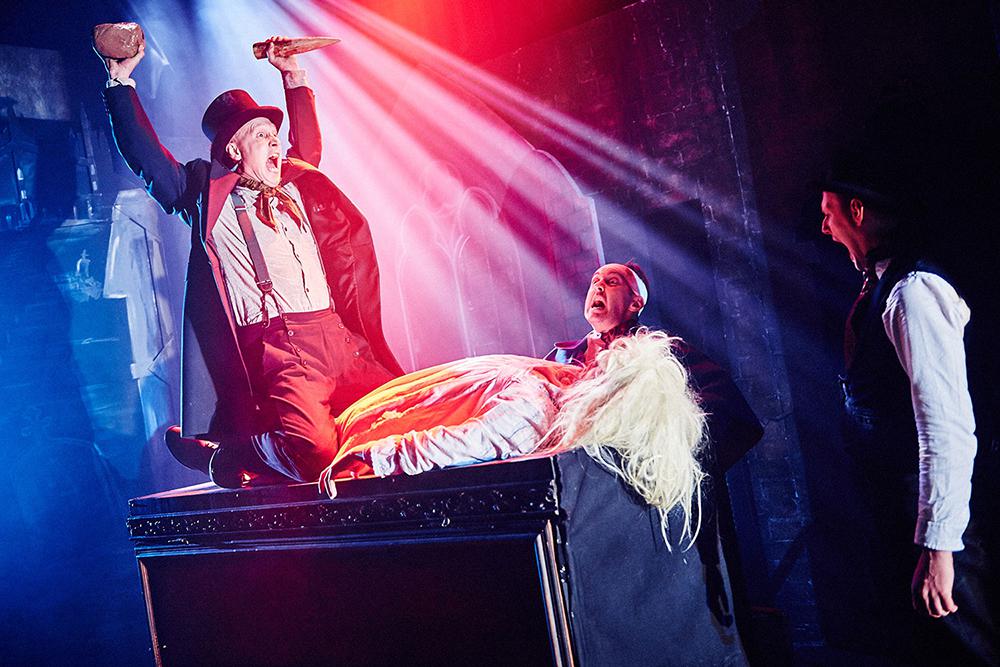 Consider stand up comedy for a second. Jimmy Carr is a comedian at the top of his game, yet shuns arena's (which he could undoubtably fill) for theatre sized spaces around the country. This show isn't in a small auditorium because it's any less high brow than equivalent productions, simply because it works so much better in intimate surroundings. Physical theatre of this type requires a close up perspective and the ability to see what's happening in minute detail. From facial expressions to intricate props - being up close and personal gives a unique perspective on one of the funniest, slickest and well rehearsed shows I've seen in a long time.
Huge musical theatre spectacles absolutely have their place, but don't discount The Hippodrome's season at The Patrick Centre for a range of exquisite, well made shows like this one.
Dracula - The Bloody Truth runs in Birmingham until Wednesday 16th August before continuing a national tour.
For more information on shows at The Patrick Centre, click here.