Winner of 3 Tony's and 3 Olivier's, In The Heights began as a word-of-mouth sensation on Broadway back in 2008. Created by Lin-Manuel Miranda, the man behind the critically acclaimed Hamilton, the show explores the issues affecting society through modern dialogue, hip hop and street dance.
First thing's first - this production of In The Heights is staged by a group with a phenomenal pedigree. Birmingham Institute of Theatre Arts (BITA) is a training ground to further the dreams of tomorrows leading men and women. Rehearsing weekly, they strive to give credible and professional tuition to their students - and it's evident that's paid off big time. Their performance this evening was nothing short of mesmerising.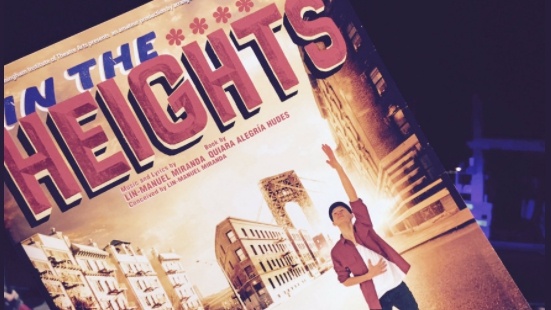 The first 'pat on the back' should go to the technical team. The lighting, staging and set design are a beautiful, fresh take on theatre with a perfect use of the space provided. The show is performed in The Rep's more intimate, 300 seat 'Studio' space and is all the better for it. Combined with the storyline, this proximity to the cast and the raw emotion portrayed on stage makes for a much more welcoming experience.
The show itself should also - as odd as it sounds - be congratulated. Ultimately, as much as it was at the top of its game a few years ago, there's always the risk that it could easily become the poorer cousin of Hamilton; Miranda's other major show. Maybe you've heard if it...! However BITA managed to give Heights some relevance, gravitas and prominence this evening which showcases it for the high quality, stand alone piece that it is.
Talking of the cast! I'm going to say this outright.
Birmingham Institute of Theatre Arts has some of the most INSANELY talented performers in it's stable. Every year, the radio industry produces a '30 under 30' list of the best new talent to watch out for in the industry. In musical theatre did the same then here's you're home grown list in one place.
It does, however, seem churlish to start picking out individuals, but the stand out performances for me were Erin Chalk (Nina), Martha Graham (Vanessa) and Jack Christou (Usnavi). Chalk has one of the most beautiful and powerful voices around. He stage presence is commanding and her performance of 'Breathe' made the hairs stand up on the back of your neck. Similarly, Graham's performance grabbed your attention and made you sit up and take notice - a mark of something special in someone who hasn't even begun their degree yet!
Christou was born to lead a cast. It's not often you see a leading man with charisma and confidence that makes him feel like such a perfect pair of safe hands. His performance of Atención, along with Nina and the rest of the company, was so beautifully poignant that you could hear a pin drop. It was a genuinely touching rendition and shows why the entire company should be applauded for their maturity and professionalism in what was an all round spectacle of a show.
What excites me the most is that this cast are the future of British theatre and I think that it's abundantly clear that we're in VERY safe hands. It's not often you can sit in front of a whole cast and be able to pinpoint the Elphaba's, Valjean's and Christine's of the future. BITA is pretty much a breeding ground for stars.
In The Heights plays at Birmingham Rep's 'Studio' space until July 15th.