To celebrate Miss Saigon's triumphant return to Birmingham, Sooha Kim and Ashley Gilmour – who play Kim and Chris on the current UK Tour - came face to face with an original 'Huey' Helicopter, used in Vietnam between 1972 and 1973 as part of the 129 Assault Helicopter Company.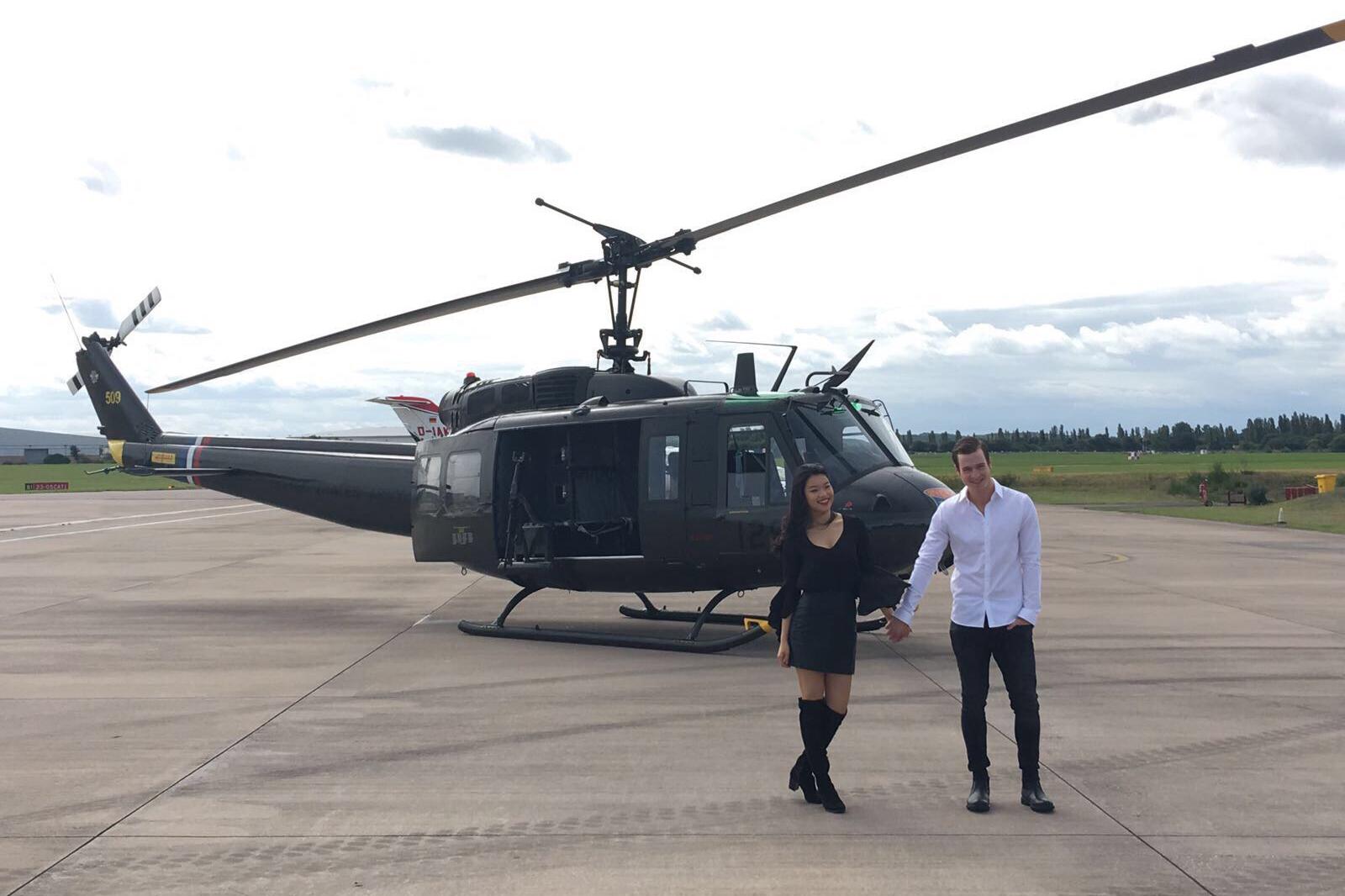 Widely used to transport troops and equipment during the Vietnam War, as well as support and attack missions, this lightweight multi-purpose helicopter first arrived in Vietnam in 1963 to facilitate troop deployment.
Indications reveal that the aircraft performed a total of 108 flights during which time 559 combat hours were flown, until it was returned to the US in February 1973. The aircraft has been restored back to Vietnam combat livery as it would have appeared with the 129 Assault Helicopter Company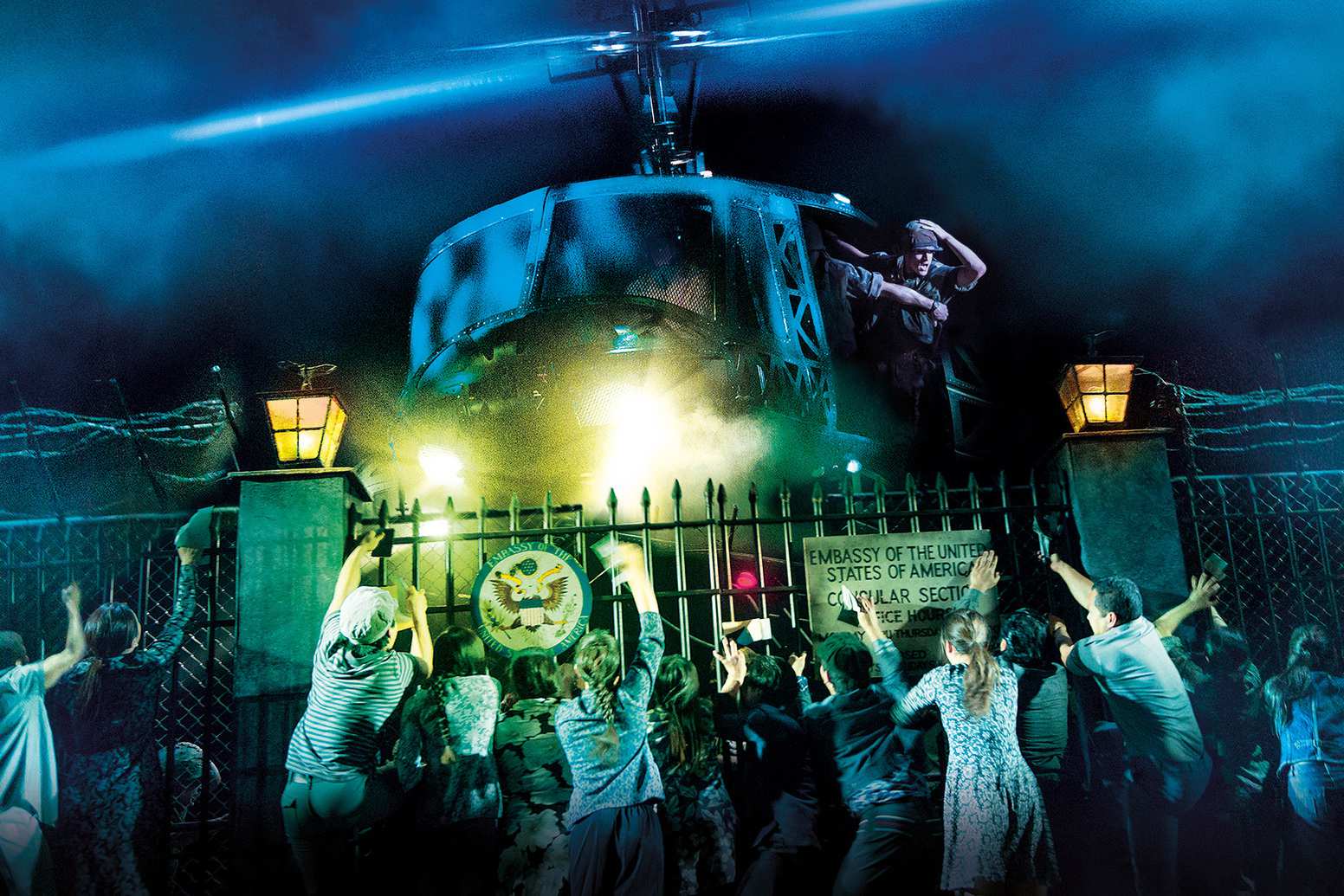 Miss Saigon tells the story of the last days of the Vietnam War, where 17 year-old Kim is forced to work in a Saigon bar run by a notorious character known as the Engineer. There she meets and falls in love with an American GI named Chris but they are torn apart by the fall of Saigon. For 3 years Kim goes on an epic journey of survival to find her way back to Chris, who has no idea he's fathered a son.
The show features one of musical theatre's most iconic scenes, where a replica Huey flies onto the stage to collect troops deployed in the area. A favourite with theatre-goers and cast alike, it's features like this that have given the productions run at Birmingham Hippodrome rave reviews across the board.
WATCH THE HUEY ARRIVING AT COVENTRY AIRPORT:
The two leads met the Huey, which flew into Coventry Airport this morning, amidst a flurry of media attention.
It's safe to say there was a huge amount of excitement at meeting a genuine war-used flying machine, and Ashley Gilmour (Chris) took to social media to share his excitement along with the official Birmingham Hippodrome account:
It's not a movie in their mind anymore... @GilmourAshley & @soohakim23 experiencing a real life Vietnam Huey! #ThisIsTheHour pic.twitter.com/sk9Vy9kjjU

— BirminghamHippodrome (@brumhippodrome) August 24, 2017
Since its London premiere in 1989, Cameron Mackintosh's production of Alain Boublil and Claude-Michel Schönberg's legendary musical, Miss Saigon, has become one of the most successful musicals in history.
The original Broadway production opened on April 11, 1991 with what was the largest advance sale in Broadway history - $37 million. The show went on to play for nearly ten years and 4,063 performances seen by more than 5.9 million people.
WATCH THE RECEPTION AT PRESS NIGHT IN BIRMINGHAM:
Miss Saigon has been performed in 28 countries and over 300 cities, to over 35 million people in 15 different languages. It's also the winner of over 40 awards including 2 Olivier's, 3 Tony's and 4 Drama Desk Awards.
Audience reaction since the show arrived in the city has been phenomenal with reviews calling it ''one of the most exquisite, mind blowing performances I've ever had the pleasure to watch', 'a true masterclass in musical theatre' and a 'mind blowing, awe inspiring and emotional masterpiece'. You can check our review of the tour by clicking here.
The production runs at Birmingham Hippodrome until 23rd September 2017 - tickets are available online, by calling 0844 338 5000 or by visiting the theatres box office.