The winners of the 19th Annual WhatsOnstage Awards have been announced.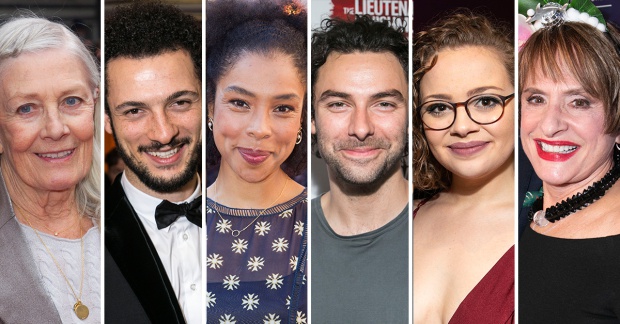 Leading the awards wins is Lin-Manuel Miranda's musical Hamilton, which opened at the Victoria Palace Theatre in December 2017. The show garnered five wins including for Jamael Westman as Best Actor in a Musical and Jason Pennycooke as Best Supporting Actor in a Musical. Other Hamiltonstars Giles Terera and Cleve September lost out to their fellow cast members. Hamilton also picked up the awards for Best Choreography, Best Lighting Design and Best Costume Design, but the show didn't manage to overcome Heathers the Musicalto win Best New Musical.
Laurence O'Keefe and Kevin Murphy's musical also won in the Best Actress in a Musical category for Carrie Hope Fletcher, who beat off stiff competition in the form of Rosalie Craig, Adrienne Warren, Rachelle Ann Go and Laura Baldwin. Best Actress in a Play was won by Sophie Okonedo for Antony and Cleopatra, while Aidan Turner won for his turn in Martin McDonagh's The Lieutenant of Inishmore. The director of that show, Michael Grandage, was given the Equity Award for Services to Theatre in recognition for his work onstage and off and his commitment to accessible ticket prices.
Regent's Park Open Air Theatre's production of Little Shop of Horrors, which starred the WhatsOnStage Awards host Vicky Vox, took home Best Musical Revival, Best Set Design and Best Show Poster, while Nottingham Playhouse's production of The Madness of George III won Best Play Revival.
Adrian Scarborough also won for Best Supporting Actor in a Play in the same production. The Madness of George III won the same number as The Inheritance, which was awarded Best New Play and Best Supporting Actress in a Play for Vanessa Redgrave.
Marianne Elliott's hit production of Company took home several big wins, including Best Direction for Elliott and Best Supporting Actress in a Musical for Patti LuPone.
Elsewhere, Six the Musical won Best Off-West End Production and Best Regional Production went to Spring Awakening at the Hope Mill Theatre.
The evening saw performances from the likes of Six the Musical, Heathers the Musical and Rachel Tucker who performed a song from the newly opened Come From Away. WhatsOnStage's chief operating officer Sita McIntosh said:
"The calibre of theatre across 2018 has been extraordinary – from musicals to plays, from new productions to revivals – which is reflected in this year's WhatsOnStage Awards winners list.
"It's brilliant to see some behemoth shows alongside smaller offerings and it's notable this year that regional theatre has featured in several categories, not just under Best Regional Production.
"It goes to show how dynamic and exciting the theatre scene is up and down the UK at the moment. The WhatsOnStage Awards tell us about audiences and what they have loved and want to see and this list demonstrates there is an appetite for everything from small to big, subsidised to commercial in London and beyond. Congratulations to all the winners."
Read the winners in bold below.
BEST ACTOR IN A PLAY
Aidan Turner, The Lieutenant of Inishmore
Arinzé Kene, Misty
Colin Morgan, Translations
Kyle Soller, The Inheritance
Mark Gatiss, The Madness of George III
BEST ACTRESS IN A PLAY
Carey Mulligan, Girls & Boys
Charlie Murphy, The Lieutenant of Inishmore
Katherine Parkinson, Home, I'm Darling
Patsy Ferran, Summer and Smoke
Sophie Okonedo, Antony and Cleopatra
BEST ACTOR IN A MUSICAL
Giles Terera, Hamilton
Kobna Holdbrook-Smith, Tina – The Tina Turner Musical
Jamael Westman, Hamilton
Jamie Muscato, Heathers the Musical
Rob Houchen, Eugenius!
BEST ACTRESS IN A MUSICAL
Adrienne Warren, Tina – The Tina Turner Musical
Carrie Hope Fletcher, Heathers the Musical
Laura Baldwin, Eugenius!
Rachelle Ann Go, Hamilton
Rosalie Craig, Company
BEST SUPPORTING ACTOR IN A PLAY
Adetomiwa Edun, Translations
Adrian Scarborough, The Madness of George III
Andrew Burnap, The Inheritance
Chris Walley, The Lieutenant of Inishmore
Paul Hilton, The Inheritance
BEST SUPPORTING ACTRESS IN A PLAY
Debra Gillett, The Madness of George III
Michelle Fairley, Julius Caesar
Michelle Fox, Translations
Siân Thomas, Home, I'm Darling
Vanessa Redgrave, The Inheritance
BEST SUPPORTING ACTOR IN A MUSICAL
Cleve September, Hamilton
Daniel Buckley, Eugenius!
Jason Pennycooke, Hamilton
Jonathan Bailey, Company
Richard Fleeshman, Company
BEST SUPPORTING ACTRESS IN A MUSICAL
Christine Allado, Hamilton
Jodie Steele, Heathers the Musical
Patti LuPone, Company
Rachel John, Hamilton
Vicky Vox, Little Shop of Horrors
BEST NEW PLAY
Dust
Girls & Boys
The Inheritance
The Jungle
Misty
BEST NEW MUSICAL
Eugenius!
Heathers the Musical
Hamilton
Tina – The Tina Turner Musical
Six the Musical
BEST PLAY REVIVAL
Summer and Smoke
The Lieutenant of Inishmore
The Madness of George III
Translations
The York Realist
BEST MUSICAL REVIVAL
Chess
Company
The King & I
Little Shop of Horrors
Me and My Girl
BEST DIRECTION
Andy Fickman, Heathers the Musical
Marianne Elliott, Company
Michael Grandage, The Lieutenant of Inishmore
Stephen Daldry, The Inheritance
Thomas Kail, Hamilton
BEST CHOREOGRAPHY
Andy Blankenbuehler, Hamilton
Carrie-Anne Ingrouille, Six the Musical
Drew McOnie, Strictly Ballroom
Liam Steel, Company
Lizzi Gee, Little Shop of Horrors
BEST COSTUME DESIGN
Catherine Martin, Strictly Ballroom
Catherine Zuber, The King & I
Gabriella Slade, Six the Musical
Paul Tazewell, Hamilton
Tom Scutt, Little Shop of Horrors
BEST SET DESIGN
Bunny Christie, Company
Es Devlin, Girls & Boys
Miriam Buether, The Jungle
Rae Smith, Translations
Tom Scutt, Little Shop of Horrors
BEST LIGHTING DESIGN
Ben Cracknell, Heathers the Musical
Howard Hudson, Little Shop of Horrors
Howell Binkley, Hamilton
Neil Austin, Company
Tim Deiling, Six the Musical
BEST VIDEO DESIGN
Daniel Denton, Misty
Dick Straker, A Monster Calls
Luke Halls, The Lehman Trilogy
Nina Dunn, The Assassination of Katie Hopkins
Terry Scruby, Chess
BEST OFF-WEST END PRODUCTION
Dust
Eugenius!
Misty
The Rink
Six the Musical
BEST REGIONAL PRODUCTION
Death of a Salesman
The Madness of George III
Memoirs of an Asian Football Casual
Romeo and Juliet
Spring Awakening
BEST ORIGINAL CAST RECORDING
Bat Out of Hell
Come From Away
Everybody's Talking About Jamie
The Grinning Man
Six the Musical
BEST SHOW POSTER
The Inheritance
The Jungle
The Lieutenant of Inishmore
Little Shop of Horrors
Tina – The Tina Turner Musical
BEST WEST END SHOW
Bat Out of Hell
Everybody's Talking About Jamie
Kinky Boots
Les Misérables
Wicked
THE EQUITY AWARD FOR SERVICES TO THEATRE
Michael Grandage