Based on the 1984 screen sensation starring Kevin Bacon, Footloose tells the story of city boy Ren, who has to move to a rural backwater in America where dancing is banned. All hell breaks out as Ren breaks loose and soon has the whole town up on its feet.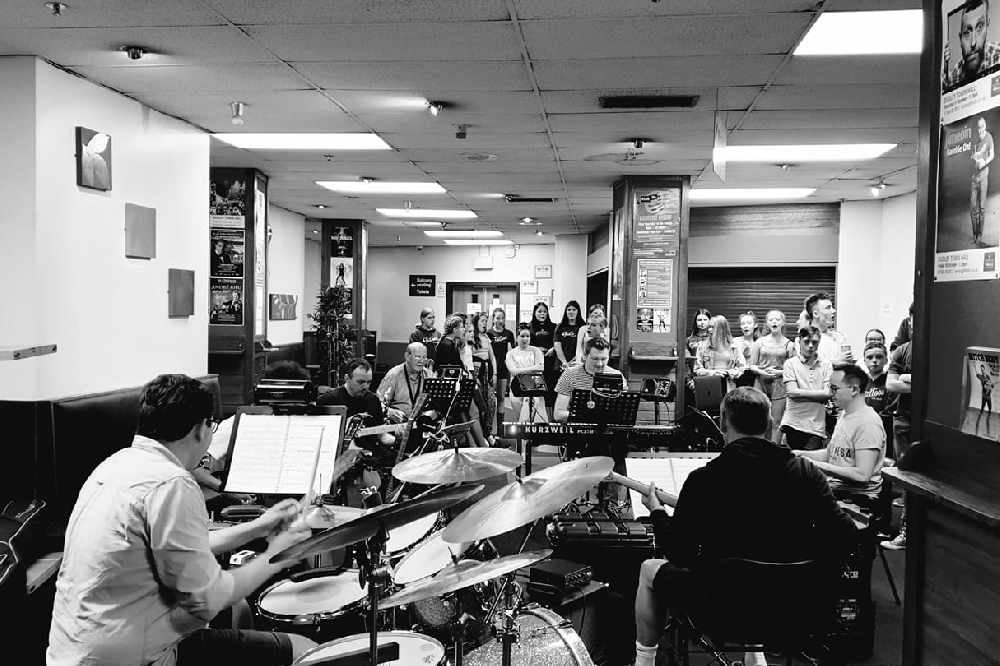 Featuring classic 80s hits including Holding Out for a Hero, Let's Hear it for the Boy and the iconic title track, Footloose, the film was nominated for a Golden Globe and both the title song and Let's Hear It for the Boy received Academy Award nominations. Footloose first opened on Broadway in 1998 where it ran for 709 performances, with a London production following in 2006, opening at the Novello Theatre following a UK Tour.
This production, however, couldn't be further from the red carpets and West End premieres, as Stourbridge Operatic Society Youth Theatre start their 3-day run this evening. Having put their first show on just twelve months ago, you could be forgiven for thinking that this comparatively new arm of performing would still be in their infancy and should be forgiven a few minor mishaps...but tonights performance, albeit with a few slight stumbles along the way, was even further proof that the younger generations have this theatre thing all sewn up.
The cast is led by Sami Brasnell and Joe Simmonds as Ariel and Ren respectively - and both are outstanding. Clearly revelling in the spotlight, Simmonds had an assured performance and a strong vocal ability that made it seem like he's been acting professionally for decades. His self assurance and clear chemistry with Brasnell made for a confident leading man who was more than a safe pair of hands. Equally, bringing a sassy and strong front to the part of Aerial, Brasnell has an stage presence that makes it hard to divert your attention elsewhere and keeps you fixated.
As with so many similar shows, the love story of our leads is paralleled by another story with a more comedic slant - in this case that of Rusty and Willard, a couple who are clearly destined to be together but who don't quite get there until the end of the story. Harvey Zaffino plays the slightly dopey, but very loveable Willard with a talent way beyond his years. This is a part that requires complete commitment from the person who plays him...but at the very real risk of over exaggeration. Zaffino, for me, has the perfect balance of the two and, alongside Maddy Rock as Rusty, creates a loveable sidekick that the audience totally buys into.
However, special mention tonight has to go to Maddy Rock for her portrayal of Rusty which is, quite simply, brilliant. With a strong singing voice, a great sense of comedy and, above all, a commitment to this role which saw her stand out rather than fade away, the loud cheers during the bows were a huge indication of this girls talent and prospects for the future.
All that said, please don't take this as a ringing endorsement of only the four cast members named above, and that alone. The entire society came together tonight to produce a fantastic evening of musical theatre. Each and every one of them should be applauded and there was a sense of community and support that can be lacking in so many other companies - both professional and otherwise.
Whatever you do, don't let 'youth theatre' put you off booking a ticket. Securing your seat isn't a case of letting the kids have a go at acting, it's paying your way into a strong, talented and confident bunch of performers who do the genre - and their home town - proud.
Footloose is definitely a show to tick off on your checklist - it runs at Stourbridge Town Hall until Saturday 6th July. For more inforation, or to book your tickets, head to stourbridge-operatic.co.uk.