Guy The Musical is a breath of fresh air in a market which can sometimes feel repetitive. Focussing on LGBTQ+ issues - but not just those purely based around acceptance or tolerance - Guy normalises gay culture in a way that is refreshing, laugh out loud funny and something the whole country could do with seeing.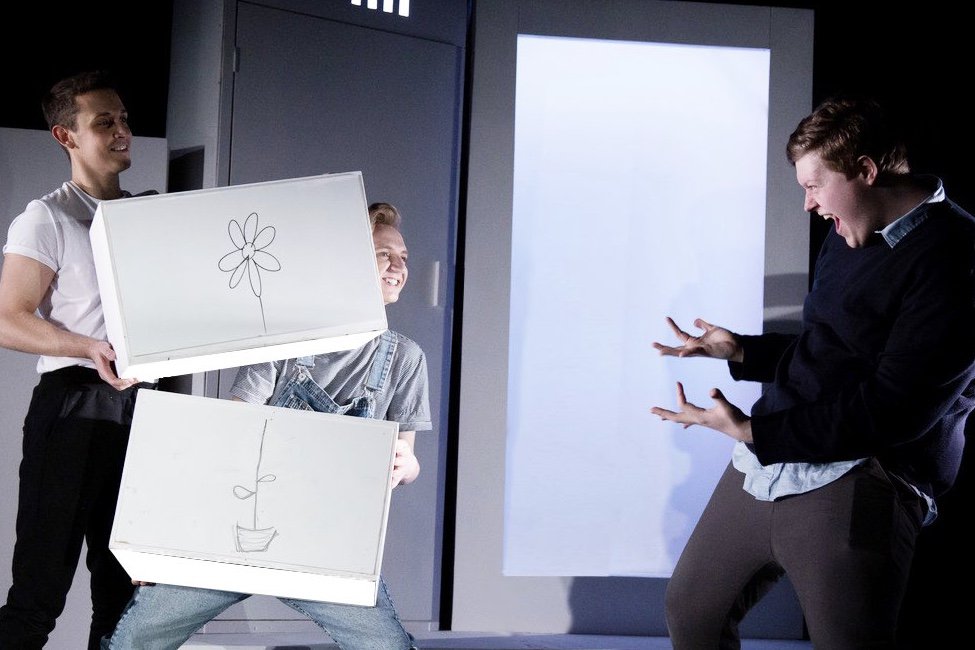 Guy is a gay millennial looking for love. However, he's also fat, nerdy and shy - in fact, Guy feels like he doesn't fit in to the gay community at all. When a rejection on Grindr pushes him to make terrible life choices, he is forced to confront his inner demons, all the while pushing away everyone close to him.
This show is resoundingly different. It doesn't detail a need for acceptance of the LGBTQ+ community from 'outsiders', it talks about the need for one man to be accepted by his OWN community and that different take is appreciated by the audience.
With no live orchestra, this is a show with 12 heart-pounding electronic-pop anthems. A millennial odyssey through hook ups, beauty standards, and stolen identity is a much-needed reminder that the only person you can be is yourself.
What strikes you as you take your seat is the sheer simplicity of the set. Uprights and blocks painted in a stark white and set against plain black are emphasised with colourful LED's, which aim to take your eyes on a tour of the stage. Brilliantly executed, once again, by Andrew Exeter, this is proof positive that you don't need glamorous sets flying in from stage left; plain, simple and illuminated conveys as much power as anything else.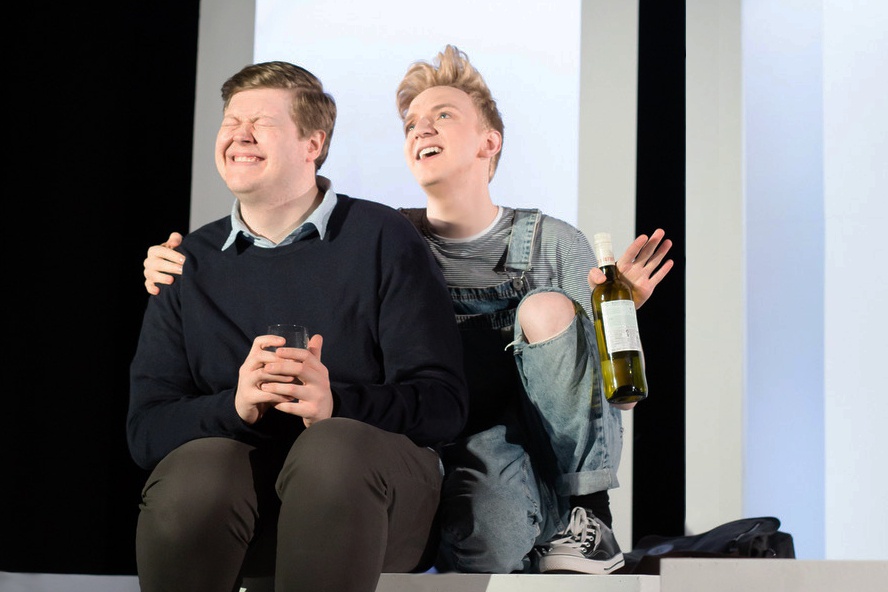 With only four actors on stage, Guy The Musical is definitely a tight-knit affair, and that was more than evident from the chemistry between our leads. Ben Raymond takes on the role of Guy - a man who's being dragged from pillar to post, both physically and emotionally. With a superb singing voice and a natural warmth, he only graduated in 2019 and clearly has a great career ahead of him.
Supported on stage by Steve Banks (Joe, Dom), Aarian Mehrabani (Aziz) and Elliott Wooster (Tyler), the trio are an out and out joy to watch from start to finish. This show is intense; the choreography, vocals and manual handling would take it out of even the most seasoned professional - but this team handled it beautifully, all whilst singing some of the catchiest new musical numbers around.
This is a show with heart. Its contemporary reference points are relevant, explicit and all encompassing and you can't help but smile! In many ways, Guy gives the audience the ability to laugh with the performers in a way that some people may find difficult in an overly politically correct world. It reminds you that gay people aren't stereotypes - they're people who are more than happy to poke fun at themselves and be the butt of a joke, in the right context.
It's also a show that needs life past the end of this run.
For more information on Guy The Musical you can head online to leoandhyde.com.