Jekyll and Hyde have a well-documented story. We should all be aware of the scientist that strived to do good by ridding the world of evil by splitting the bad side of a person from its good and voilà, you've saved mankind.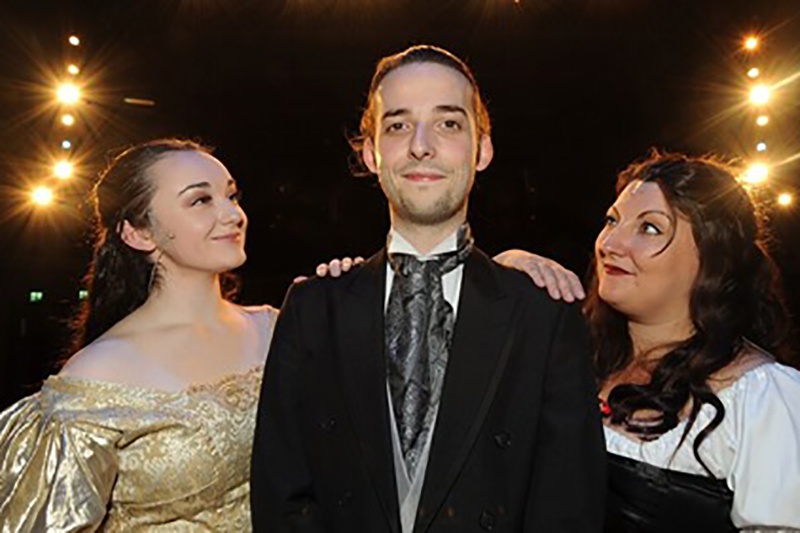 However, all does not go according to plan in this dark and twisted tale of multiple personalities, relationships and all with the backdrop of Victorian London on the cusp of scientific discovery.

Henry Jekyll approaches the board of governors of St. Jude's Hospital to allow him to try his new medicine on a willing victim to demonstrate that he can separate evil from someone. The board unanimously disagrees, and Jekyll is forced to take matters in his own hands. At the same time, the Doctor is set to marry his fiancée whose father is also a member of the board and distained from voting against his son-in-law. The tension is high which sets that path for Jekyll's experimentation and ultimate demise.

Brierley Hill Musical Theatre Company have managed to produce a polished and, in some ways, a professional performance from this dark and gothic piece. I worry when watching amateur shows that technically things won't go accordingly to plan, that the sets will be mediocre and the singing will be, well, amateur. However, I was to be challenged whilst in my seat at Brierley Hill Civic I found myself watching an amazing (I don't use that word lightly!) performance which I enjoyed from beginning to end.

The principle cast were wonderful. There wasn't a poor performer amongst them. BHMTC chose well this time with everyone fitting their character perfectly. Jekyll (and Hyde) was portrayed by the talented Alec White (Chicago, Little Women) who had a challenging job to balance to totally different characters: a challenge he met full on. He was supported by a sublime principle female cast. Niamh Slater who has recently started her training at the Birmingham School of Theatre Excellence studying musical theatre presented a professional performance as Jekyll's fiancée. Her voice is certainly one that wouldn't be out of place on a West End stage. Once to watch.

Mr Hyde, Jekyll's evil nemesis, goes on a murdering spree and comes across a prostitute, Lucy, who Jekyll had befriended one evening whilst on his bachelor party. Kate Cox (Chess, Kiss me Kate) plays the part well with a powerful voice to boot. This reviewer was impressed!

Other notable performances by Jack Humphries (Top Hat) as Henry Jekyll's best friend and confident John Utterson and Simon Peacock (Jesus Christ Superstar) who plays Jekyll's Father-in-law, Sir Danvers Carew.

I was less impressed with the ensemble in this production but only as far I found them a distraction to the overall piece and if it were not the fact that a large company such as BHMTC needs to reflect its membership and give opportunities to everyone, I would have had a smaller ensemble to compliment the performances of the principle cast.

All in all, this is a great performance which was made even more credible by the stunning orchestra under the musical directorship of Dr. Edward Caine. They were tight, to use a musical term, as were the ensemble to give them their due.
If you're looking for a story and love and happy endings, this won't be for you but it you're for looking for a dark, eerie and murderous plot with a man clearly tormented with himself, then this is for you.
Jekyll and Hyde – The Musical continues at the Brierley Hill Civic Hall until 12th October 2019.