Priscilla Queen of The Desert The Musical is hard to describe. It's a bit like someone's taken 'Now That's What I Call Camp', asked Vivienne Westwood to theme some clothes around it and thrown it all together (with a disco ball) into a blender. It's also absolute genius.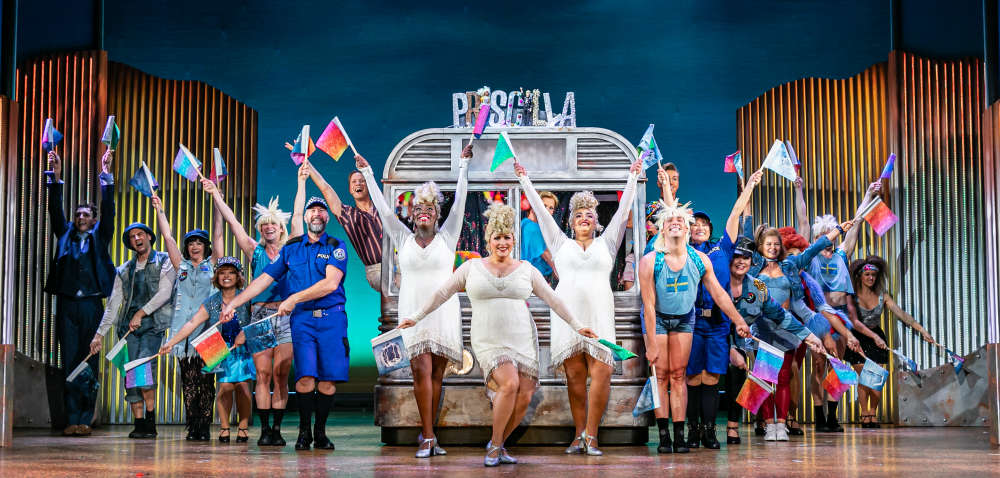 It's hard to describe the feeling when you walk into a theatre after 500-or-more days without doing so. There's a sense of anticipation and a certain amount of re-focusing when you realise how complacent you'd become before the pandemic. For over 125 years, in a number of guises, Birmingham Hippodrome has entertained and enthralled the masses and I think that everyone in the venue last night was respectful of the fact that we've all been given a second chance at something we very nearly lost.
A huge pat on the back should go to Fiona and her staff as well. Despite the suffering and uncertainty of the last 18 months, they've really turned round the theatre for its opening week. The Hippodrome feels as open and welcoming as always, but with a subtle hint of safety. That's not to say there's any compromise on covid compliance, but rather a non-clinical atmosphere where patrons aren't greeted with a wall of sanitiser ten paces into the building - and the audience were grateful for that.
And then we have, arguably, one of the most perfect shows to re-open a theatre with.
Adapted from Stephen Elliott's 1994 film The Adventures of Priscilla, Queen of the Desert, the stage musical tells the story of two drag queens and a transgender woman, who contract to perform a drag show at a resort in Alice Springs, a resort town in the Australian desert. As they head west from Sydney aboard their bus, the three 'friends' come to the forefront of a comedy of errors, encountering a number of strange characters, as well as incidents of homophobia, while widening comfort zones and finding new horizons.
After a successful run in Australia, 'Priscilla' enjoyed a two-year West End stay in addition to its Broadway debut in 2011. The show was nominated for the Laurence Olivier Award for Best New Musical as well as two Tony Awards, winning these awards in the costume design categories.
This is my sixth time watching the show and it's safe to say - it never get's old! Priscilla is the show that keeps on giving with probably some of the best costuming, staging and score of its time.
First thing's first; this production was slightly different to those that came before it. It felt less like the creative team had picked up the 'Priscilla' box from the licensing company and thrown it on stage and more like they'd looked at slight tweaks to the staging and construct of the piece. I don't know if that was intentional, or just a fluke of rehearsals but it was a welcome change for those in the auditorium.
What also stood out - somewhat predictably - was the performances on stage. This is a show where you need big expressions and over-the-top personalities...things that certainly weren't lacking last night!
The role of Tick, in the stage musical was written for Jason Donovan so, in any production, the man who fills his boots (literally!) needs to have the impact to pull it off. Edwin Ray gave us a different spin on the character to the Tick we've seen before. I can't quite put my finger on it, but his interpretation was very much his own and not becoming a Donovan clone, which was gratefully received by the audience.
His co-stars; Nick Hayes (Felicia/Adam) and Miles Western (Bernadette) were equally as strong and, in a show where so much is placed on the shoulders of the three leads, it was pleasing to see such strong talent come to the floor. Switching between bitchy and tender in a heartbeat they managed to show both vulnerability and sassiness in equal parts. A particular audience favourite being Western's deliverance of the ultimate comeback in the outback bar - but I'll leave you to find out what that is for yourselves!
However the trio can't do what they do without the other members of the cast supporting them and that support came in droves this evening. Special mention should go to Claudia Kariuki, Aiesha Pease and Rosie Glossop as our Diva's who's voices were outstanding, as well as the young actor who stole the audience's hearts as Ticks' son, Benji.
In fact the entire cast seemed to 'click' perfectly to produce a slick, rehearsed and crowd pleasing show. The supporting cast had an infectious energy that spread like wildfire around the room - every single person in that auditorium was on there feet during the finale and the deafening screams at the end capped off an evening of amazing entertainment. I don't know whether that was - at least in part - a release after over a year of not being able to perform on a stage that so many performers cherish...or the infectious nature of the show.
Whatever it was, let's have some more - the world of theatre is a better place for it!
Priscilla runs at Birmingham Hippodrome until Saturday 4th September. For more information, or to get your tickets, head to birminghamhippodrome.com.