I've watched a lot of films - everything from Die Hard to The Greatest Showman - and we all have our go to movies that we just can't stop watching. Legally Blonde The Musical; a stage interpretation of the 2001 'chick flick' starring Reese Witherspoon is on stage at the Dormston Mill Theatre in Sedgley this week and, in true stagey style, it's fast turning into my go-to musical too!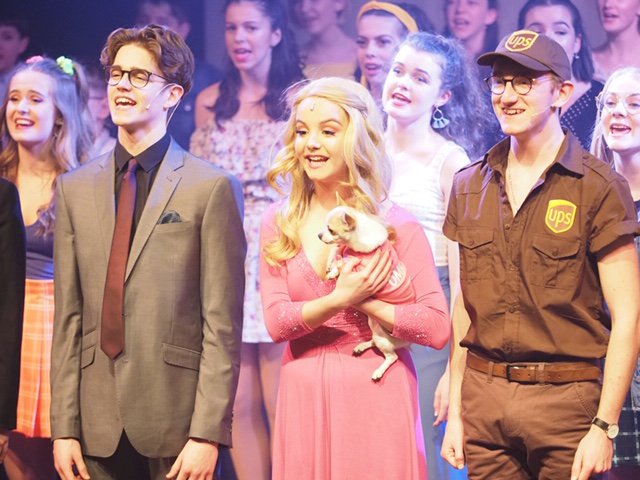 Both the big-screen original, and it's stage cousin, are about empowerment and breaking stereotypes against women in the mainly male controlled environment that is the legal system. The story is laid out in front of you in a somewhat gentle fashion, so you won't need to worry too much about swotting up before you arrive.
Bilston Youth Operatic Society are always a joy to watch on stage. Each of their performers are mature beyond their years, giving more professional performances than some adults have in productions I've watched recently. They totally engage with the audience in a way that makes you want to jump into their lovely pink world on stage.
The story, written by Heather Hach, centres around Elle Woods (Pheobe Bruerton). An attractive, wealthy and popular fashion merchandising student and president of the Delta Nu sorority. Elle is devastated when her boyfriend, Warner (Solomon Davy), breaks up with her, arguing that he needs a more serious woman in order to fulfil his political aspirations - including attending Harvard Law school. Elle decides to also enrol in Harvard Law in order to win Warner back with some encouragement (musically) from her sorority sisters, She manages to gain admission against all the odds but soon discovers that Harvard's world and her very girly outlook, are very different.
None of Elle's classmates take her seriously and she is friendless at university, aside from Emmett (Joe Riley) an associate at Harvard who gives her advice that would eventually become very fruitful and a beautician named Paulette (Sally Griffiths) who encourages her to try to win over Warner.
The wonderful and unlawful world of law, has many shady characters and the villain of the piece is Professor Callahan (Lewis Johnson) who, for want of a better word, is a sexist sleaze bag that see women as objects of desire and not lawyers, giving Elle all the motivation she needs to make it to the top.
This is a funny, witty and empowering musical with oodles of 'girl power' and a sprinkling of 'sisters doing it for themselves' which is a joy to watch. The principle cast are, despite their youth, fantastic - stand out performances for me were Phoebe Bruerton, Joe Riley and Sally Grittiths who has a voice to die for. Phoebe is destined for the West End without a doubt.
Other performances which made me laugh were Ben Evans who plays the slick UPS delivery driver who wins over Paulette's heart and Ella Morgan who plays Vivienne.
Your ticket money is safe with these guys. They are always a joy to watch and, despite issues with sound throughout that at times meant you lost some of the dialogue, this is a performance that you must see.
Under the directorship of Laura Canadine and Ben Batt, Legally Blonde is a local masterpiece that deserves your presence if only just to see the two other mini stars of the how in the form of Bruiser and Rufus. Every musical need's dogs.
Legally Blonde continues at the Dormston Mill Theatre in, Sedgley until March 30th. Tickets are available by calling 07798 792248 or by emailing bilstonoperatic@hotmail.co.uk.