There's certain shows on the touring circuit that really spark something in the mind of the reviewer. Shows which are so amazingly perfect that you can't help but leave the auditorium with a (somewhat ironic, in this case!) smile on your face - and this production of The Addams Family is absolutely in that category.
I think the key to getting it so right is down to a small list of must-haves, which make every musical a success - a simple story, an amazing score and a brilliantly talented cast. Three things which The Addams Family has in droves.
The UK premiere of this spectacular musical comedy comes from the writers of multi award-winning hit musical 'Jersey Boys', with music and lyrics by Tony-nominated, Andrew Lippa.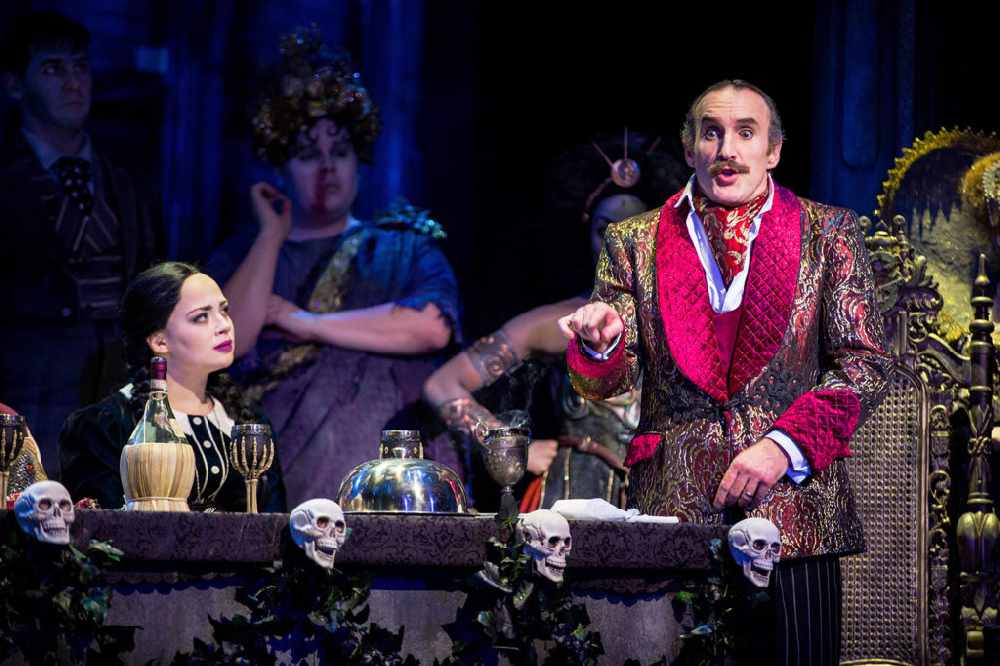 Inspired by the original Addams Family cartoons, ​​​​​​The story is a continuation of the tales we know and love. Wednesday (Carrie Hope Fletcher; Les Miserables, Chitty Chitty Bang Bang) is all grown up and has a shocking secret that only her father, Gomez (Cameron Blakely; Mamma Mia, Les Miserables) knows. She's fallen in love with Lucas (Oliver Ormson; Hairspray) a sweet young man from a respectable family. With his wife, Morticia (Samantha Womack; Eastenders, South Pacific) in the dark will Gomez manage to keep his daughter's secret until the two families meet for a fateful dinner with hilarious consequences?
The set and lighting is stunning and Diego Pitarch and Ben Cracknell should be congratulated for creating both practical and functional staging which has a gorgeously dark aesthetic to it. Andrew Lippa's music and lyrics are also some of the most infectious and catchy songs, from an audibly beautiful score, that I've heard in years.
However the cast is absolutely the grease on the cogs of the production. Womack shines as a dead-pan Morticia. For many, Anjelica Houston's Golden Globe nominated portrayal of the matriarch epitomises the character, however for me Womack's interpretation is different - but equally as relevant. Alongside Blakely's excellent, excitable take on Gomez, the standing ovation at the end was greatly deserved.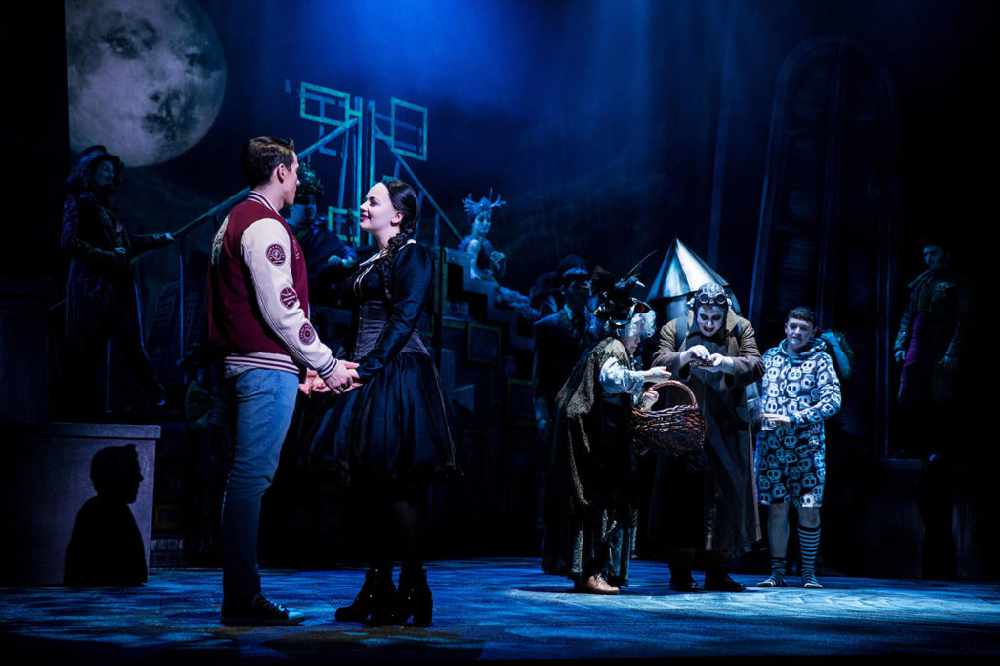 Les Dennis is, and has long been, my surprise stage hit. Having sustained well received roles in Hairspray, Chicago and Spamalot, you assume a certain level of talent, but he always seems to go above and beyond those expectations. Acton almost as a narrator, he fast becomes the uncle that the whole audience falls in love with.
However, for me, this show belonged to Carrie Hope Fletcher who owned the stage from the minute she walked on to it.
Well loved by so many youngsters in the audience, largely thanks to her social media presence as well as her extraordinary talent, Fletcher has been working professionally for around 4 years. In that time she's toured the UK as Truly Scrumptious in Chitty Chitty Bang Bang and stood on a West End stage as Eponine in Les Miserables. It's almost impossible to comprehend that this is only her third or fourth full time gig.
Her interpretation of Wednesday clearly has foundations in Christina Ricci's big screen characterisation, but is also very much her own slant on the role. With a stage presence that commands you watch and a singing voice that makes you sit up and pay attention, this role could have been written for her. It's more than evident that Carrie has had a huge impact on the genre and is, without doubt, one of our best new talents.
Her interpretation of 'Pulled' left a huge number of the audience around me stunned. I'm not sure if it was Fletchers powerful singing voice, the acoustics of the room or both - but to be running round, in a corset, belting a song like she did is both admirable and awesome! Furthermore, through her YouTube channel specifically, she's bringing such a wide variety of her followers into the theatre; some for the very first time, which can only be a good thing.
This show is funny, touching, powerful - and pretty gory in some respects - continuation of the Addams tales we know and love - get your tickets immediately!
The Addams Family runs at Birmingham Hippodrome until Saturday 10th June,