We reviewed the current production of 'The Wedding Singer' earlier in its run. This review is an updated version of a previously published one.
---
It's 1985. Hair is huge, greed is good and rock-star wannabe Robbie Hart (Jon Robyns, Avenue Q, Legally Blonde) is New Jersey's favourite wedding singer. When his own fiancée dumps him at the altar a seriously bummed out Robbie makes every wedding as disastrous as his own.
Can sweet natured Julia, (Cassie Compton, Wicked, Les Miserables) and her best friend Holly (Stephanie Clift, Mamma Mia) lure Robbie out of the dumpster - literally - and back into the limelight? Or is he going to see her head off down the aisle with Wall Street bad boy Glenn (Ray Quinn, Grease, Dirty Dancing)? Only Grandma Rosie (Ruth Madoc, Hi-De-Hi!, Little Britain) seems to be able to see that Robbie and Julia are the couple that are meant to be.
The show is based on the 1998 hit film starring Adam Sandler and Drew Barrymore and doesn't move too far away from the core story of the motion picture. First things first - this ain't Chekov. The story is a very straightforward, classic tale of 'will the guy get the girl' and if I'm totally honest that did make me worry slightly. It certainly had an established brand to build on, but would the story translate well to the stage or would it become a throwaway musical to fill space in the Alex's Summer season?
To add to the trepidation, The Wedding Singer was never made to be a musical so this show has an almost entirely new score, borrowing just a song or two from the original soundtrack. However, safe to say that any misgivings I may have had were completely misplaced and that was evident from the moment the curtain went up.
First point of call IS that musical score. With a collection of some of the catchiest songs of modern day musical theatre - and a seriously infectious opening number - this show makes its mark from the first beat of the first bar.
The shows ensemble cast are truly a stunning collection of talent. Slick, polished and well rehearsed they're so much more than backing dancers, proving the value of a high quality supporting cast in any show of this scale.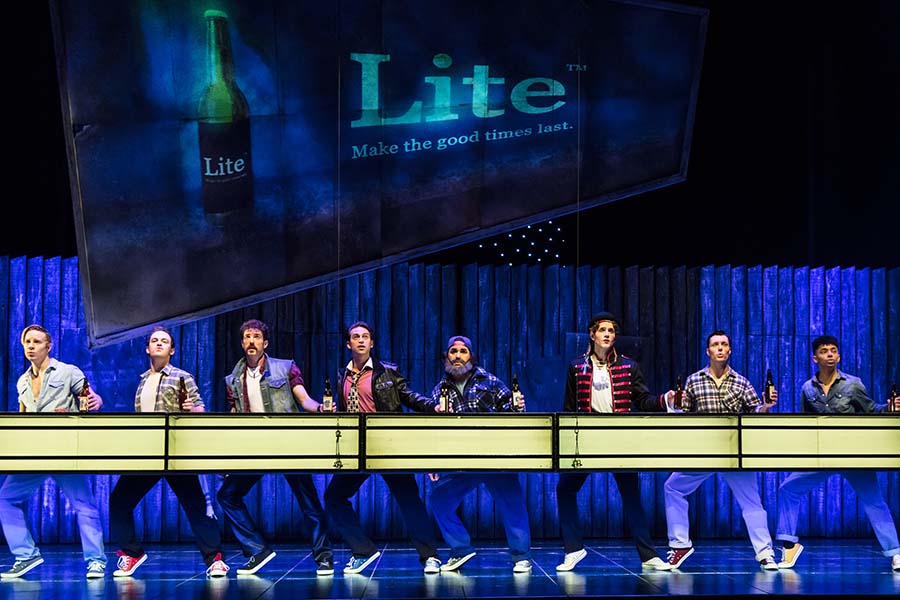 However it's Robyns and Compton who are the stand out stars of this show.
Robyns has a pedigree which goes before him and is an absolute pair of safe hands to lead the cast. His triple threat status is wholly confirmed throughout the production with stunning vocals and sublime dancing alongside a performance which, in my opinion, eclipses Sandler's take on the lead role back in '98.
Compton has just the right amount of sass versus an equal measure of vulnerability. Her ability as an actress shines through alongside some beautiful vocals which harmonise and complement Robyns as though they've been performing this show for decades.
I wasn't entirely sure if I wanted to see this production a second time. Not because it was bad - quite the opposite. I was so pleasantly surprised when it came to Birmingham that I didn't want to be open to the possibility of poor comparison's. However the show was even better the second time round. This isn't just a space filler, nor is it 'another film made into a musical'.
The Wedding Singer is a credible, well rehearsed and beautifully performed show which deserves a West End run. You cannot fail to smile and have genuine warmth and affection for this musical and the team who have produced a stand out production that cements the reason new musicals are still in development - and why the industry is in such safe hands.
The Wedding Singer plays at Wolverhampton Grand Theatre until Saturday 7th October.