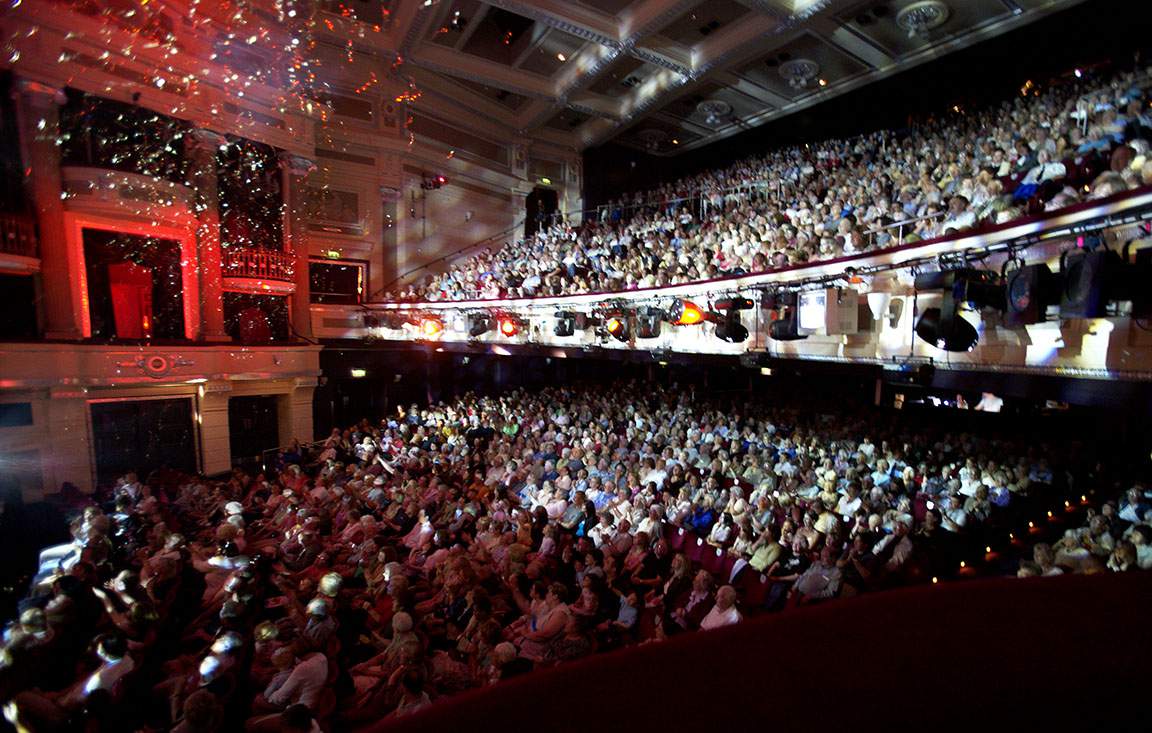 Britain's globally renowned theatre, arts and heritage industries will receive a £1.57 billion rescue package to help weather the impact of coronavirus, the government have announced.
Thousands of organisations across a range of sectors including the performing arts and theatres, heritage, historic palaces, museums, galleries, live music and independent cinema will be able to access emergency grants and loans.
The money, which represents the biggest ever one-off investment in UK culture, will provide a lifeline to arts organisations across the country hit hard by the pandemic, helping them stay afloat while their doors are closed.
Funding to restart paused projects will also help support employment, including for freelancers working in these sectors. Prime Minister Boris Johnson said:
"From iconic plays and musicals, mesmerising exhibitions at our world-class galleries to gigs performed in local basement venues, the UK's cultural industry is the beating heart of this country.
"This money will help safeguard the sector for future generations, ensuring arts groups and venues across the UK can stay afloat and support their staff whilst their doors remain closed and curtains remain down."
Many of Britain's cultural and heritage institutions have already received financial assistance to see them through the pandemic including loans, business rate holidays and participation in the coronavirus job retention scheme. More than 350,000 people in the recreation and leisure sector have been furloughed since the pandemic began.
However a number of theatres around the country, including those in the West Midlands, have felt the brunt of the pandemic, with around 92% of their income, traditionally derived from ticket sales, severed. Speaking to Black Country Radio last week, CEO and Artistic Director of Birmingham Hippodrome, Fiona Allan, admitted that the venue had been devastated at the prospect of having to make up to 50% of it's workforce redundant.
Ms Allan felt that the theatre was on the brink of collapse, adding that if their Christmas season wasn't able to go ahead, and no Government subsidy was forthcoming, the venue could conceivably close before the new year. However, after today's update, the outlook was far more positive. Ms Allen said:
"We are overjoyed to hear the government will be investing to protect our nation's world-class cultural, arts and heritage institutions. This is welcome news as we were at the point where, without intervention, we would have seen 70% of theatres across the UK close.
"This support will mean that more venues, jobs and companies can survive and there will be an industry to return to, when we can do safely.
"We still have a lot of work to do, and while we wait for further details on how this may directly benefit Birmingham Hippodrome, we are now able to turn our focus to rebuilding what we had lost and planning for the future."
The offer includes funding for national cultural institutions in England and investment in cultural and heritage sites to restart construction work paused as a result of the pandemic. This will be a big step forward to help rebuild our cultural infrastructure.
The package includes:
£1.15 billion support pot for cultural organisations in England delivered through a mix of grants and loans. This will be made up of £270 million of repayable finance and £880 million of grants.
£100 million of targeted support for the national cultural institutions in England and the English Heritage Trust.
£120 million capital investment to restart construction on cultural infrastructure and for heritage construction projects in England which was paused due to the coronavirus pandemic.
The new funding will also mean an extra £188 million for the devolved administrations in Northern Ireland (£33 million), Scotland (£97 million) and Wales (£59 million).
The government has also confirmed it is finalising guidance for a phased return of the performing arts sector that will be published shortly. The government say they are working with sector experts to get it back up and running as soon as it is safe to do so and is being guided by medical experts. Culture Secretary, Oliver Dowden, added:
"Our arts and culture are the soul of our nation. They make our country great and are the lynchpin of our world-beating and fast growing creative industries.
Fantastic news. Just the support we need so arts and culture can survive and thrive. Thanks to colleagues at @DCMS for all their efforts - wonderful news. I feel Hopeful once again for @brumhippodrome and all our theatres and cultural organizations. https://t.co/M7bHIMBVv7

— F i o n a (@Fiona_Allan) July 5, 2020
"I understand the grave challenges the arts face and we must protect and preserve all we can for future generations. Today we are announcing a huge support package of immediate funding to tackle the funding crisis they face.
"I said we would not let the arts down, and this massive investment shows our level of commitment."
Decisions on awards will be made working alongside expert independent figures from the sector including the Arts Council England and other specialist bodies such as Historic England, National Lottery Heritage Fund and the British Film Institute. Repayable finance will be issued on generous terms tailored for cultural institutions to ensure they are affordable.
Further details will be set out when the scheme opens for applications in the coming weeks.