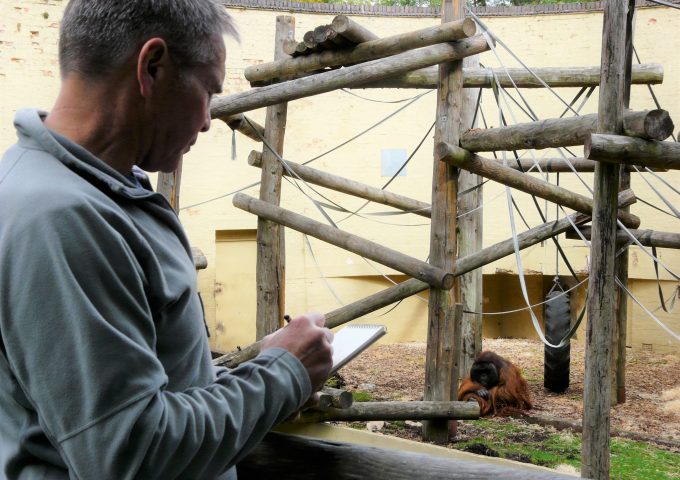 A generous artist is creating limited edition canvases of DZG's four orang-utans to raise funds for their £800,000 outdoor enclosure appeal.
David Skidmore will donate a graphite pencil-drawn montage of Benji, Jorong, Jazz and Sprout. The artist, who hails from Bromsgrove, has started work on the stunning sketch which will be printed on quality canvases and sold on site from the middle of next month.
The award-winning, semi-professional artist has already been behind the scenes to meet our Bornean orangs and spent time sketching and photographing them in an effort to capture their characters. Originally from Cradley, 58-year-old David said:
"I offered to draw the orangs as I'm a wildlife artist and conservationist at heart and hopefully the prints will give the zoo's orangutan enclosure appeal a boost.
"I'm making good progress with Benji after having to play around a little with the light, so as to capture his eyes to the best effect. I hope to complete the composition of all four orangs by the start of November and each limited edition print will come with a signed certificate of authenticity."
David, a member of The Wildlife Arts Society International, also ventured on site earlier in the year to sketch Sumatran tiger Daseep. The piece is now being auctioned in aid of a global campaign helping to protect African elephants from poachers.
Cradley Heath-based printing firm Dunns Imaging has also come on board with the artistic project and has offered to produce the canvases at a reduced cost, to allow as much money as possible to go towards the appeal. Marketing Manager for Dunns Imaging, Catherine Peakman, said:
"At Dunns, we are very proud to be able to support Dudley Zoo's fundraising activities. We are delighted with the opportunity to turn a wonderful illustration into canvas wall art to help raise funds for the new orangutan enclosure."
So far DZG has raised almost £330,000 towards building an entirely separate outdoor enclosure, which they hope to start within three years. The money has been pulled together through donations, fundraising activities by zoo supporters and all purchases of adult and little zoo keeper experiences are being added to the total too.