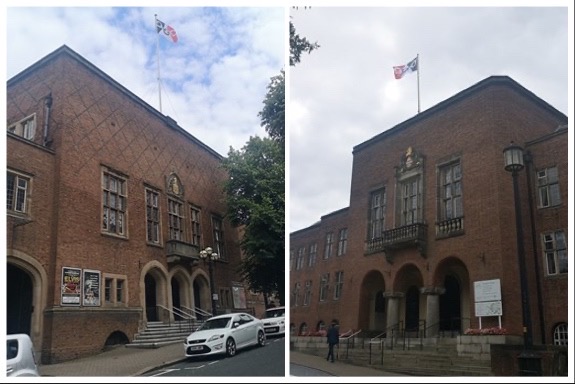 Black Country flags have gone up on key council buildings, as the borough prepares to celebrate Black Country Day tomorrow.
A number of events normally run throughout July as part of the Black Country Festival. Dudley Council was gearing up for a series of events and activities, but the coronavirus pandemic has meant the annual festival has had to run differently.
Instead, using the hashtag #BCFestivalOnline, a series of videos and images will be shared online via the council's social media channels to mark the special month. Borough residents are being urged to get involved but to do so safely by putting up flags, sharing photos and telling us why they are proud to live in the Black Country. Councillor David Stanley, the Mayor of Dudley, said:
"As Dudley is the historic capital of the Black Country, it is really important that despite uncertain times that we still mark such an important event as the Black Country Festival.

"It's great to see the flags flying from the council house and the town halls, and we want residents to follow suit and get theirs up at home. Share your photos on social media about why the Black Country is special to you, using the hashtag. I look forward to seeing them all."

A socially distanced event will also take place in Somers Square, Halesowen, between 1pm and 4pm tomorrow to mark the day. Broadcast live on Black Country Radio, the afternoon will include the official launch of the official Black Country Monopoly game in aid of Mary Stevens Hospice, at 1:30pm.

Following last weeks announcement that outdoor performances can recommence, Black Country poet and singer. Billy Spakemon, will be performing live and the newly crowned Miss Black Country, Isobel Lines, and leader of Dudley Council, Patrick Harley, will be in attendance along with some special guests.