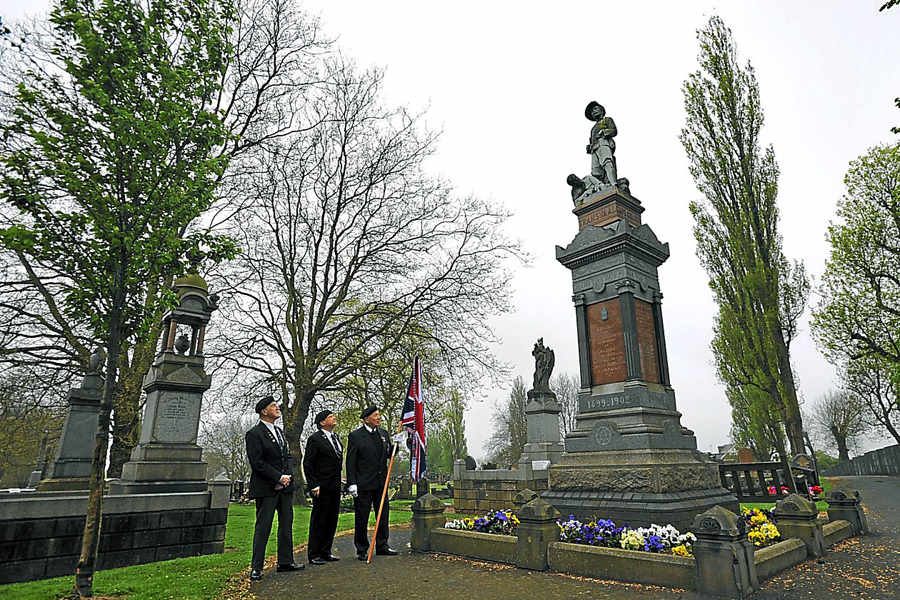 A restored war memorial commemorating Dudley's Boer war fallen has just received listed status.
Historic England recently announced Grade II listed status for the Dudley Boer war memorial in Dudley Cemetery as part of its first world war commemoration project. The memorial lists the names of the 56 Dudley men who died during the Boer War (1899 – 1902).
The memorial depicts a soldier with his rifle and fixed bayonet defending a wounded bugler who lies, bugle in hand at his feet, a common theme for South African war memorial with variations on the design to be seen in Manchester, Swansea, Falkirk, Alloa and Guernsey. It was unveiled on 23 September 1904 by Lieutenant General Sir Neville Gerald Lyttleton and cost around £300, which was paid for by public subscription.
The memorial monument was designed by Henry Owen Burgess of Old Hill, a former student at Dudley School of Art. The whole memorial stands 5.5m high and features two life size figures alongside raised inscriptions and a carved design incorporating crossed rifles and the British Colonial pattern helmet. An inscription reads 'Greater love hath no man than this, that a man lay down his life for his friends.'
The original plinth was made in red and grey granite, while the pair of figures were made of Sicilan marble. The rifleman originally carried a bronze rifle, which was stolen and the marble hands snapped off in 2013.
A replacement rifle, carved out of resilient Dorset Portland stone was made, and stonemason Malcolm Morris was able to create one single piece which connected the rifle and hands allowing a seamless restoration. The bayonet and the strap, made of aluminium were also added and the whole restoration was completed in time for Remembrance Day in November 2015.

Historic England recognised the piece as a substantial and elaborate example of a Boer War Memorial, with an important local focus. Its design by a local artist, the fact that it was paid for by subscription using a range of colours stones showed its importance to the local community because of the high quality of materials used, both initially and in restoration.
It has received the status due to its historic interest, as an eloquent witness to the tragic impact of world events on this local community, and the sacrifice it has made in the Second Boer War; and also due to its architectural interest as a substantial and elaborate war memorial incorporating classical motifs. Councillor Khurshid Ahmed, cabinet member for planning and regeneration, said:
"We are delighted to hear that the Boer War Memorial in Dudley cemetery has received Grade II listed status.It's a beautiful piece of architecture and still of great importance to local people today.
"The sensitive restoration of the memorial by Dudley Council after the mindless theft of the rifle back in 2013 has helped the statue receive listed status and I hope it will continue to be a poignant reminder to local people of the sacrifice made by their forebears."