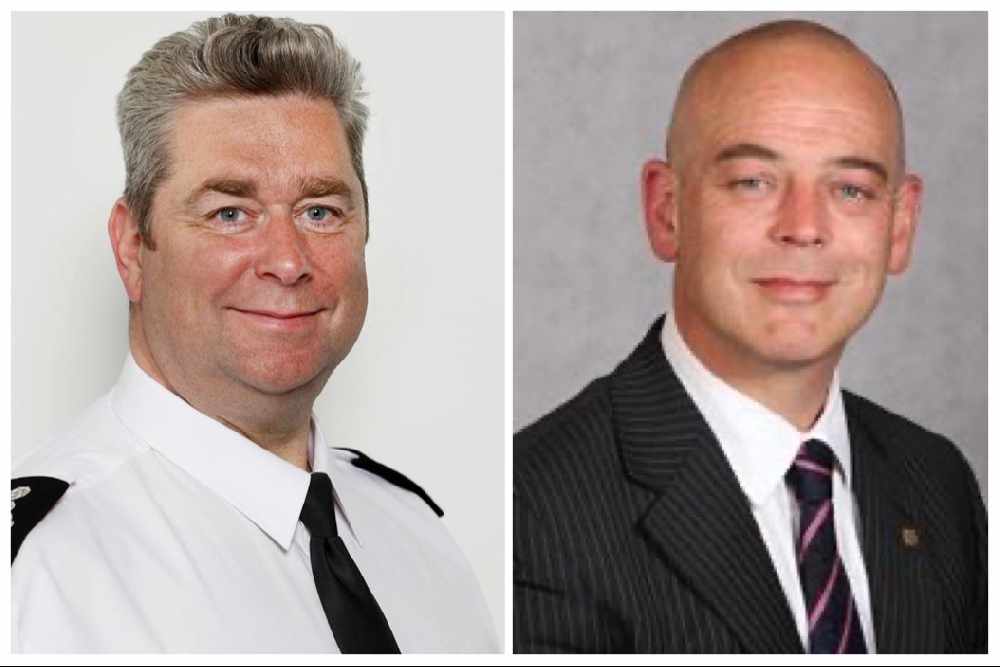 (L-R) Phil Loach, Chief Fire Officer and Cllr Greg Brackenridge, Chair of West Midlands Fire and Rescue Authority
West Midlands Fire Service have revoked an instruction which saw a ban on the use of the Black Country flag at their stations because of a perceived link with slavery.
In a joint statement issued this afternoon, Chief Fire Officer, Phil Loach and Wolverhampton councillor, Greg Brackenridge, Chair of West Midlands Fire and Rescue Authority said:
"Last week, West Midlands Fire Service asked staff not to fly the Black Country flag at our sites but, instead, to find alternative ways of marking Black Country Day. In our statements to media outlets we explained that we were seeking to form a fully rounded view of the flag's chain imagery and questions it raises in the context of slavery.

"For some people, the flag's chain imagery is a reminder of links between Black Country industry and slavery. This is all the more relevant for our service, given the support of West Midlands Fire Service and West Midlands Fire and Rescue Authority for the global Black Lives Matter movement, which resonates directly and personally with many of our staff."

The move was slammed by local MP's, with many from across the borough widely criticising the immediacy of the decision, questioning whether it was a knee-jerk reaction from fire chiefs. Dudley North's Marco Longhi requested an apology from Service bosses - speaking the following day, he said:
"I am disappointed and angry to hear that [West Midlands Fire Service] are attacking a piece of art that reflects our proud industrial heritage. The Black Country Flag is known all over the world.
"It is a great shame these bosses seem to have no understanding of what it represents and what it means to the people of the Black Country. I suggest that they reflect on their decision and instruct local fire stations to fly the flag with pride.
"This is political correctness gone mad and will no doubt anger the vast majority of Black Country folk."
Public reaction was equally as vocal with a poll on Black Country Radio's social media channels drawing almost 5,000 participants. 98% of those who voted were in support of the flag, deeming it to have no racist connotations. Steve Edwards, founder of Black Country Day was in agreement, saying that he was happy to speak with the Fire Service to discuss the flag's design and history.
Whilst visiting a new development in Walsall yesterday, Leader of the House of Commons, Jacob Rees-Mogg was quick to add add his support. Speaking to the Express & Star, he said:
"It's probably not for me to tread on the toes of fire chiefs outside of my own area, but I understand the flag was designed by a 12-year-old schoolgirl not very long ago, and that the chains in the flag represent the Black Country's industrial heritage.

"I think to read into that some entirely different history is not an historical approach to take to a flag, and as something of an amateur historian it is certainly not the approach I would encourage them to take."
However Mr Loach added that the innocence of the design was never questioned, saying:
"It has never been in question that the flag's design – created by Gracie Sheppard when she was a schoolgirl – was honestly conceived as a celebration of all that is positive about the Black Country's heritage. Many people, predominantly from the area, have clear pride in the emblem.

"Our association with Black Country Day has involved various activities over many years. It is an important association, not least because of the employment we provide in the area and services which make the Black Country and the entire West Midlands safer, stronger and healthier.

"We have now given detailed consideration to the issues raised, gathering views and information from within the service and a range of external sources.

"WMFS and WMFRA will support the continued use of the flag throughout celebrations of the Black Country's rich heritage, in which many of staff and our communities have a clear and unquestionable pride."