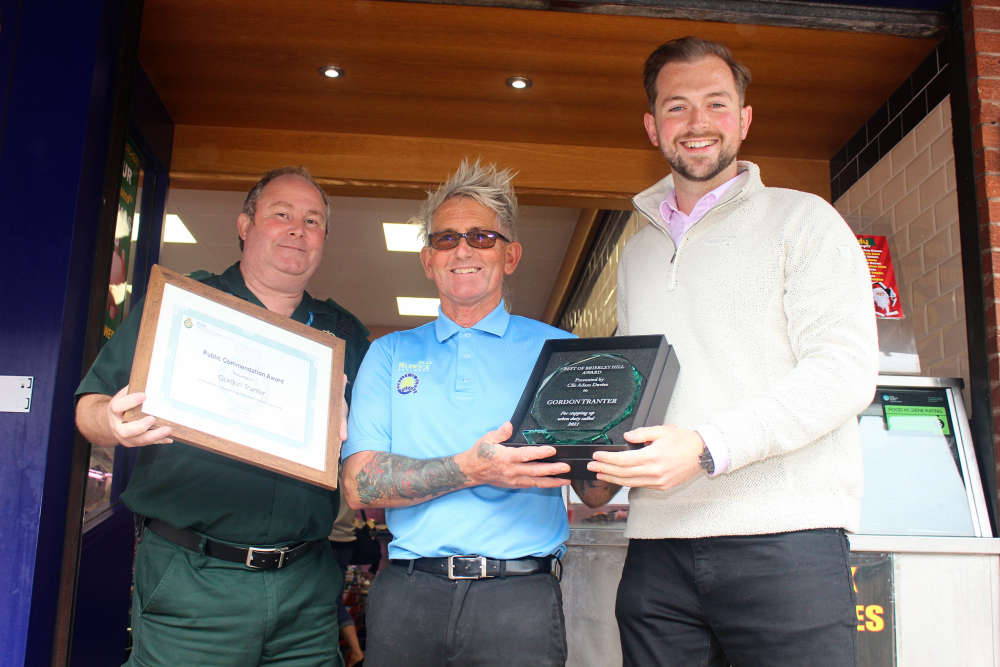 A butcher from Brierley Hill has been given two commendations after saving a customers life - despite having no first aid training.
Gordon Tranter from Alan Warwick Butchers in the Moor Centre used techniques gleaned from watching shows like 999: On The Front Line and Ambulance on television when a 66-year-old customer collapsed outside the shop last June.
His efforts were rewarded when he was presented with the West Midlands Ambulance Chief's Commendation and the inaugural Best of Brierley Hill Award on Thursday afternoon. Gordon said:
"I think I did what anyone else would have done in a similar situation. It's all been a bit surreal and a nice surprise to be recognised in this way. It's been emotional as well.
"I know a lot of people in the town and I'd never seen the lady before the incident - as she left she collapsed outside. I don't know what came over me. Quite a few people gathered round her, but no-one was doing anything. I've seen on TV that any CPR is better than none so I started compressions and a lady phoned 999.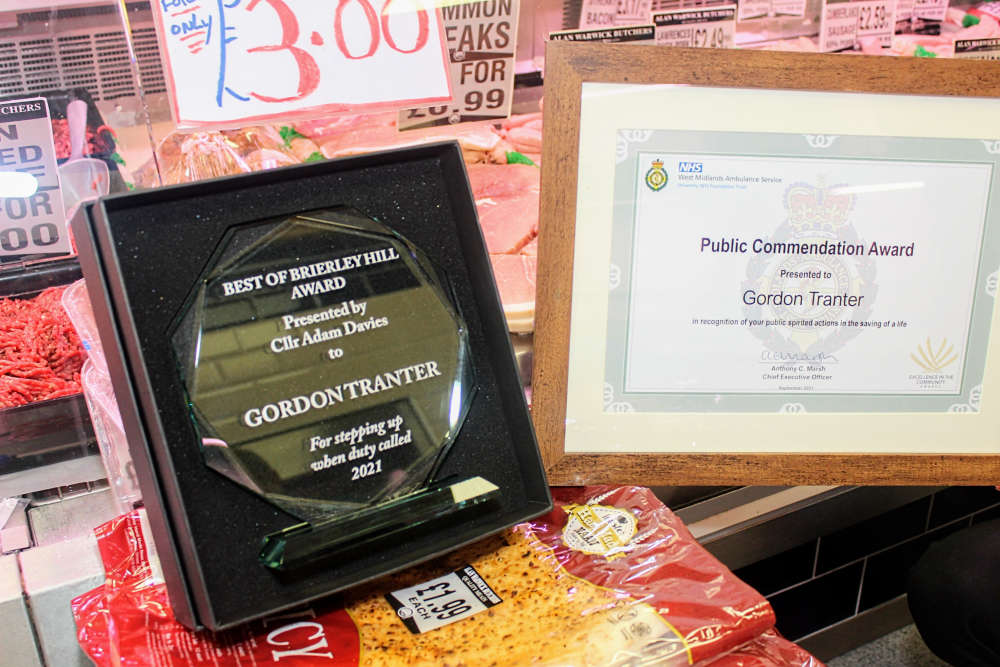 "I did some compressions and then the lady did some too - we lost her a few times, but the emergency operator told us to keep trying. They told us to turn her on her side to keep her airway open. Then we were told to roll her on her back and keep pressing due to her condition.
"The crew took over when they arrived and used their defibrillator before taking the lady to hospital. The family have phoned us up at the shop to thank us and to say that she is recovering which is good news."
Mr Tranter was nominated by Brierley Hill councillor, Adam Davies who added: "Gordon is an inspiration. He was the hero of the hour who had stepped up and delivered manual CPR, so I went to thank him a day or so after the event.
"I asked him where he'd learnt CPR and I was shocked to find out that despite acting so instinctively, he'd never received any training of any kind. I would like to thank everyone who helped in some way."
Andrew Jeynes, Community Response Manager for West Midlands Ambulance Service was on hand to present Gordon with his commendation from the Trust. He added: "What Gordon did saved this ladies life and to think he did it with no CPR training is amazing.
"Basic life support delivered as soon as possible after cardiac arrest will give the heart the best chance of continuing to function until either a defibrillator or an ambulance arrives.
"Whilst I'm sure there's people like Brian all over the borough, undertaking a simple first aid course can help to give you the confidence to act in situations like this one."
Councillor Davies added that plans were underway for a community CPR training evening later this month. Details will be announced soon.