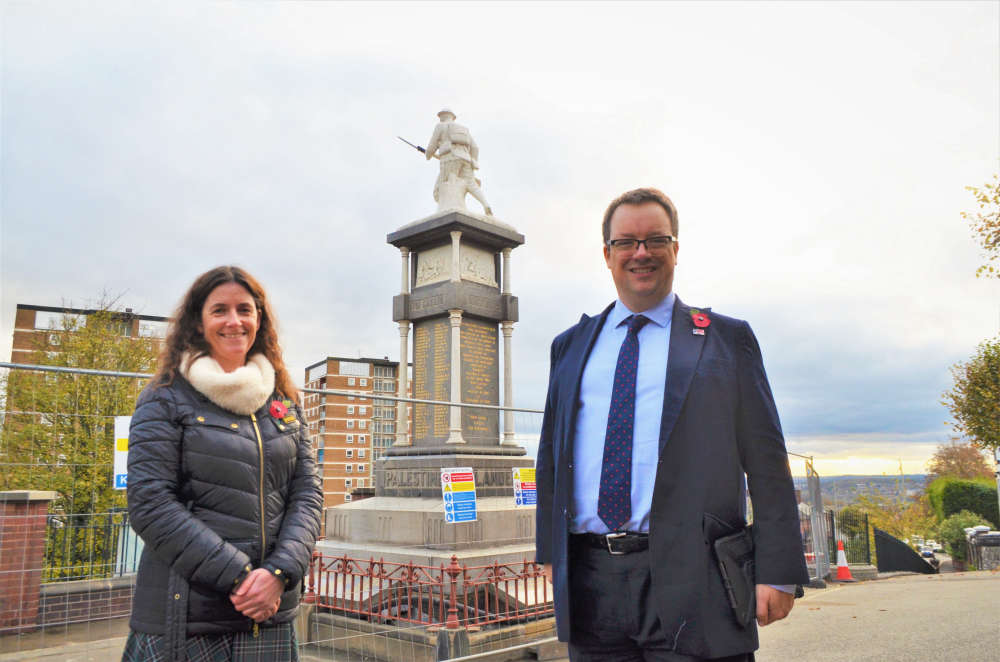 Dudley South MP, Mike Wood and Historic England's Regional Director for the Midlands, Eilis Scott
Dudley South MP, Mike Wood has met with Historic England's regional director for the Midlands to discuss the ongoing programme of heritage works in Brierley Hill Town Centre.
The Brierley Hill Heritage Action Zone works, part of the £95 million government-funded national programme, will see a number of buildings in the town restored to make more of their original character.
Restoration of Brierley Hill War Memorial is also a key part of the scheme and will be carried out in two separate phases. The first phase of works has seen the memorial and surrounding railings restored in time for the memorial's centenary this Remembrance Sunday, and the second phase will see landscaping works carried out on the memorial gardens next year. Mr Wood said:
"I am so pleased to see work to repair and restore Brierley Hill War Memorial progressing so well. The restored memorial will stand as a proud and powerful reminder of the men whose names are carved on it, and as key focal point for local people to reflect on the heritage of Brierley Hill.
"These works just wouldn't have been possible without the £1.8 million of Heritage Action Zone funding which we made the case for, and I really want to thank the local community for being so involved with this project."
Historic England's Regional Director for the Midlands, Eilis Scott, added:"As we approach Remembrance Tide and the 100th anniversary of Brierley Hill's War Memorial, we wanted to update Mike on the recently completed restoration work at the site.
"New interpretative panels are an important complementary feature, telling the story of local people who lost their lives during the First and Second World Wars, the Korean War, Cyprus Emergency and Malayan Emergency.
"The Memorial restoration project is part of Historic England's wider commitment to supporting the regeneration of Brierley Hill through our £1.8million Brierley Hill High Street Heritage Action Zone.
"We're pleased to have had an opportunity to discuss with Mike the impact that this work is making on the surrounding community."