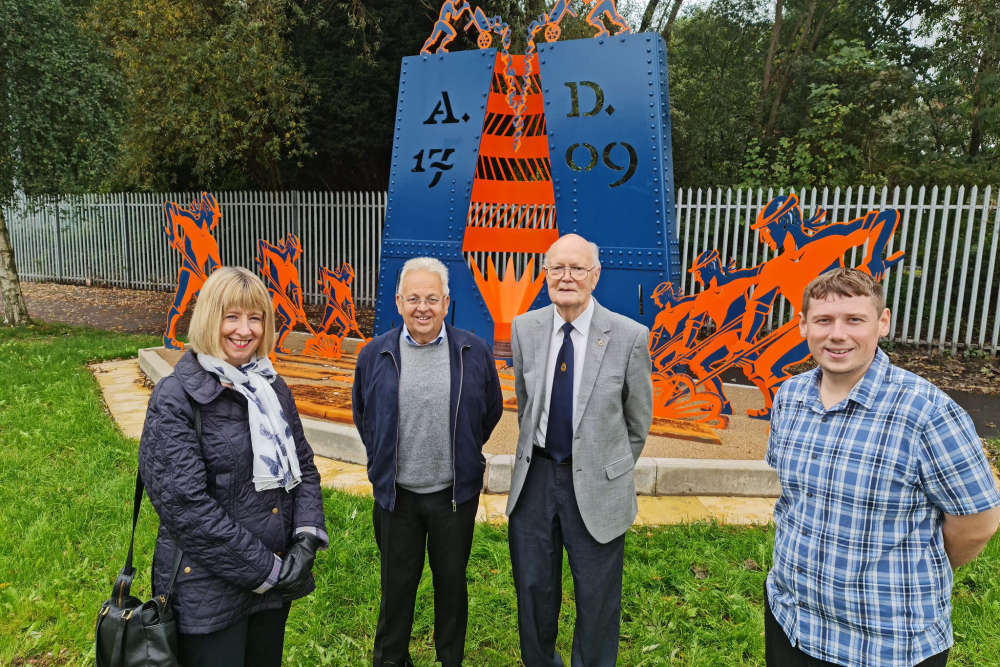 A new piece of artwork commemorating the work of inventor Abraham Darby the First who pioneered the production of pig iron during the Industrial Revolution has been unveiled at his birthplace.
Darby, was born in 1678 in Woodsetton and, though he had humble beginnings as the son of a yeoman farmer he was related to local aristocracy, his great grandmother was sister to Dud Dudley, the illegitimate son of Edward Sutton, fifth Baron of Dudley. His innovation in the use of coke smelting contributed to the development of iron and steel manufacture which drove the industrial revolution.
The sculpture has been designed by Dudley Council's borough artist, Steve Field. It stands 3.9m high and is made, fittingly, of iron and steel. It symbolises a cross section through Abraham Darby's 1709 Furnace at Coalbrookdale, with the Pig Iron Workers in front of it. It is viewable all the way round, but particularly from the front view, from the pavement, and also from the surrounding roads, located on the corner of Sedgley Road and Birmingham New Road.
The project was commissioned by Woodsetton Charitable Trust, and the Friends of Wrens Nest National Nature Reserve, with £8000 funding from three of Dudley Council's community forums.
There has also been sponsorship in kind from local industry who have provided the iron and steel components including Thomas Dudley Foundry Ltd, Mid Therm Laser and Hadley Group and Barnshaws Section Benders Ltd. Assembly was by Vince Thompson of Iconoclast Constructs, who still uses traditional rivets. Councillor Simon Phipps, cabinet member for regeneration said:

"Abraham Darby was a remarkable man. He came from humble beginnings, learning to innovate and have a vision of what could be achieved using local materials. His coke smelted blast furnaces paved the way for the Industrial Revolution. It's incredible to think that the work of a boy from the Wren's Nest could still have impact today.

"This sculpture which has been commissioned and supported by local community groups, donors and businesses is a striking tribute to this extraordinary man who played such an important role in the development of the Black Country as a key player in the Industrial Revolution.

"The fact that so many community groups and local businesses came together to help make this project happen shows that collaboration and community spirit continues to flourish in the Black Country."