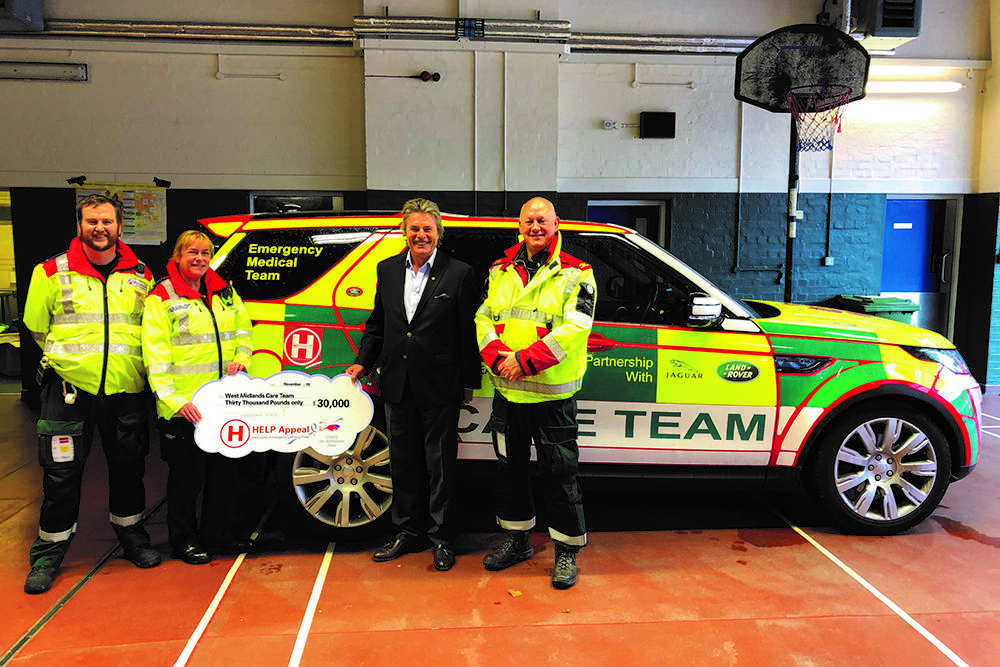 The West Midlands CARE Team is set to improve its operational activities, after receiving its first £30,000 instalment out of £150,000 from the County Air Ambulance HELP Appeal.
The grant will specifically be used to cover the significant operational costs of running a clinical service and response car; purchase new clinical equipment, including a new ultrasound system allowing clinicians to assess for heart and lung function and abdominal bleeding in critically ill patients; and state of the art training equipment.
When presenting the cheque, Robert Bertram, Chief Executive of the HELP Appeal announced that the charity will donate £30,000 to the team every year for the next five years.

Latest figures show that the West Midlands CARE Team delivered 166 voluntary shifts and responded to 1009 emergency calls in support of the West Midlands Ambulance Service over a 12 month period. The Team were the first resource on scene in 154 of these incidents. Of the cases attended, 131 had suffered a cardiac arrest and 109 had suffered major trauma. Road Traffic Collisions, stab wounds and falling from a height, were the most common reason for major trauma. Robert Bertram, Chief Executive of the Walsall based, HELP Appeal said:

"West Midlands CARE Team's volunteers are lifesavers - it's as simple as that. Not only do they have demanding and extremely challenging 'day' jobs helping patients in the NHS, but they also give up their free time to support the local ambulance service.
"Whether patients are seriously injured in a traffic collision, accident at home/industry or even a national emergency, this new funding will help these amazing volunteers arrive at the scene as quickly and as safely as possible to help save lives."

The West Midlands Central Accident, Resuscitation & Emergency (CARE) Team is a charitable organisation, which responds to serious medical incidents within the West Midlands. Working alongside West Midlands Ambulance Service; the CARE team's doctors, nurses, paramedics and other healthcare professionals give up their free time to deliver enhanced critical care to seriously injured and unwell patients.
The CARE Team is one of a number of volunteer immediate care schemes operating across the UK, under the national umbrella organisation, the British Association for Immediate Care.

The HELP Appeal was created 10 years ago by the County Air Ambulance Trust. It is the only charity in the country dedicated to funding NHS hospital helipads. The HELP Appeal relies solely on charitable donations and does not receive any government funding or money from the National Lottery.
For more information on the charity visit helpappeal.org.uk or call 0800 3898 999.