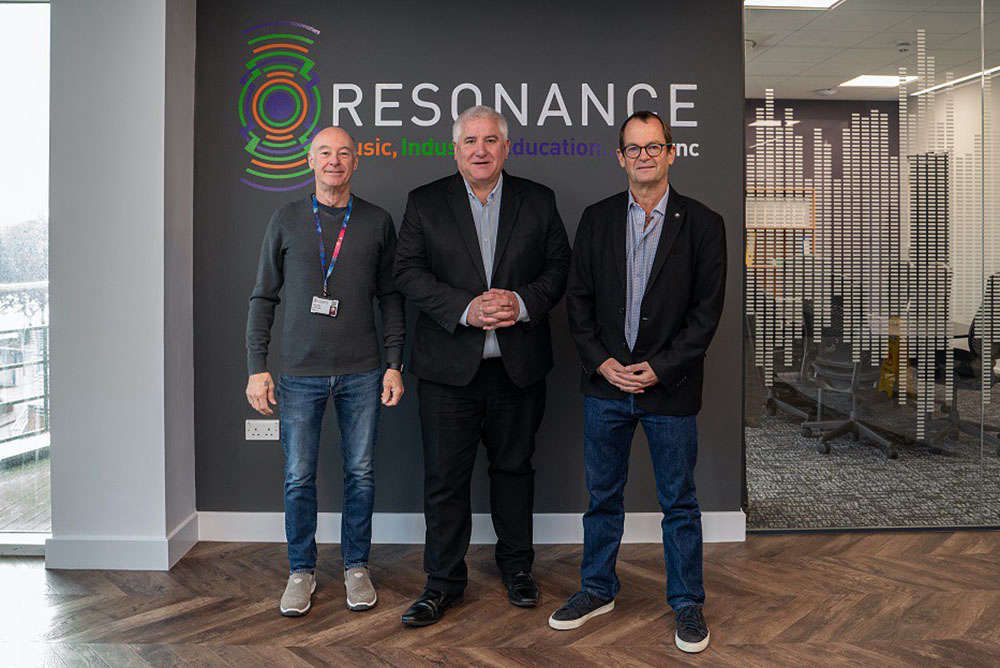 (L-R) Resonance Trustee, Chris Cronin; leader of Dudley Council, Cllr Patrick Harley and Creative Technology CEO (Europe & Middle East), Dave Crump
The leader of Dudley Council was 'bowled over' with the life-changing opportunities being given to students at Resonance in Brierley Hill, during a recent visit.
Councillor Patrick Harley stopped by the higher education facility based within the DY5 Enterprise Zone at the Waterfront to find out how students will be working alongside global company 'Sports Technology' at next year's Birmingham 2022 Commonwealth Games.
The firm is the specialist major multi-sports division of 'Creative Technology' and has been appointed Official Provider of Large Video Screens and Audio Services at the games.
As part of its bid to provide services, the company had to demonstrate how it would give something back to the community and support a local organisation, in this case Resonance. During his visit, the leader met with some of the team from Creative Technology and Sports Technology who were delivering their first training and educational session to students.
Students were briefed on how the company will support and train them and given details on an ambitious work placement and internship programme, which could see them gain real life experience working within the technology disciplines at the Games. Councillor Patrick Harley, leader of Dudley Council, said:

"Having visited Resonance during the training day, I was bowled over with the magnitude of the opportunity being given to students.

"Resonance is unique, and we are incredibly lucky to have the facility in our borough but this opportunity to be part of something as big as the Commonwealth Games and allow students to hone their skills and get real on the ground experience at a global event is incredible.

"It will help steer students into their chosen career path and help make them even more employable within the industry at the end of their degree course."

The Birmingham 2022 Commonwealth Games will see around 4,500 athletes from 72 nations and territories compete in 19 sports across 14 competition venues from 28 July until 8 August 2022. As the biggest event ever to be held in the West Midlands, it is expected to attract more than one million spectators to the city and have a global TV audience of 1.5 billion. Rick Benton, chief executive and principal at Resonance, added:
"Engaging with industry lies at the heart of what Resonance is about. Through the inspirational training day with Creative Technology, our students have gained an in-depth insight into careers offered within the live events sector.
"Plus, they've understood the skills required to succeed and now have a potentially life changing opportunity to take part in work experience with a leading global AV company at a major international event."

Resonance provides degree courses to students interested in a career in the music industry. You can find out more at resonance-edu.org.