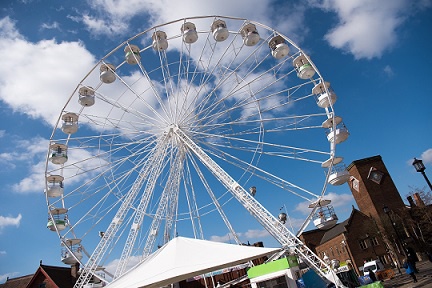 There's still time to take a spin on the nationally renowned DY Eye after it was announced the wheel will be staying in Dudley for an extra two weeks.
The 35 metre high giant observation wheel in Stone Street Square will now remain open for business until 6pm on Sunday April 24.
It is a major boost for the town which has had national attention and increased visitors since the arrival of the wheel.
It also means the wheel will be in Dudley to mark the town's St George's celebrations on April 23rd.
A Dudley Council spokesman said:
"We're delighted the wheel is staying for an extra two weeks and we hope businesses will continue to enjoy the benefits of a nationally renowned tourist attraction in the heart of the town.
"We have been so pleased with the feedback from people who have ridden on the DY Eye and it is a fantastic boost to our ongoing work to promote Dudley as a great place to visit.
"If people haven't had the chance to ride the wheel yet, there's still time."
The ride costs £4 for adults and £3 for children (under 1.4 metres tall). Family tickets are also available.