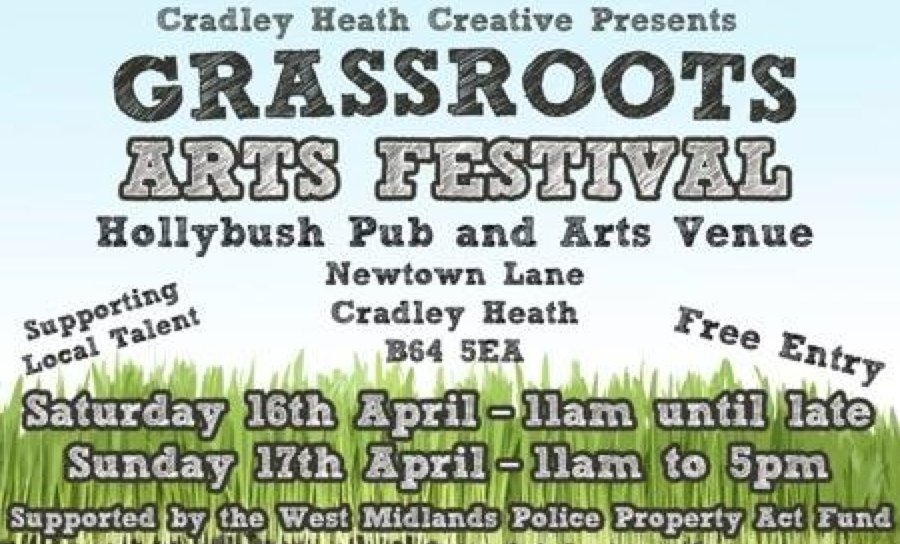 The inaugural Grassroots Festival is taking place this weekend at the Hollybush Pub on Newtown Lane.
There will be a wide variety of activities by artists, from arts workshops to performances, an exhibition, a collective paint-by-numbers and an ongoing mural.
Fran Wilde, Cradley Heath Creative chairman, said: "We are really looking forward to the festival. It's about showing local talent, and there's plenty turning up.
"People who came to last year's festival will remember the ad hoc programme with a surprise at every turn.
"This is our second year and we have expanded to two stages, one in the Hollybush itself, and the other in Ossbox which is our pop up arts venue, a converted horse trailer."
Therte is a wide range of artists and events going on throughout the weekend including music and poetry throughout Saturday plus a range of other installations and actvities. People will have the opportunity to have a drawing made for them, on the spot, by an artist or their life story told by Miss Fortune, and get to own original work through an art auction early Saturday evening.
There will be showings of films of Black Country people made by artist Martin Parr, courtesy of Multistory, plus history and zombie films made locally. Performers include Billy Spake Mon, Walsall Poetry Society, The Shambollicks, Rooted in Rhythm, Pete Hackett, So It Goes, Derrick D and The Backbones.
Black Country Radio will be covering the festical.
The Grassroots FEstival is supported by the West Midlands Police Property Fund to encourage older isolated people to come along.
Cradley Heath Creative was formed in 2013 as an arts collective to support activity and networking by creative people around the area.