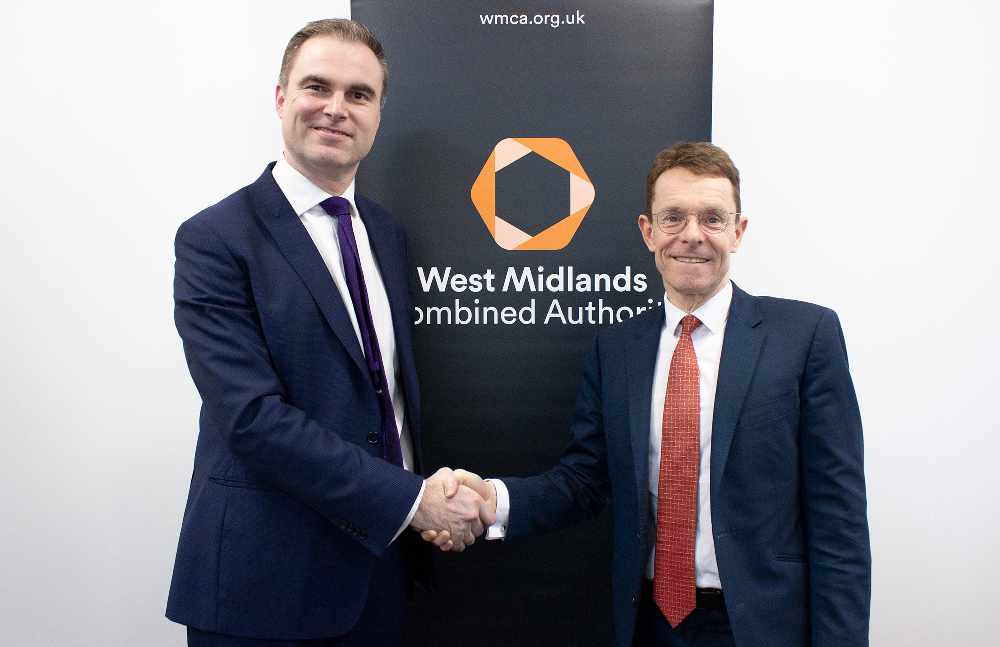 Tom Joyner, managing director of CrossCountry, is pictured meeting Andy Street, the Mayor of the West Midlands, before the Covid-19 pandemic
Two large employers are helping the region's economy recover from Covid-19 by pledging £300,000 to the Apprenticeship Levy Transfer Fund set up by the West Midlands Combined Authority to boost jobs and skills at smaller businesses.
CrossCountry and Chiltern Railways, part of the Arriva group, one of the leading providers of passenger transport in Europe, are the first train operators to join the scheme.
The WMCA set up the Apprenticeship Levy Transfer Fund to cover the costs of training apprentices at small and medium-sized enterprises in the West Midlands and last month funded training for a record 232 apprentices across the region.
A total of 936 apprentices and 302 SMEs have now benefited from the fund, demonstrating the WMCA's commitment to keeping levy money within the region, boosting skills, job opportunities and productivity by supporting more young people and adults of all ages into work. Andy Street, the Mayor of the West Midlands and former managing director of John Lewis, said:
"It is absolutely critical that we do everything we can to support new job and training opportunities following the Covid-19 pandemic, which is set to see many people lose their jobs.
"Our Apprenticeship Levy Transfer Fund is a fantastic way to do this, as it allows smaller firms to hire apprenticeships and help train and skill them up, when normally they would not be able to afford to do so.
"But the success of this fund depends entirely on contributions from big employers in the region, so it is brilliant news that CrossCountry and Chiltern Railways have become the first train operating companies to join the scheme.
"I would urge more firms to come forward and pledge their unspent apprenticeship levy money, so we can create more apprenticeship opportunities in the region at a critical time for our local economy."
Charged by HM Revenue and Customs on all businesses with a payroll of over £3 million, the levy is held by the Government for businesses across the country to utilise the funds to pay for apprenticeship training and assessment by bringing in new talent or plugging skills gaps with their staff. Any unspent levy is retained by the Government after a two-year period.
The WMCA uses its strong local knowledge and relationships to identify large businesses which can donate unspent levy to SMEs through the Apprenticeship Levy Transfer Fund, covering 100% of their apprenticeship training and assessment costs. Tom Joyner, managing director at CrossCountry, which has pledged £200,000, said:
"We are delighted to be the first Midlands-based train operator to support this initiative.
"Birmingham is at the heart of our network, so it's fantastic to be able to support apprenticeships in our home city, helping to develop skills and drive economic growth in the region."
The WMCA is now calling on employers who may not have considered hiring apprentices to tap into the Apprenticeship Levy Transfer Fund. Large organisations are also being encouraged to get in touch to discuss transferring their unspent levy.
For more information, visit wmca.org.uk or contact apprenticeships@wmca.org.uk.