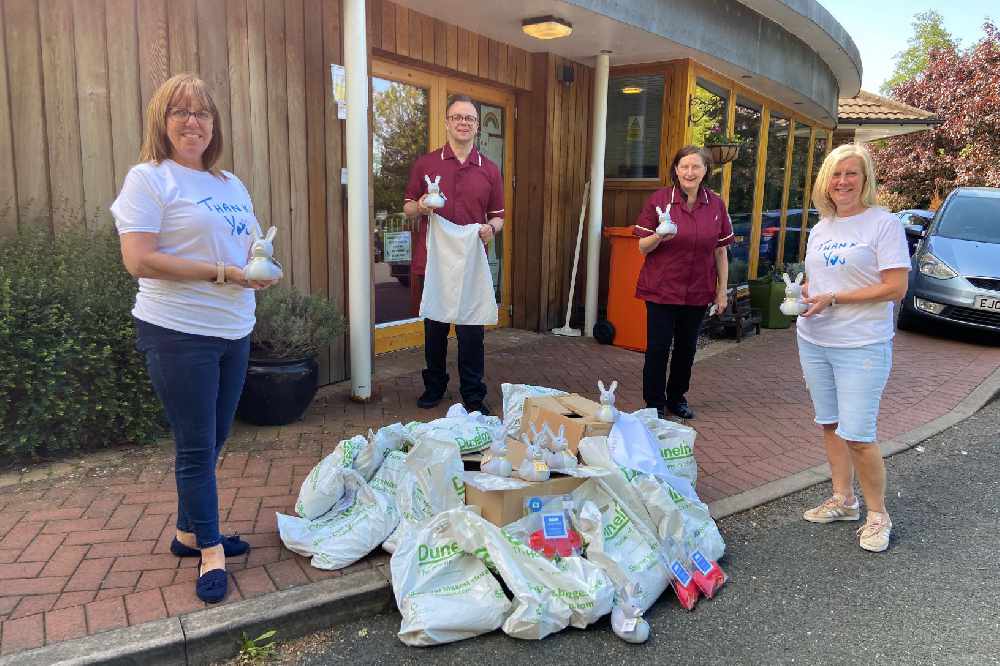 Thoughtful staff at a Walsall store have been using their time on furlough to help families supported by Acorns Children's Hospice caught up in the coronavirus pandemic. 
ind-hearted employees at Dunelm in Reedswood Way have handmade child-friendly face masks for children and young people supported by the charity to wear while out in public.
The brightly-coloured fabric masks, which are designed to make wearing the coverings seem less frightening, were donated to the charity's hospice in the Black Country, based in Walsall, along with a bumper haul of bathroom toys and handstitched washbags for staff. Kate Grantham, Fundraising Officer for Acorns in the Black Country, said:
"This is such a lovely gesture, during what is a frightening time for time for everyone. The majority of families supported by Acorns are shielding their children at home to prevent them from catching Covid-19.
"But some are having to make trips to the shops when needed and with the Government now advising people to wear face coverings in places where social distancing isn't possible, these fabric masks will really come in handy, providing an extra layer of protection for little ones in a way that's a lot less intimidating."
The masks will be distributed to families inside care packages of essential items being delivered by the hospice to those in need. Thomas Spittles-Jackson, Manager at Dunelm's Walsall store, added:
"Even before to the pandemic, staff a Dunelm all over the country were committed to doing the right thing for our communities and we wanted to follow these principles while on furlough. Acorns hospice in Walsall is local to us and was nominated by a member of the team at our store and we were only too happy to help.
"Surgical masks can be really scary for children; we thought these bright fabric ones would be a bit more fun. We hoped the bags would be help reduce cross contamination, with staff able to wash dirty uniforms inside the bags."
Amid the current challenges facing the nation, Acorns is continuing to provide emergency and end of life hospice care as well as emotional and practical support to 600 families who are in strict isolation at home.
In March, the charity published its emergency response for Covid-19, prioritising care for the most vulnerable children and their families and setting aside its hospice in the Black Country for children from local hospitals with complex care needs to help acute trusts maximise their intensive care capability.
Acorns needs the support of the community and local businesses as much as ever as it continues to care for some of the region's most vulnerable families and support the NHS.
For more details on how you can support Acorns in the fight against coronavirus, you can visit acorns.org.uk/together.