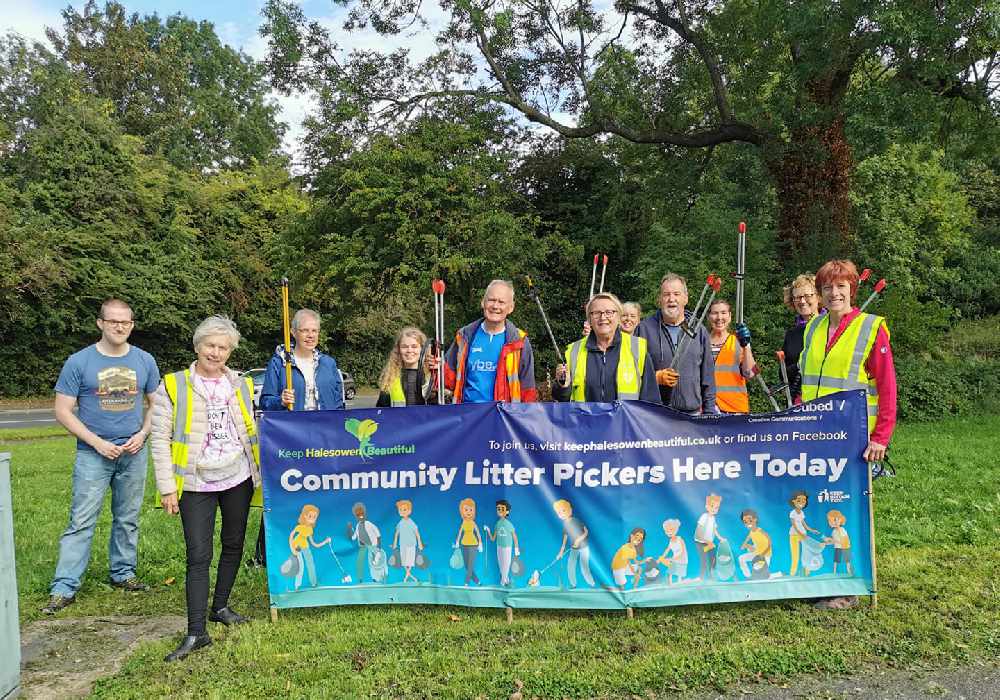 A local group of litter pickers, called Keep Halesowen Beautiful, has received a helping hand from Birmingham 2022 Commonwealth Games having been added to its community programme, United by Birmingham 2022.
'Keep Halesowen Beautiful' is a group of volunteers who regularly meet up and clear litter across the town.
Having launched earlier this year, the group now has over 200 members but is keen to recruit more volunteers to help them further in achieving its common goal.
The group is just one of nine projects from organisations across the West Midlands that has been added to the Birmingham 2022 Commonwealth Games community programme, bringing the total number involved in United by Birmingham 2022 to 42. Keep Halesowen Beautiful can now use the official community programme logo to amplify its activity and raise the profile of the group. Caroline Miller, founding member of Keep Halesowen Beautiful, said:
"Our ultimate aim, as our name suggests, is to keep our wonderful town of Halesowen looking as beautiful as can be. In doing that, we have also forged wonderful friendships and gained a real community buzz by coming together so regularly.
"We each feel a huge sense of achievement after each session. We believe our passion and dedication can make a make a real difference to Halesowen, but we also hope it will inspire surrounding towns and the city of Birmingham.
"We are delighted to have received this recognition from the Birmingham 2022 Commonwealth Games, and we will be using the United By logo with pride across our channels, which will really help in raising further awareness for our cause."
Launched in March, the community programme recognises inspiring projects that strive to make a positive impact in the local community. The selected projects also share the mission of Birmingham 2022; bringing people together, improving health and wellbeing, helping the region to grow and succeed, being a catalyst for change, putting the region on the map. James Morris, MP for Halesowen and Rowley Regis, said:
"I want to pay tribute to the local volunteers who have worked hard in recent months to keep Halesowen beautiful, and I am pleased to see their efforts recognised by United by Birmingham 2022.
"The Commonwealth Games will offer a great opportunity to showcase our region to a global audience, and I would encourage all community groups in Halesowen & Rowley Regis to look to become accredited to highlight their good work."
United by Birmingham 2022 supports and highlights projects delivered by charities and community organisations. This can include projects improving skills, offering training and development, providing volunteering resource, benefitting the environment, encouraging sport participation or delivering youth engagement activities.
For more information about the United by Birmingham 2022 programme, to see details of some of the projects that have recently been added or to submit your project application, you can visit www.birmingham2022.com/united.