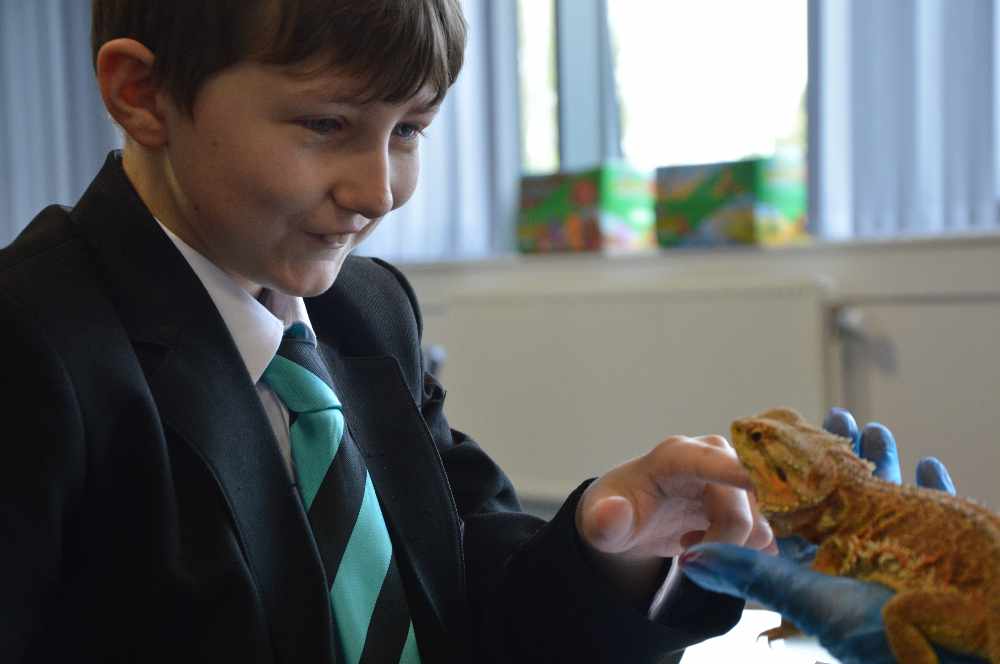 Ormiston NEW Academy welcomed very special guests last week thanks to 'HugglePets in the Community'.
The company specialise in animal-assisted therapy, helping different communities in the West Midlands to improve their social, emotional and mental health through a variety of creative initiatives. Hannah Dixon, Project Manager at HugglePets CIC, said:

"HugglePetsCIC began in 2018, as an alternative form of emotional and social support for the most vulnerable people in the community, offering tea and coffee mornings with animals, school visits, one-on-one animal-assisted therapy sessions and much more.

"Now that lockdown restrictions have been lifted for schools, we felt it was imperative to offer animal-assisted therapy to returning students, who may be feeling anxious or struggling mentally with such a drastic change to their lives."

Academy students were given the opportunity to interact with Georgie the bearded dragon and therapy rabbit Mabel, from HugglePetsCIC's dedicated pet therapy centre, as part of the organisation's current mission to provide comfort and support for students struggling with anxiety and low mood, as they return back to school.

With the COVID-19 pandemic disrupting the daily lives of many children across the UK, the work of HugglePetsCIC has proven useful in helping Academy students re-adjust to life back in school. Rebecca Warner, Senior Vice Principal of Ormiston NEW Academy, says:
"As an avid lover of animals myself, it was a delight to welcome HugglePetsCIC to our Academy. The animals were a huge hit with our students.

"It's been a difficult six months for many of our students, and we are committed to delivering as much support as we can to keep everyone happy and engaged while in school."

If you'd like to learn more about the work of HugglePetsCIC and what they can offer schools and the community, visit hugglepetsinthecommunity.co.uk.