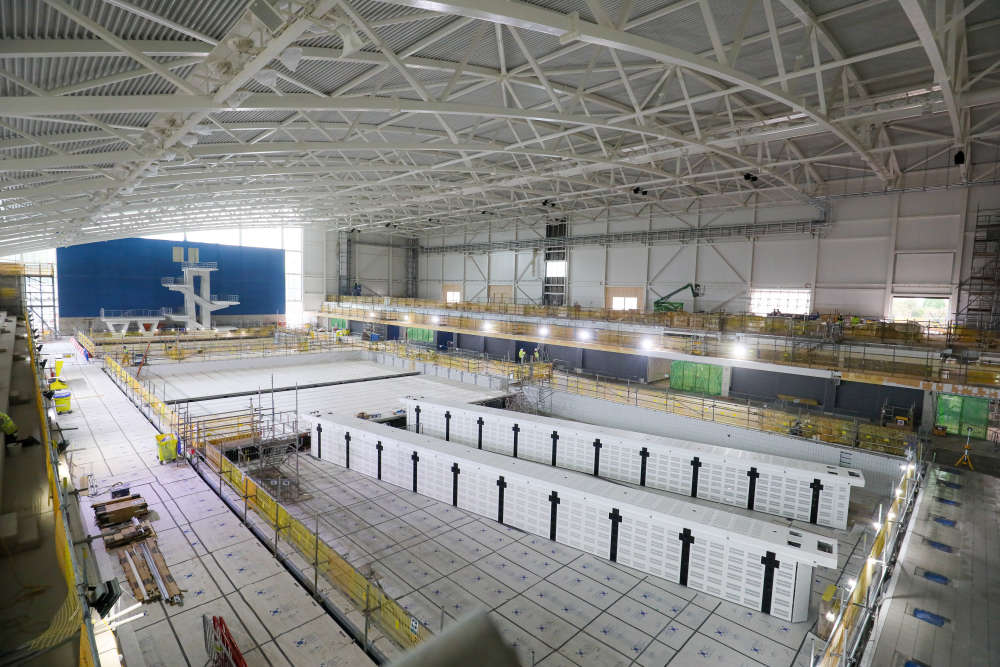 163,000 tiles have now been laid at the sandwell Aquatics Centre
The latest progress on the Sandwell Aquatics Centre has been unveiled, with the competition and diving pools now completely tiled, the moveable floor now complete and the steps added to the 10m dive tower.
The foundations for the temporary warm up pool have also been started and 650 square metres of acoustic render has been added in the main pool hall. Over the next few weeks, the permanent seating will be installed, the pools will be filled for the first time and the springboards will be added, as preparations for the Games continue at pace.
The centre, which is located in Smethwick, just a few miles from the host city for next summer's Commonwealth Games, will be the venue for the swimming and Para Swimming competition from 29 July to 3 August and the diving competition from 4 August to 8 August, meaning that the centre will be in use for all 11 days of competition at Birmingham 2022.
Sarah Barrow, a Team England diving silver medallist at the Glasgow 2014 Commonwealth Games, and now Swim England's Diving Development Officer for the West Midlands region, visited the aquatics centre for the first time since February 2020 and was very impressed with how the venue is taking shape. She said:
"The progress that has been made on the centre is phenomenal, it will be an incredible venue for the Commonwealth Games and I know the swimmers and divers will be excited that they get to compete in the only brand new venue that will be used at Birmingham 2022.
"However, this facility is about so much more than those eleven days of sport next summer, as the Sandwell Aquatics Centre will be a crucial hub for diving in this region and I can't wait to see young divers from across the West Midlands using these fantastic facilities."
As well as being a key facility for the Commonwealth Games, the Sandwell Aquatics Centre will also be one of the greatest legacies of Birmingham 2022, with the local community benefiting from having a brand new, world-class facility on their doorstep. Ian Reid, Chief Executive of Birmingham 2022, said:
"It is wonderful to see the latest developments at the Sandwell Aquatics Centre. With the tiles laid in all of the pools, the moveable floor complete and the dive tower steps in place, you can really now get a sense of what an impressive competition venue it will be.
"With aquatics as one of our most popular sports in our recent ticket ballots, with thousands of people securing tickets to come and watch the swimmers, Para swimmers and divers compete here next summer, I know the atmosphere in this venue is going to be absolutely electric."
More information about the Sandwell Aquatics Centre, and the other 14 venues for Birmingham 2022 is available at birmingham2022.com.