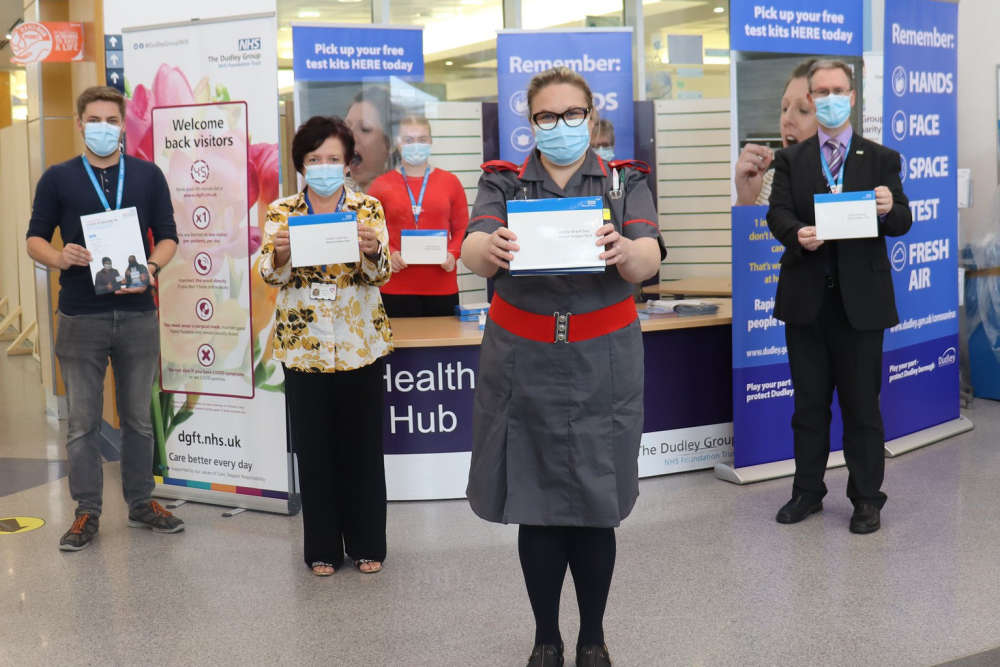 People are now able to collect lateral flow kits from Russells Hall Hospital.
Dudley Council's public health team is joining forces with The Dudley Group NHS Foundation Trust to encourage Trust staff and members of the public to take up lateral flow testing.
Teams from public health will be at Russells Hall Hospital for two weeks handing out lateral flow test kits, and having supportive conversations with visitors and staff around the importance of twice weekly testing and getting vaccinated.
Staff will be in the main reception by WH Smiths from 9.30am to 5pm until Friday this week and from Monday to Friday next week. The teams will then relocate to the Corbett and Guest outpatient centres - dates to be confirmed. Councillor Nicolas Barlow, cabinet member for health and adult social care, said:

"We know some people still have questions around which type of test to take and about the vaccination process. These informal sessions in hospital settings mean people can ask questions about the process and feel reassured by procedures in place."

Diane Wake, Chief Executive, The Dudley Group NHS Foundation Trust, said: "Partnership working between The Dudley Group and Dudley Public Health is ensuring we provide every opportunity to keep our staff and patients as safe as possible through regular testing for COVID-19.

"This is another example that promotes the importance of regular testing and an opportunity to discuss the benefits in reducing transmission."

More information on which type of test to take or to book a test is available on the council's website. Information about local vaccination centres is also available online.