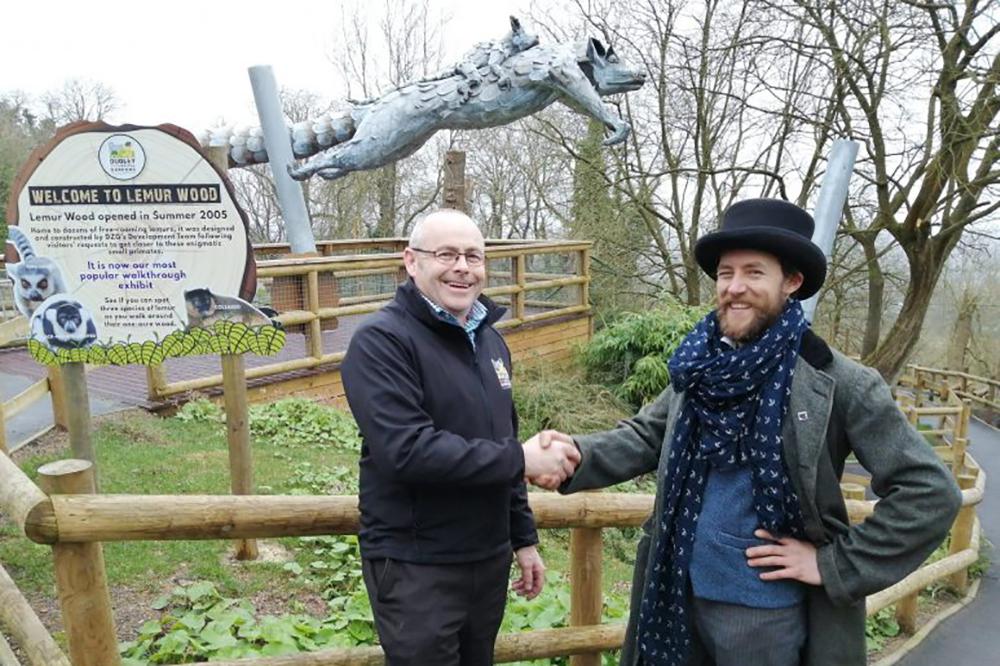 Zoo bosses are excited to reveal a special statue to help highlight the plight of Madagascan lemurs.
The gigantic steel artwork, featuring a ring-tailed lemur leaping from one pole to another with a baby gripping its back, provides a focal point in the attractions one-acre walkthrough exhibit and is another way to engage with visitors about the ongoing threats to the endangered species – with 90 per cent of the population facing extinction.
The 30ft sculpture, titled 'Leap of Faith' has been designed and made by local sculptor and zoo member, Luke Perry. Having taken six months to complete it's one of the biggest statues Luke's ever made and includes around seven and a half miles of welding wire. Zoo Director, Derek Grove, said:
"We have lots of conservation signage around the zoo site and have been keen supporters of Lemur Conservation Association, for two decades where we help fund primary school teachers in Madagascar, but we wanted another tool to help us highlight important issues.
"We noticed the metal animal statues on the zoo carpark are regularly used for photo opportunities by visitors and decided to try an amalgamation of both ideas.
"The statue makes a huge impact and certainly gets you to stop, look and think, with wording on the poles highlighting the threats lemurs are currently facing, including deforestation, hunting, logging and the pet trade.
"We have to have faith that we can stop these, because if we don't take action now, these animals may not have a future and the animals themselves have to have faith that there will still be trees to jump to."
Sculptor Luke Perry, who has created the sculpture after spending hours observing the lemurs' behaviours and movements, added:
"Thank you to Dudley Zoo for giving me the opportunity to do something a bit different. It's been a challenge and it's been the first time I've had to put wheels on a sculpture and nearly take a wall out just to get it out of the factory!
"I'm so pleased with it and I'm pleased people like it."