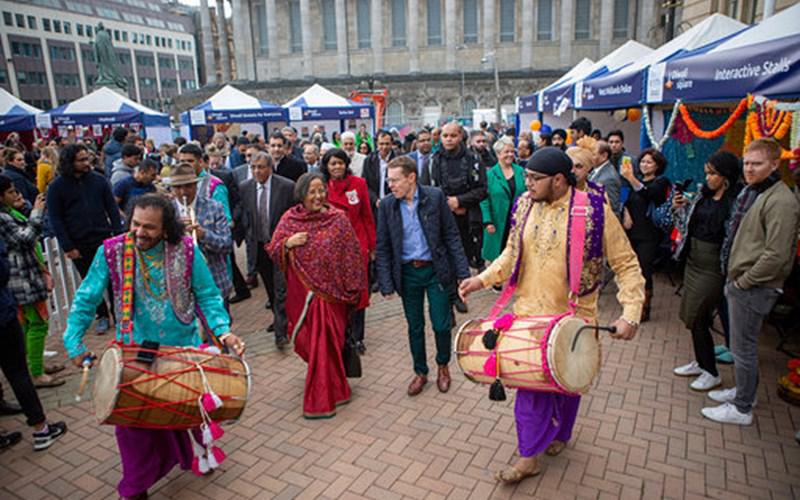 Mayor of the West Midlands Andy Street has hailed the diversity of the West Midlands region after thousands of people joined a spectacular free Diwali celebration in Birmingham city centre.
The West Midlands Combined Authority (WMCA) joined forces with the Consulate General of India to celebrate the Festival of Light at Diwali on the Square.
Mr Street, who opened the event with Her Excellency Mrs Ruchi Ghanashyam, High Commissioner of India to the UK, and Consul General of India, Dr Aman Puri, said:
"Diwali is a time of great celebration for the whole community, whatever their faith. This festival is a wonderful example of the ethnic diversity that makes the West Midlands so special
"We need to ensure that inclusivity not only means reaching out to all the communities who make up the West Midlands, but that everyone can share in the opportunities to benefit from our region's growth, no matter what their faith, ethnicity, gender or sexuality is, whether they have a disability, or where they live."
Diwali is a five-day festival celebrated by faiths throughout the Indian community to mark different historical events and stories, with all of them symbolising the victory of light over darkness and good over evil. Every year, the Festival of Light is celebrated enthusiastically by millions of people around the world.
It is celebrated by lighting lamps and candles in doors and windows of the home, around temples and other buildings, along with fireworks.
This year's Diwali on the Square was headlined by Bhangra band DCS. Other performers included Wolverhampton dance group, Gabhru Punjab De, the Debjani dance group from Solihull, the Elite dance group from RSA Academy in Tipton, and the Coventry Marathi group.