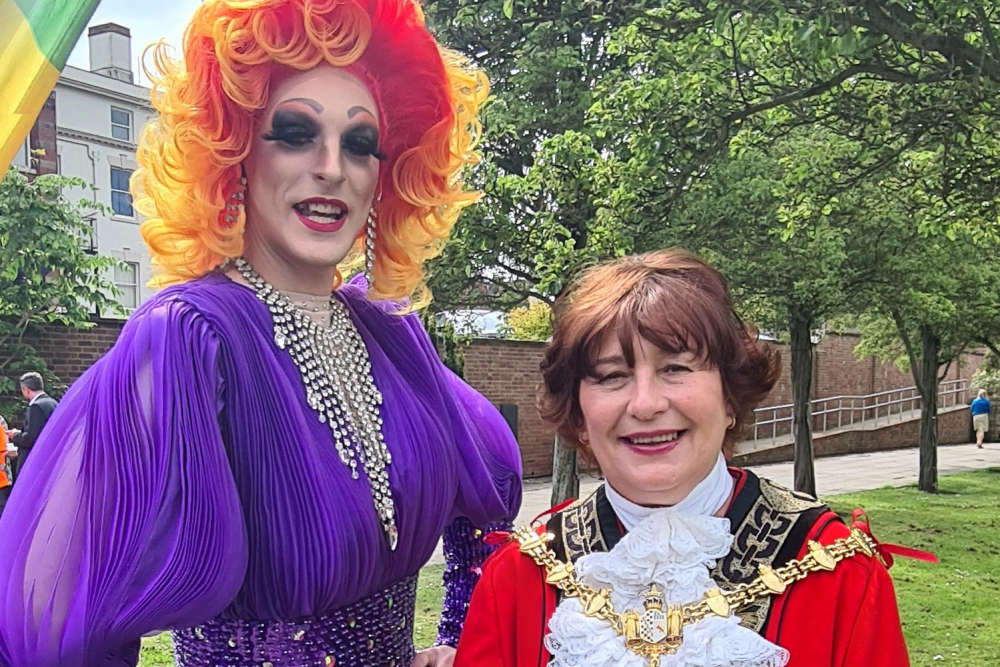 (L-R) Trixie with the Mayor of Dudley, Councillor Anne Millward
More than 100 people turned out yesterday to mark International Day Against Homophobia, Transphobia and Biphobia in Dudley Town Centre.
An event was held at Coronations Gardens in Dudley to help promote equality for all and was led by local artist Trixie.
The event included an address from the Mayor of Dudley, a number of readings and the rainbow flag being raised above Dudley Council House and Dudley Castle. There were also solo vocal performances by event host Trixie and Tawana McGrath. Councillor Anne Millward, the Mayor of Dudley, said:

"This is one of the last events I'll attend as the Mayor of Dudley as my time as first citizen draws to a close and it was an absolute privilege to be part of.
"It was lovely to see people from across our borough coming together to celebrate inclusion and the fact everyone has the right to live their life the way they choose.

"We know that people around the world continue to face discrimination, so it's important we collectively give hope and encourage people to express their gender and sexuality freely without fear of prejudice.

"Thank you to those who attended and those who took part, I'll forever remember it as a highlight of my Mayoral year."