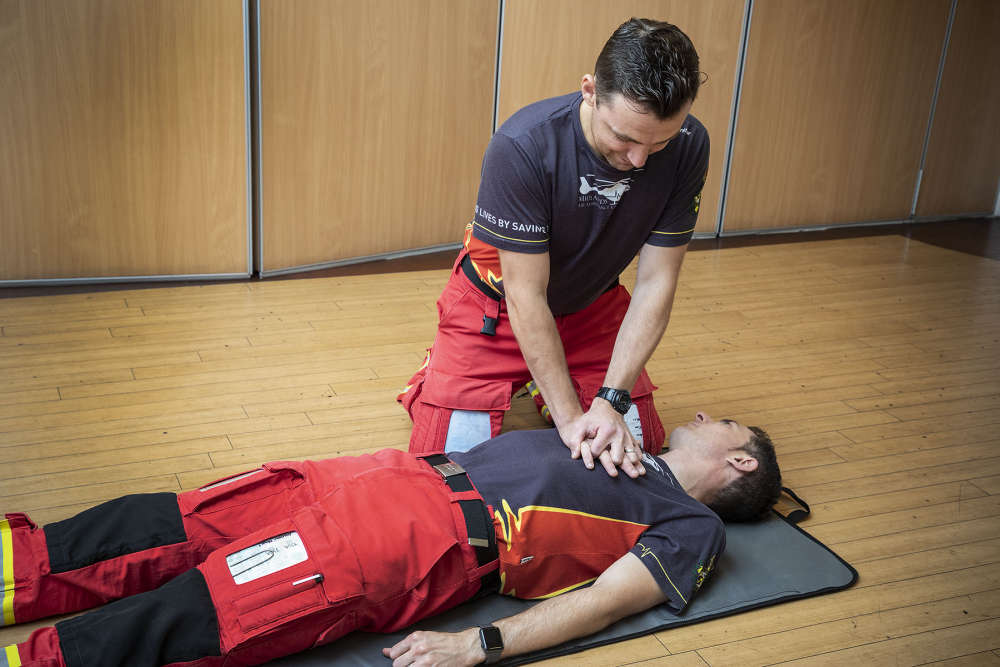 Midlands Air Ambulance Charity, Merry Hill Shopping Centre and Safeguard Medical are teaming up to offer free training to shoppers on World Trauma Day.
The team at Midlands Air Ambulance Charity is encouraging the public to learn vital skills that could save someone's life, notably in CPR and catastrophic bleed control this Sunday.
Both sessions consist of lifesaving skills such as how to help restart a heart and how to control blood loss caused by traumatic injury, including DIY disasters, falls and road traffic collisions.
The sessions will be taught at Merry Hill Shopping Centre on Sunday 17th October.
Restart A Heart Day falls on Saturday 16th October and World Trauma Day follows on Sunday 17th October, making the weekend an important one in the charity's awareness calendar.
Midlands Air Ambulance Charity makes an average of 12 lifesaving missions every day across Gloucestershire and the Midlands, with more than 60 per cent of air ambulance missions tasked to patients suffering a trauma.
In 2020/21, despite the Covid-19 pandemic and subsequent lockdowns, there were 65 differing types of trauma-related incidents attended by Midlands Air Ambulance Charity.
In addition to the most common types trauma missions, such as road traffic collisions and falls, the specialist crew were also tasked to cerebral bleeds, explosions, haemorrhage and penetrating injuries. Ian Jones, air operations manager for Midlands Air Ambulance Charity, said:
"World Trauma Day is an important awareness day for us at Midlands Air Ambulance Charity. With more than 63 per cent of the charity's missions being trauma-related, it's important to use this day to shine a light on the enhanced critical care our crews provide, and what bystanders can do to help the patient before medical expertise even arrives.
"In addition, the demand for advanced medicines and equipment coupled with specialist care on scene delivered by our critical care paramedics and flight doctors, continues to rise annually, with a 1.3 per cent rise in trauma-related incidents compared to 2020, which was already an extraordinary year with additional Covid pressures."
Jonathan Poole, centre manager at Merry Hill, added: "We are incredibly proud to support this lifesaving training initiative from the selfless team at Midlands Air Ambulance Charity, who have been coming to the aid of people across the Midlands for the last three decades.
"You never know when you might be called upon to save another person's life, so we're encouraging shoppers to join in and learn some vital skills.
"Merry Hill has always been at the heart of the community and we look forward to supporting Midlands Air Ambulance Charity to deliver more of these important training sessions and working with our team and visitors to raise much needed funds and awareness for the charity."
To receive your free training to save lives, visit the events space outside Mango and M&S on the lower floor of the centre on Sunday, between 11am and 4pm.
To find out more about Midlands Air Ambulance Charity's vital, lifesaving work in your local area, visit midlandsairambulance.com and follow the organisation on social media.