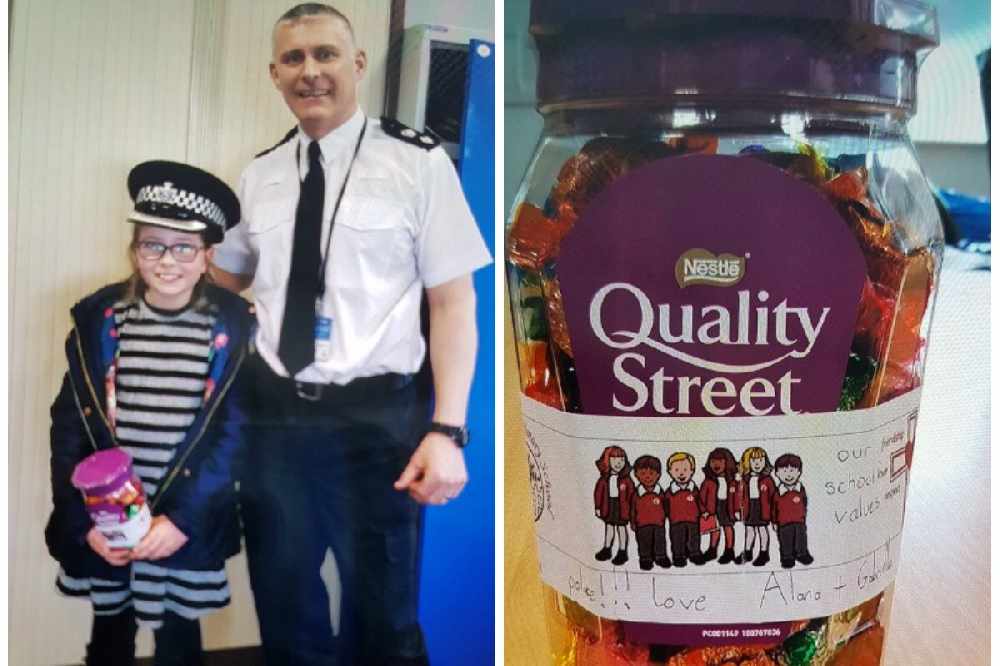 Eight-year-old Alana is pictured with Chief Superintendent Richard Baker
A schoolgirl brought tears to the eyes of Sandwell police officers when she presented them with chocolates in the hope they'd raise spirits after the Westminster terror attack.
Young Alana, a pupil at St James CE Primary school in Oldbury, paid officers a visit at West Bromwich police station this morning where she handed over the tub of Quality Street, bought with her own pocket money.
The eight-year-old told the team she wanted to cheer them up and say sorry for the loss of police family member, PC Keith Palmer, who was fatally stabbed on Wednesday, guarding the Palace of Westminster. Inspector Phil Mees, said:
"It was such a lovely gesture; there was hardly a dry eye in the house. Obviously the mood was very sombre in the station this morning but Alana's visit really lifted everyone.
"Officers never know what they'll face when they clock on for each shift – and never was that more evident than in London this week. It's lovely to know the efforts of our officers are appreciated. Thank you, Alana."
Big-hearted Alana was given a guided tour of the police station, met Sandwell Police Commander Rich Baker and left with a few police goodies like a T-shirt, cap badges and key-rings.
Officers in other parts of West Midlands Police have also been touched by kind gestures from members of the public. In Dudley, a lady delivered boxes of cakes to officers, a boy handed over chocolates at Sutton Coldfield police station and a bouquet of flowers were left in memoriam at Bloxwich police station.
PC Palmer was one of a number of officers on duty at the Palace of Westminster when Khalid Masood crashed a vehicle into the gates around the buildings perimeter.
PC Palmer responded immediately and, unarmed, attempted to restrain the attacker - and was stabbed in the process. He later died from his injuries.
Many people on social media have hailed the father and husband as a hero, and have called on both police chiefs and the government to recognise his bravery. Amongst other suggestions a petition has been created, calling on the monarchy to posthumously award the officer the George Cross - the highest non-military honour - for his part in protecting the public and MPs as events unfolded.