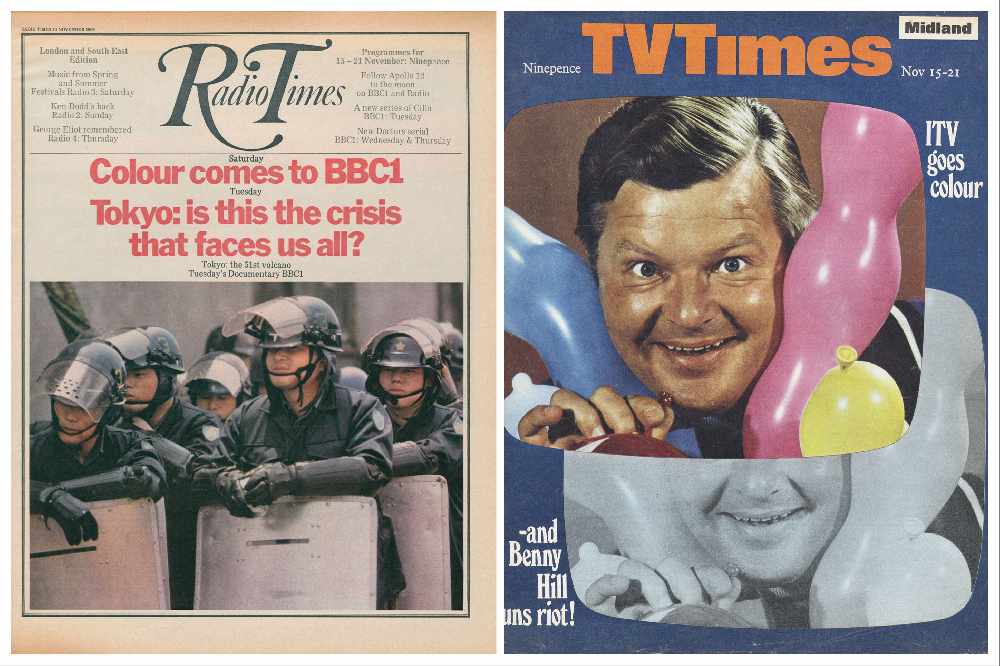 A collection of rare and previously unseen TV programmes will be screened at a special event to mark the 50th anniversary of the switch to colour TV.
Apollo 12, a complete BBC programme about the moon landing – in colour and believed never to have been shown in full since its broadcast in November 1969, will be screened at Birmingham City University on Saturday 16 November as part of a day of screenings, exhibitions and talks from special guests.

Amongst the classic TV finds being showcased is a Peter Cook & Dudley Moore Goodbye Again programme featuring a cameo from a young John Cleese. Only shown in the USA, recovered from a 2" videotape and previously believed to have existed solely in black and white format, the programme will receive its first ever UK showing at the Kaleidoscope TV and Broadcast Engineering Conservation Group organised event.

The earliest surviving colour episode of popular 60s police drama, Z Cars, from 13 October 1970 - held as a live studio recording and thus never repeated - has been recreated using the original script as a basis; this new 'Directors Cut' episode with three unseen minutes of footage gets its world premiere at Colour TV Comes to Town.

Footage of Morecambe and Wise from 1968 – stored as black and white film – has been processed using 'colour recovery treatment' by experts, and will also be shown at the event.

As part of the day, President of the Guild of Television Camera Professionals and BSc Film Production student mentor, John Henshall, will present photographic documentation of the introduction of colour television at the BBC as part of the day's programme, and the first Head of Technology at ITV and RTS London founder Norman Green will introduce the screening of 1967 televised play The Small Rebellion of Jess Calvert – never before transmitted in colour.

The day will be documented by second year BSc Film Production crews from Birmingham City University's School of Digital Technology, with students given the opportunity to network, showcase skills, share CVs and showreels, get 'hands-on' with broadcasting equipment that has helped shape the television of today and show their own film featuring Brian Tesler, who was a senior ITV figure during the period of switch-over to colour.

In addition to the full day programme, taking place at Birmingham City University's Curzon Building, an exhibition featuring working early broadcast colour cameras and televisions from the era will be on display, alongside a wider display of television cameras through the years including early monochrome cameras as well as more modern broadcasting equipment creating a true historical timeline.

A 1968 Southern TV outside broadcast truck – one of the first colour units in service with ITV – will be parked outside the venue for visitors to explore. The restored 11-ton four-camera Bedford vehicle cost £225,000 to produce, and was retired in 1995 after several refits.

Both the BBC and ITV switched to colour broadcasts at midnight on Friday 15 November 1969, although had been using colour film for some years before the arrival of colour television broadcast live as outside broadcasts or from studios. Colour TV licences were introduced on 1 January 1968, costing £10—twice the price of the standard £5 black and white TV licence. Speaking ahead of the anniversary on Friday 15 November, Chris Perry, CEO of Kaleidoscope TV, a voluntary, non profit-making group devoted to the appreciation and research of vintage television in all its forms, said:
"We're over the moon to be marking the fiftieth anniversary of this incredibly important milestone in global broadcast media with such a strong programme of screenings, guests and exhibits.

"Upgrading black and white footage into colour requires something of an alchemist's approach, and this programme, chock full of restored clips and programmes, will be a real treat for fans of classic and historically significant television work".

A limited amount of free tickets for Colour Comes to Town are available at bit.ly/colourtvcomestotown.