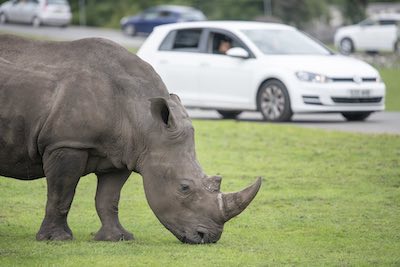 Staff at West Midland Safari Park have been busy behind the scenes, to make an impact on the conservation of rhinos, including an important research paper, fundraising and saying goodbye to one of the herd. 
Whilst the attraction has been closed, the Park's wildlife team have continued to work hard, ensuring all of their residents are well cared for, as well as some additional tasks involving the important white rhino breeding programme.
The Park is home to a 'crash' of southern white rhinos, which are part of a European Endangered Species Programme. This is a collaboration between hundreds of European zoos to ensure the long-term survival of endangered species.
In March 2016, the Park celebrated their first white rhino birth for ten years. The male calf, Ekozu, has since enjoyed four years at the Midlands attraction, but on Wednesday 15 July, staff said an emotional farewell to the cheeky youngster as he left the Park for a new life at a safari park in Germany. Lisa Watkins, Head Keeper of Ungulates, said:
"Ekozu was our first rhino born since his Dad, ten years previously, so he is particularly special to the team. We will miss his cheeky ways and his morning greetings for a fuss, but we are really pleased he is going to Serengeti Park, where we are sure he will feel right at home.
"Ekozu will be greatly missed by the team who have watched him grow and taken exceptional care of him since he was born. His departure comes after a great deal of planning and a collaboration between European zoos, working towards the same goal of conserving these amazing animals."
The birth and move of Ekozu have been particularly important for Sarah Smith, the Park's Veterinary Nurse, who has taken part in some key research and co-authored an important paper on the parturition (the act of giving birth) of rhinos in zoological settings.
The paper's author, Dr Robert Hermes, is a veterinarian researcher at the Leibniz-Institute of Zoo and Wildlife Research in Berlin, Germany and has worked closely with the Park with several of their species, as an internationally recognised expert of wildlife reproduction. Sarah explained:
"Breeding overall is exceptionally important for the future of the rhino as a species, not only to increase numbers, but to also protect the breeding females alongside recognising and understanding any difficulties they may face during the whole process of pregnancy and parturition.
"This research has helped us identify different situations that arise in varying cases and given us an insight into how best to deal with them. We are extremely lucky to have a successful breeding programme and are grateful to be able to work closely with Robert Hermes and his team to be part of the research and future of the species."
Another important collaboration West Midland Safari Park has been involved in, is a partnership with 'Save the Rhino International' alongside other zoos, to raise a phenomenal £179,968 to support rhino conservation efforts across Africa and Asia.
Last year, the Park held various fundraising activities for a particular project to support the Sumatran Rhino Sanctuary, which is home to the only viable captive population of Sumatran rhinos in the world.
Crucial funds raised by SRI, the Park and other partners, helped build extra enclosures and improve facilities, doubling the space available to breed this 'Critically Endangered' species (fewer than 80 individuals remain), and ensuring the highest standards of care, to help grow the population of an animal that without action, could become extinct.
West Midland Safari Park is fully open, and the rhinos can be seen as part of the four-mile safari. Admission prices are £24.00 for adults, £20.00 for children aged 3-15 years and £22.00 for concessions. Children under the age of three are free. Admission includes a summer Free Return Visit. Rides for the Adventure Theme Park are charged extra.
Further information about West Midland Safari Park is available from the Park's website wmsp.co.uk or by telephone on 01299 402114.