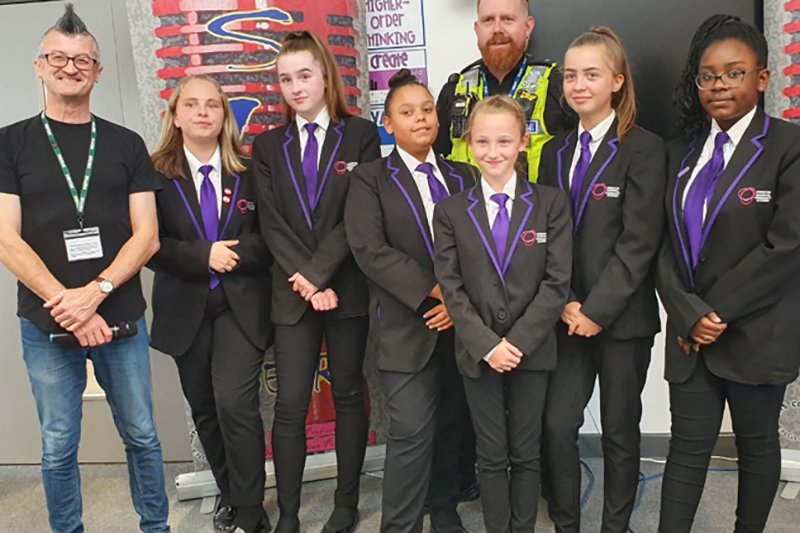 The winning team: Lauren Ward, Amy Glover, Angel Chambers, Jamie-Leigh Shakespeare, Erica Reynolds and Arlena Brown pictured with OSCA staff member and PC Keith Tedds
A whole year group in a Sandwell school has come together with their local police team to honour national poetry day with a competition to write poems on issues that matter to them.
Year eight students from the Ormiston Sandwell Community Academy school in Oldbury dedicated four school days to research, write and practise performing their poems to their peers and many used the opportunity to highlight current issues of knife crime, hate crime such as homophobia and environmental matters.
In a first event of its kind in the West Midlands with local neighbourhood officers, participants had the chance to vote for the poem which they felt was the most inspiring. The winning team of six students aged between 12 and 13 chose to perform a motivational poem to put a stop to knife crime. The students worked with PC Keith Tedds from the Oldbury Neighbourhood police team, who said:
"This was a fantastic opportunity for local officers to engage with students and find out exactly what matters to them. We want the community to be safe for everyone to live, work and learn in and giving a voice to our youth is a very important way of making that happen.
"I am happy to see that these students have used this opportunity to show how topical knife crime is and how vital it is to help put a stop to it."
The event was focused on letting students set aside their differences and prejudices with the aim of working on tackling the issues that mean the most to them, as well as helping them to strengthen their writing skills.