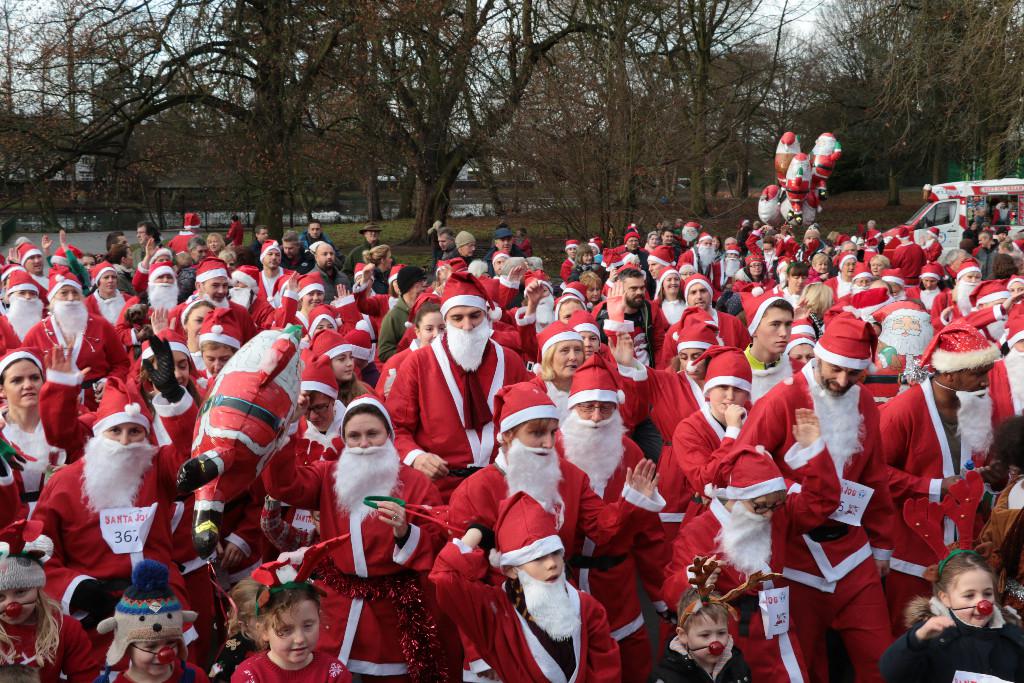 More than 700 charity supporters will take over Mary Stevens Park on Sunday 10th December to take part in a fun run dressed as Santa.
The Santa Jog is an annual event which sees supporters of the Mary Stevens Hospice run 5k around Stourbridge's Mary Stevens Park, to raise money and awareness for the Hagley Road charity which supports families in the local area who are battling the impact of life-limiting illnesses such as cancer and motor neurone disease.
Last year saw a new record number take part in the event with more than 600 Santas getting involved in the day, however more than 700 people have registered for the 2017 edition, which this year also includes a family fun day and food stalls.
With spectators taken into account, staff at the Hospice are expecting the event attendance to be well in excess of 1000 people. Amanda Bowen, Event Organiser, Mary Stevens Hospice Group said:
"We're overwhelmed by the response this year and to have beaten the record number of participants by more than 100 people is just staggering.
"We've added food stalls, more live music and a family fun day so that the event is more enjoyable for both participants and spectators, and also means they can stay in the park for a little while after the jog to enjoy everything going on with their families and friends.
"It's shaping up to be a fantastic family day out, and we can't wait to see a sea of 700 Santa's taking over Mary Stevens Park next weekend!"
Charlotte Schofield, Head of Fundraising & Lottery, Mary Stevens Hospice, added:
"The difference made by an event like Santa Jog simply can't be overestimated when you're talking about the real-world impact made by the increase in awareness and the money raised by all of our supporters.
"This is a crucial time for the Hospice as we look to expand our service to meet the ever-growing need of our community and we simply can't thank everyone who has signed up enough for their support in making care available to more and more local families in their time of greatest need.
"It's a special atmosphere every year, and we know that our 700 Santa's are going to absolutely love it!"
To find out more about the work of the Hospice, please visit marystevenshospice.co.uk or call the Fundraising Team on 01384 377 778 for more information about the upcoming Santa Jog.