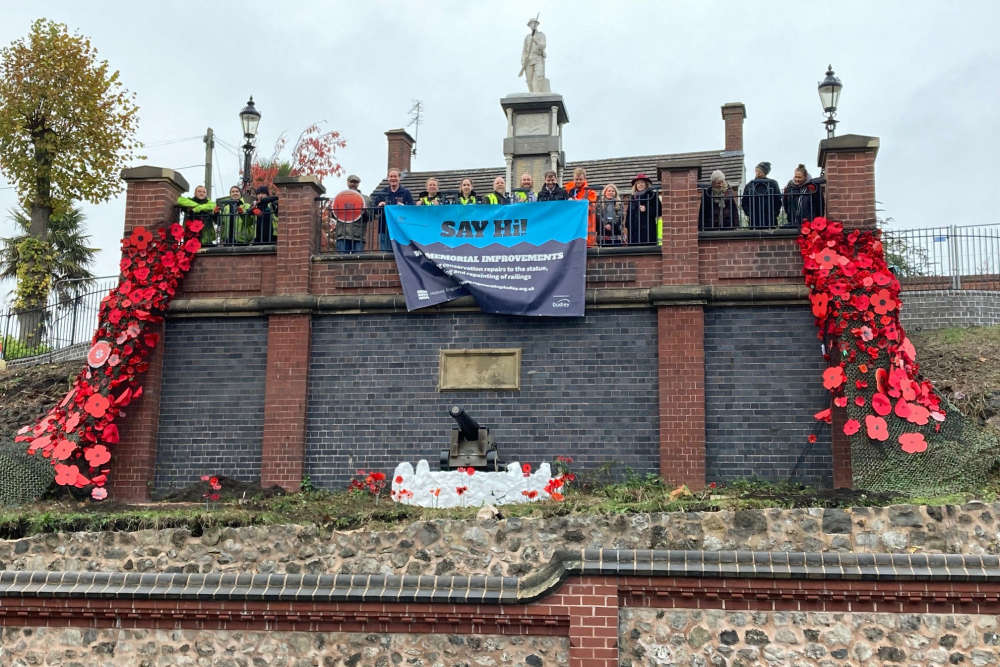 More than 220 poppies have been put up around Brierley Hill by volunteers as part of plans to commemorate 100 years since the town's war memorial was put up.
Most of the poppies have been draped in an eye-catching display around the memorial, which has a soldier sitting atop it and is having painstaking work completed to restore it.
The memorial, at the bottom end of Brierley Hill High Street, was officially unveiled on November 12, 1921, by a party of local clergy and civic dignitaries. Now, 100 years on, the community and volunteers have rallied and worked tirelessly behind the scenes to create a fitting tribute to such an important milestone.
More than 220 individual poppies have been fixed to railings and lamp posts throughout the town. Thanks to months of research from Brierley Hill Community Forum, each poppy has been hand-written with the name of a fallen soldier from the town, his age, when he was killed and where he fell.
A number of groups and volunteers contributed to the poppy-making effort, including Adult Learning at Brierley Hill Neighbourhood Centre, Top Church Training, the Family Solutions team, Harry's Café and community groups including Spill The Beans and KNWH Kuppa Club. Councillor Simon Phipps, cabinet member for regeneration and enterprise, said:
"I want to say a huge thank you to each and every person who has given up their time to help create such a stunning cascade of poppies for the Brierley Hill War Memorial, and to the community forum for their months of research.

"It's a really positive example of how much can be achieved when communities come together and show pride and desire to improve the areas where they live and work.

"The end result is poignant and moving, and a fitting way to commemorate the centenary of the War Memorial."

Tim Sunter, chairman of Brierley Hill Community Forum, said: "I am delighted that our research has been able to be used in such a poignant way.

"The community will be coming together on Sunday November 14 to commemorate the fallen. For those who wish to parade they should assemble at 10.10am in Bell Street South ready to move to the memorial at 10.45am.

"Following the silence at 11am there will be a service inside St Michael's for those who wish to attend. There will also be an exhibition inside the church about the soldiers whose names appear on the memorial."

The war memorial restoration work – which has been paused and will resume after Remembrance Sunday - is being funded from cash earmarked for Brierley Hill High Street Heritage Action Zone, a partnership between Dudley Council and Historic England. It will see heritage buildings in the town restored to their former glories.
The war memorial work is being undertaken by Midland Conservation and Oliver Architecture.
For more information about the Brierley Hill High Street Heritage Action Zone visit regeneratingdudley.org.uk, or to find out more about the Grade II listed War Memorial, visit historicengland.org.uk.