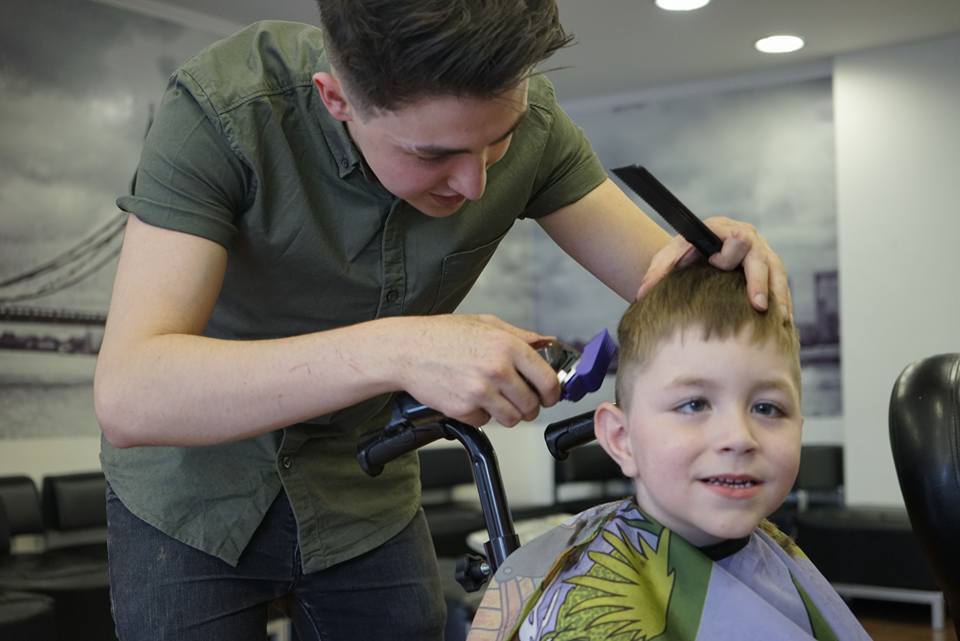 Rhys with barber, Caleb, at Labichi's
A Stourbridge hairdresser has been championed as a safe place for parents to bring children with Special Educational Needs.
Ben Searley, and his colleagues at Labichi's Gent's Hairdressing in Market Street, have adopted a 'no rush' attitude and do their very best to make all children and parents feel welcomed into their shop. Ben said:
"We understand that having a hair cut can be an unpleasant experience for kids, and even more so for those with special needs.
"Some may suffer with very short attentions spans or sensitivity to the skin, which makes having a haircut very uncomfortable. For those children, we want to make especially sure they feel right at home and assure them that they don't have to worry about having their haircut.
"We love seeing all the kids that visit our shop and love to make sure that no matter what their disability they leave the shop feeling great without compromising on the quality of the haircut."
Rhys Cokeley suffers with Cerebral Palsy, Hydrocephalus, developmental delay and other additional needs. The fuve-year-old is now a regular at Labichi's and now enjoys having his hair cut, but this wasn't always the case. Rhys's father, Anthony, said:
"When we first came to Labichi's we were worried about the waiting, let alone the haircut itself. Rhys can be very impatient and very noisy if he is getting restless. The staff immediately made us feel at ease and they always make an effort to engage with him.
"When Rhys first sat in the chair, my concerns were that because he has a shunt in his head, he can be quite sensitive. But after I explained it to the barber he took extra care with him.
"Rhys was also sensitive to the noise of the clippers and found it really scary. He has now got used to this and is quite happy to sit the chair"
Labichi's has now been officially recognised as a safe place in the community and the shop proudly display a 'Safe Place' sticker in the window. The scheme is run by Dudley Voices for Choice and the sticker has become a recognisable symbol in Dudley borough to show that a place is safe for vulnerable people in the community.
It means that people can expect a friendly welcome inside and people ready to assist if needed. The shop is also now officially part of the Autism barbers assemble.
If you would like to get in touch with the team at Labichi's, visit their Facebook page.