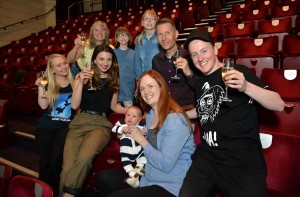 Shona and family with baby Kasper, Hippodrome Staff and Mary Poppins cast members Zizi Strallen (Mary) and Matt Lee (Burt)
Anything can happen at the theatre as one visitor found out when she went into labour at Birmingham Hippodrome!
Shona Jorkowski returned to Birmingham Hippodrome this week, four weeks after her waters dramatically broke during a performance of Mary Poppins at the theatre.
Visiting today with newborn baby Kasper, delighted sisters Seren and Cally and her mother-in-law Angie, Hippodrome staff surprised Shona by unveiling a seat plaque dedicated to her son, which reads 'Baby Kasper 16.3.16 Practically Perfect in Every Way'.
Mary Poppins cast members Zizi Strallen and Matt Lee joined Shona and her family for photos, along with Front of House staff Jonathan Thompson and Kirsty McTighe who were there on the night to help. Shona said:
"We booked the show last year, not long after finding out I was pregnant. A few days beforehand I was getting niggles but nothing to signal I was close to giving birth. The second act started and all of a sudden felt a pop and realised my waters had gone!
"The usher was very helpful and we were soon joined by Front of House staff Jonathan and Craig. I started to feel very shaky and they were brilliant, making me a cup of tea and providing a snack."
Shona welcomed Kasper into the world on 16 March and in his memory box is a programme and poster from the show along with a great story to tell! She added:
"Everyone at the Hippodrome was very supportive and their kindness will stay with us."
Birmingham Hippodrome's Head of Customer Service Jonathan Thompson added:
"It was hot water and towels at the ready in the office, just in case Kasper decided to arrive during the show, but thankfully this was only needed to make a cup of sweet tea!
"It's such a pleasure to welcome all the family back today and surprise them with the seat plaque dedicated to Kasper".