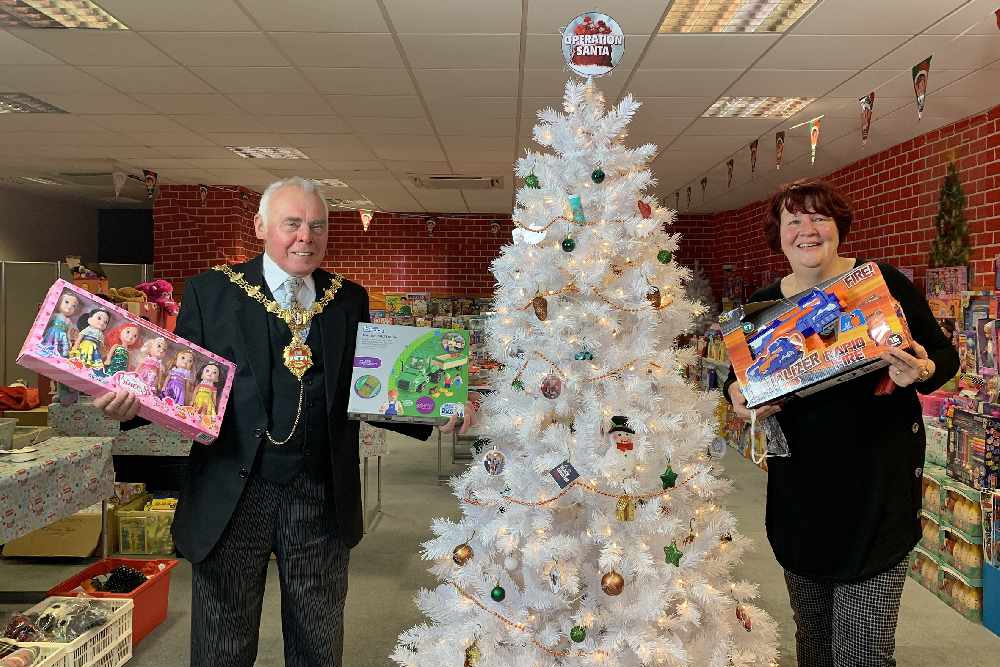 The Mayor of Dudley, Councillor David Stanley alongside "Chief Elf" and Operation Santa Co-Ordinator, Eileen Fielding at this year's distribution hub.
The 2020 Operation Santa Appeal in Dudley Borough was able to support more children and families in crisis than ever before, due to the immense kindness of business and communities from across the area.
The initiative, which has run for over 45 years, seeks to ensure that no child goes without a gift at Christmas. All children and families are referred through social prescribing services, schools and charities to ensure that those most in need receive the help at Christmas.
Supported by Black Country Radio, the Appeal received over 39,000 donations; triple the total from 2019 and was able to a total of 6,200 children - four times the support the team we able to deliver last year.
On top of the 39,000 donations, ones made to the appeal that couldn't be used as gifts were passed through to other charities and groups that could make specific use of them, to make a real difference. They included food donations which were passed to local food banks, toiletries which were given to community organisations who deal with families in crisis and children's clothing which was passed on to children's community projects. Co-ordinator and "Chief Elf" Eileen Fielding said:
"We are blown away with the support this year from so many businesses, organisations and individuals who have made this a reality.
"The generosity of everyone in such a time of need has been immensely humbling and we have received so many letters of thanks and support from end users telling us the real difference it has made to so many people's lives.
"Even though many businesses and people are struggling, the community spirit has never been stronger - and it's incredible to see people more connected that ever with more empathy for others who are in need."
The Appeal was run on with a skeleton crew of volunteers, all operating under Covid safety restrictions, supported by a series of collection hubs across the Borough. They included Blaze Hair, who for many years have been the Business Ambassadors for the appeal and the team at Volksmagic and Santa's A Gangster, who refurbished and donated a Volkswagen Beetle as a raffle prize. Zyllah Moranne-Brown, Head of Marketing and Communications at Black Country Radio added:
"We have supported Operation Santa for a number of years now, but to see the incredible response from people across the Black Country was truly humbling.
"I know that everyone involved with Black Country Radio is incredibly proud to support an initiative that has made a real and tangible difference to people's lives.
"The huge effort made by Eileen, plus the core team of Rose and Trevor, with support from the community collection points, local business and communities is truly inspiration - especially when times can look bleak.
"It certainly put a smile on our faces to see the grotto and the donations coming in and out. It's a privilege to be part of something that makes such a difference to people's lives."
Operation Santa Dudley Borough will return again in 2021. You can find out more by visiting operationsanta.wordpress.com.