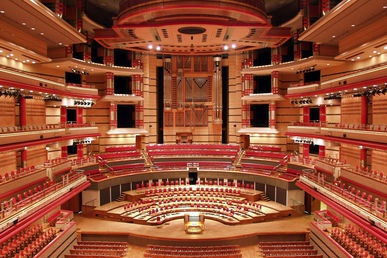 THSH, the group behind Birmingham's iconic Town and Symphony Hall's has confirmed they are entering a period of redundancy consultation.
Following an extended period of closure, around half of staff are now at risk of losing their jobs after the venues suffered 'huge losses' as a result of the global coronavirus pandemic.
Although the group were awarded emergency relief funding by Arts Council England, it remains the case that all other income generated through the core business of live music and entertainment has stopped.
Now, in order to have any chance of survival, bosses say they desperately need a time-based reopening strategy from the government and the funding to reach that point. Nick Reed, Chief Executive for Town Hall Symphony Hall, said:
"This is heart-breaking news to share. We have a superb team of staff who care passionately about what they do and who openly share their love of live music with everyone that we connect with as a music charity.
"The digital activities we have continued to deliver in these desperate times are testament to that, sharing music from our halls, artists homes and venues from across the continent. Music has the power to bring people together and it fills me with great sadness that we remain unable to bring people together in our halls.
"Our thoughts are very much with the employees and their families that will be affected by this decision, as well as the numerous freelance musicians and artists who have been impacted by this global pandemic."
Those affected have been contacted and no final decision for redundancies we will be made until the consultation process has been completed.