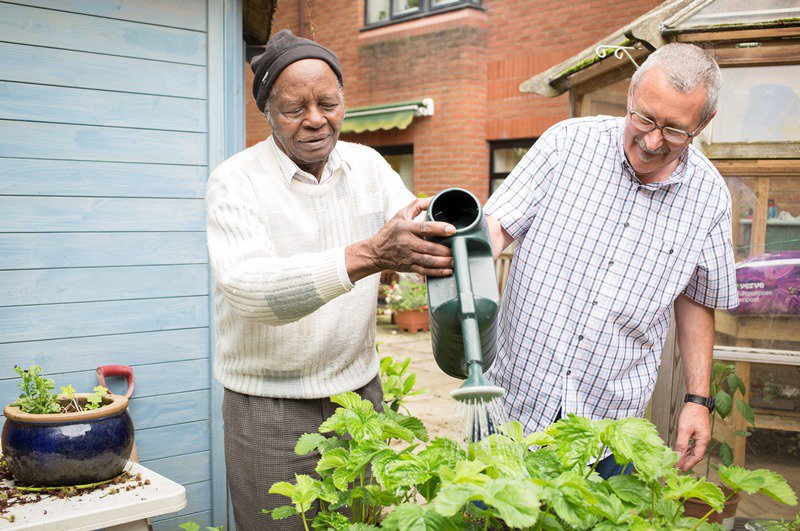 Alzheimer's Society's #AskUsAnything campaign, to mark Dementia Action Week, urges the people of Wolverhampton, where there are 3,200 people living with dementia, to include people with dementia and start a conversation.
The campaign is announced as research shows that despite almost all of us knowing someone affected by the condition, two-thirds of people living with dementia report feeling isolated and lonely. People living with dementia have starred in a video to answer questions that are busting myths and showing that people with dementia are still the same people.
As part of the #AskUsAnything campaign, everyone is urged to share the video – that will appear on Alzheimer's Society's Facebook, Twitter and Instagram and in cinemas across the UK – far and wide throughout Dementia Action Week. Public awkwardness and anxiety plays a part in the isolation that people living with dementia experience – over half of the general public reported that they didn't feel confident inviting someone with dementia to a meal at home.
In the UK, one person develops dementia every three minutes so small acts of kindness such as calling a relative with dementia, visiting a neighbour or becoming a Dementia Friend, can help towards creating a dementia-friendly generation.
Local events throughout Dementia Action Week will help people to start a conversation and unite against dementia. Events will include friendly and interactive Dementia Friends sessions at St Aiden's Church on Mount Road, between 2pm and 2.30pm on Monday 20 May and at the Mander Centre on Tuesday 21 May between 11am and 11.45am.
The sessions are free to attend and designed to increase the public's understanding of dementia, allowing people the think about the small things that they can do to make a difference to people affected by dementia in the community.
There will also be an energetic Neon Fitness Workout at the Wednesfield Community Centre, 7pm until 9pm on Tuesday 21 May, and a Bring and Buy Sale, with tombola, cake and refreshments and fundraising raffle on Wednesday 22 May between 9am and 12pm at St Columba's Day Centre, Castlecroft Road, Finchfield.
A full list of events can be found through the Wolverhampton CCG website. Lee Allen, Services Manager for Alzheimer's Society in Wolverhampton said:
"Many people are worried about 'saying the wrong thing' to someone with dementia, yet a friendly face or listening ear can make the world of difference. Even in the later stages of dementia when having a conversation might become difficult, keeping in touch can bring feelings of happiness and comfort, especially as the 'emotional memory' remains with them long after the memory of the visit may have gone.
"We all have a role in Wolverhampton to help create a dementia-friendly generation, changing the way people think, talk and act about dementia. There are currently around 2.8 million Alzheimer's Society's Dementia Friends in the UK and 400 dementia-friendly businesses and communities.
"Alzheimer's Society is determined to make sure no-one with dementia has to face a future alone. We are here to support anyone affected by dementia and it can start by finding a local event near you this Dementia Action Week."
Alzheimer's Society's Dementia Friends programme is the UK's biggest ever initiative to change people's perceptions of dementia. It aims to transform the way the nation thinks, acts and talks about the condition, tackling the lack of understanding that means many people with the condition experience loneliness and social exclusion.
The over 400 dementia friendly communities across England & Wales see local businesses committing to support their customers and employees affected by dementia. From the taxi driver to the hairdresser and the bus company to the newsagent, everyone can identify things they can do to support people with dementia to live the lives they want and be involved in their local communities.