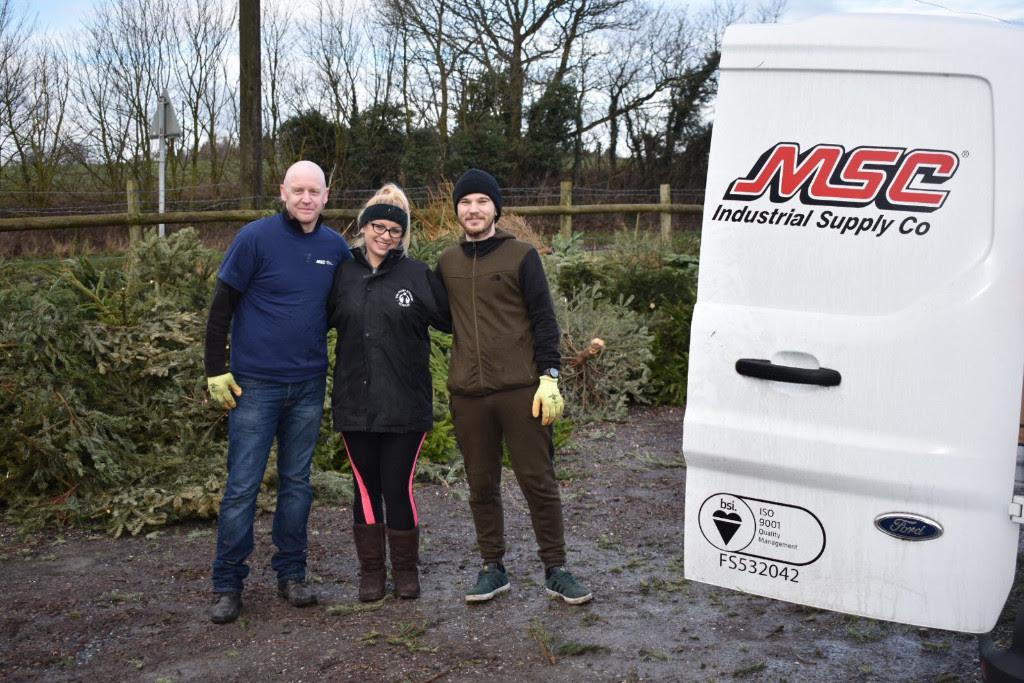 Laura Millard (centre) from Mary Stevens Hospice with volunteers from MSC Industrial Supply
A weekend of Christmas tree collections has brought in more than £3,500 for the Mary Stevens Hospice.
The Oldswinford charity spent the first weekend of 2018 collecting Christmas trees from outside of supporters' homes, in exchange for a donation towards the care of the families relying on the Hospice. Fundraisers launched the "Christmas Treecycle" in 2017, collecting 66 trees, however organisers saw the demand for the service skyrocket as more than 500 bookings flooded in for 2018.
In order to meet the hugely increased demand, the Hospice received support from volunteers and local corporate supporters, including Enterprise Van Hire, who donated a van for the weekend, and MSC Industrial Supply Ltd, who provided a van, teams of volunteers, top-of-the-range saws and gardening gloves to ensure the Hospice were able to run the event smoothly.
All the trees were taken to Hagley Christmas Trees, who have supported both years of the event so far and commits to recycling all of the trees collected. Laura Millard, Event Organiser, Mary Stevens Hospice said:
"We saw the bookings climbing and climbing throughout last year and to see the response of our supporters to this initiative has been overwhelming.
"We're so grateful to everyone who booked and to all the support we received to make the weekend possible, fingers crossed that 2019 will be even bigger and better!"
Louisa Gibbs, HR Co-ordinator, MSC Industrial Supply Ltd, added:
"When Mary Stevens Hospice asked us to be a part of their Christmas Treecycle we were delighted to help our chosen charity from the outset of 2018. Not only did we jump at the chance to donate our time but we also offered the use of our van and donated top-quality gloves and saws.
"These gloves and saws made life a lot easier for all the volunteers who helped collect the Christmas trees. It was our pleasure to be able support Hospice patients, families and friends as well as the environment."
Thoughts have already turned towards the 2019 Treecycle, with an additional postcode added to the collection area and volunteers signing up to take part and help out during the weekend.
Bookings have re-opened on the Hospice's website for 2019, with some supporters already securing their slot for next year immediately following the 2018 collection.